When I read the December's Baker's Challenge I thought I had died and gone to heaven. I LOVE cannoli. I don't just like them, I LOVE them. I do not indulge in them too often because I would weigh 400 pounds otherwise. And this may sound silly but I never really buy them in my home city of Montreal. Even weirder my favorite cannoli are found in Boston at Mike's Pastry in Little Italy. I have been told that the best canolli in Montreal are at Alati Caserta in Little Italy but have not gone there yet‎.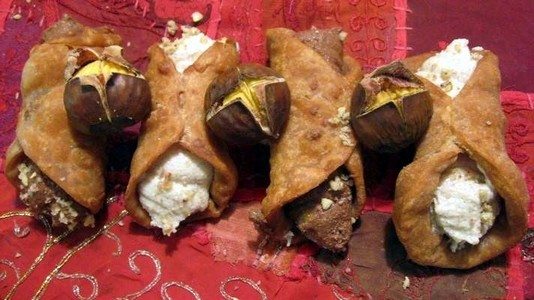 But I soon realized before getting to heaven I would first have to pass through hell. I fear frying in oil and have no real experience in it. You'll remember I almost started a fire on my last attempt with the chocolate wontons. And before that well I honestly cannot remember if I have attempted to fry anything really. But I found the courage and went out to by a frying thermometer.
Actually I decided to do half the recipe fried and the other have baked…just to see the difference. Before I go on let me tell you the November 2009 Daring Bakers Challenge was chosen and hosted by Lisa Michele of Parsley, Sage, Desserts and Line Drives. She chose her Cannolo (Cannoli is plural) recipe by using the cookbooks Lidia's Italian-American Kitchen by Lidia Matticchio Bastianich and The Sopranos Family Cookbook by Allen Rucker; recipes by Michelle Scicolone, as ingredient/direction guides. She added her own modifications/changes, so the recipe is not 100% verbatim from either book.
I had my friend Raquel over to participate in the preparation. If you want to make them you can find the full recipe here. The night before I drained my ricotta as per directed in cheese cloth with weights on it. I was surprised at how little liquid came out of it.
Then we made the dough and let it rest for a good 2 hours. During that time there was a lot of wine and we made the ricotta filling. I wanted to keep it simple so I only added a little orange zest and I ground some freshly baked chestnuts. We decided to make have plain and half chocolate.
Then the tough part. Rolling out the dough and cutting it. Wow that is tough dough. But we finally got though it. I did not want to purchase cannoli tubes so I bought manicoti pasta tubes and oiled them prior. Worked just fine. Got the oil going and threw in the first batch. I was slightly panicked. But you know what they came out not bad at all. They blistered nicely as described. I made them a bit smaller.
One got loose from the tube and fried up into a big puffy ball. Looks like a spaceship or a puffed fried pita lol.
Once they were cooled down we filled some zi plock bags, cut the end of, and stuffed the shells with the ricotta mix. Here is the result decorated with more chestnuts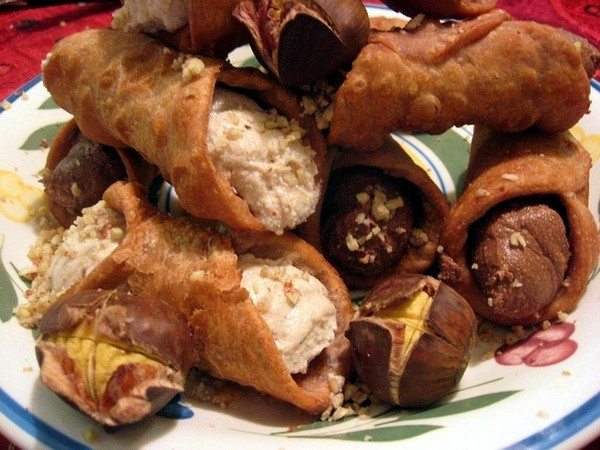 The baked shells are really inferior in look and taste…still good but it's totally worth the effort to fry them.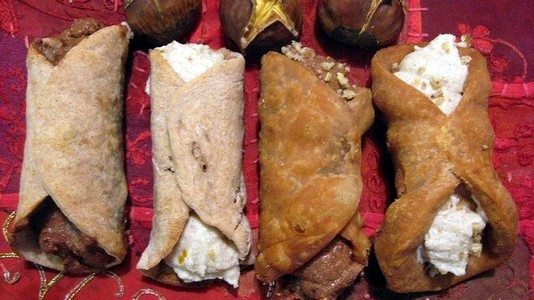 And finally the taste test. They were simply…heavenly!
Hugs and Biscuits,
Evelyne