Have you heard of Canelés? Are they a mystery to you? Well l would not be surprised if you have not, they have been wrapped in mystery since the day they were invented. Like a spy in a cloak this French pastry has slipped in and out of history for 3 centuries, not leaving many clues behind.
I first came across them about a year ago when the social media firm Télégraphe hosted a friendly Canelé blind test competition, an excuse to get together. I found it funny taste testing and grading an unknown sweet treat. But I fell in love with them right away…and also swore at first I would NOT attempt to make them. Well only fools don't change their minds, right?
Canelés (also often misspelled Cannelés) are a specialty of the Bordeaux region of France. This "cake" is traditionally baked in a small, striated cylinder mold and is characterized by a soft and tender custard center with a dark, thick caramelized crust. The recipe mostly consists of eggs, sugar, milk, flour, rum and vanilla mixed into a light crepe-like batter that is left to rest for 48 hours in the fridge. And they are A-D-D-I-C-T-I-V-E.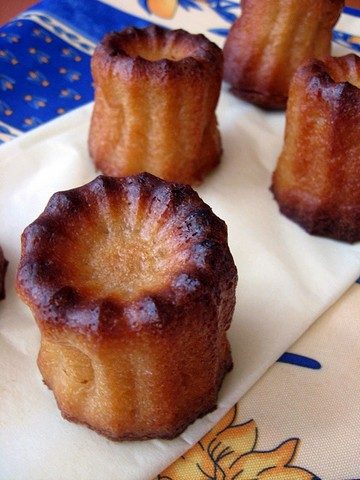 Legend has it that Canelés were created and invented in the 18th century by the nuns of the convent of Annonciades in Bordeaux. They were so popular that artisan bakers popped up in the streets selling their Canelé version. These special bakers were given the name "Canauliers" and registered a Guild with the Parliament of Bordeaux in 1663. During 19th century Canauliers disappeared from the artisans list of Bordeaux. In the first quarter of the 20th century the Canelé reappears. It is likely that its current shape comes from the similarity (in French) of the word wave with the word "cannelure" (fluting, corrugation, striations). wiki
And the mystery keeps persisting. I wish I could give you a source for my recipe but honestly I cannot. I have tweaked my proportions by comparing about 6-8 different recipes. No two are the same, so I am calling this version my own, adapted from the original recipe that no one seems to own (supposedly stored in a safe in France and known by only a very few pastry chefs who have been sworn to secrecy). Let's investigate the sweet conspiracy…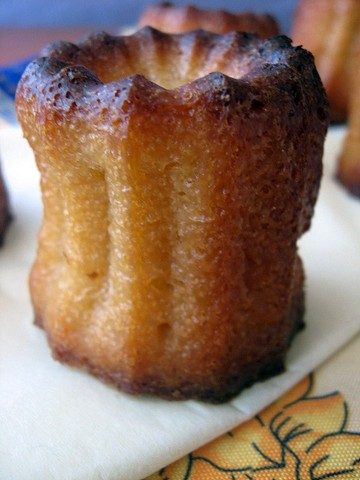 Canelés Bordelais
Ingredients:
500 ml (2 cups) whole milk
25 g (2 oz) butter
2 egg yolks
1 whole egg
255 g (9 oz) sugar
1 pinch of salt
1 teaspoons vanilla extract or seeds from 1 vanilla pod
30ml (1/8 cup) rum
140 g (5 oz) flour
Directions:
Heat milk to 183°F on the stove, add the butter and let it cool completely to room temperature.
In a bowl, beat together the yolks, eggs, sugar, salt, vanilla and rum.
Incorporate the flour. Mix well then mix in the cooled milk gradually.
Let the batter rest (it will be very fluid), covered, in the fridge for 48 hours.
Fill the Canelés molds almost to the top.
Bake in a preheated oven at 450°F (230°C) for 15min, then lower to 375°F (180°C) and bake for 1 hour or until they are a dark golden brown.
Remove from mold immediately and absolutely let them cool before eating.
Makes 12 big Canelés (2″ x 2″ mold)
Notes:
– It is important to cool completely the milk mixture before pouring it over the egg mixture otherwise it could "cook" the dough.
– YES let the batter rest for 48 hours. No ifs or buts…DO NOT skip this step.
– This recipe specifies cooking times for the big Canelé mold where the cavity dimensions are 2″ x 2″.
– Break with tradition: try other alcohols or liqueurs. I only make mine with absinthe now if I have it in my bar. Awesome!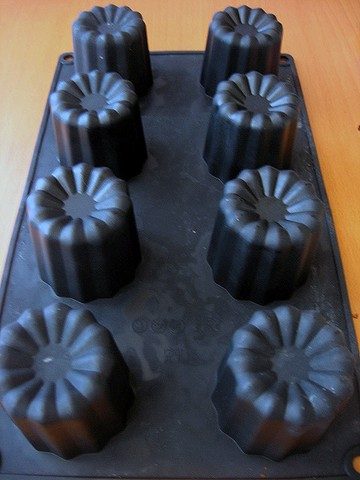 – The traditional recipe calls for tin-lined copper mold. Prepare to pay about $20 a piece. A better option is purchasing a Canelé silicone mold which is still not cheap ($30 to 40) unless you get lucky on Ebay like I did.
Before investing in a Canelé mold I did try out the recipe in a muffin mold. They totally loose their presentation charm, actually probably closer to what they looked like in the 18th century, but the taste was unchanged. You can see them below. Look at the custard-like insides here. This dessert is heaven!