Today was the day of a long awaited Montreal event: Cupcake Camp Montreal 2010. This event took place at the Fairmount Queen Elizabeth. This was the second year this event takes place in Montreal. Cupcake camp is a 100% volunteer organization that sells cupcakes and has a cupcake competition for the soul purpose of raising funds for charities. This year the recipient charities are Kids Help Phone and Tablée des Chefs.
Last year it was a small event. This year the word got out and it was total madness. Last year it was held at a restaurant, 700 people showed up, 3,500 cupcakes were up for sale and $8,000 was raised. This year the event was help at a huge location, almost 20,000 cupcakes were up for sale, people came in the thousands (2,500 made it in, 2,000 could not get in) and over $34,500 was raised.
The doors opened at 1pm and we arrived around 1h30pm. We lined up for over 45 min (outdoors and indoors) to get in. There were so many people is was crazy. When we were inside the hosts would politely ask over the speakers for people to leave if they were done as there were 2,000 people waiting outside to get in and the room had reached maximum capacity. It was a madhouse and you had to fight with a smile to get to a cupcake table. It was not only a sugar rush but a cupcake adrenaline rush too! I know of 2 groups of people who gave up and did not wait to get in.
This year's event was a major success, bigger then possibly imagined. And there were cupcakes everywhere. We were a small gang and separated..the core foodie group sticking together. And we came up with a system: each take a bit out of our cupcakes. I tried a chocolate cinnamon chipolte cupcake; a blue yam and pistachio icing  cupcake; a curry coconut icing cupcake; a fig with blue cheese and violet cupcake; a double chocolate cupcake…those are the ones I remember. Lots of cupcake pics coming up!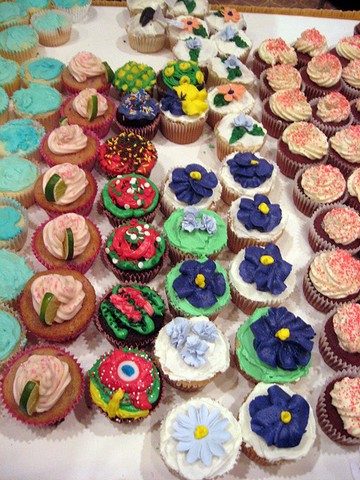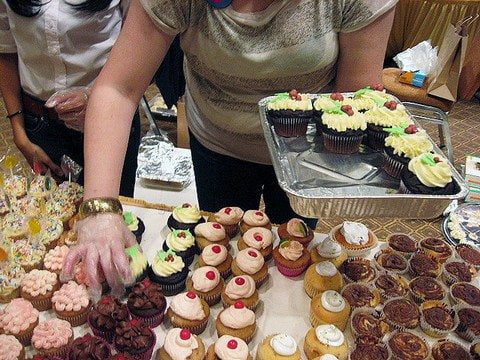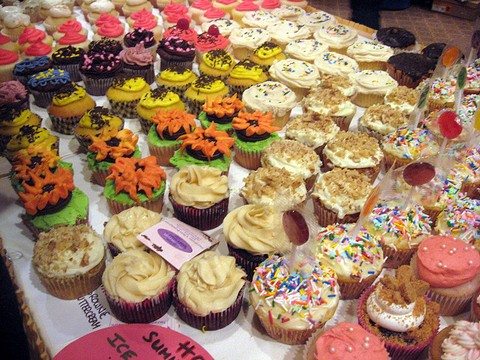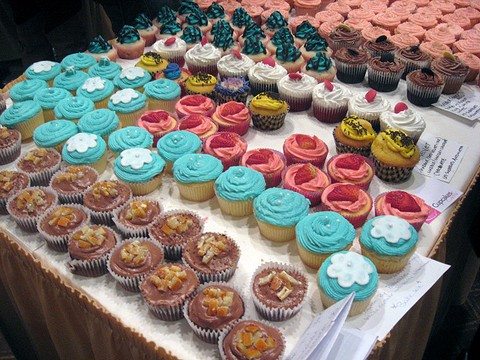 And here are a few competition entries. Clebretity judges included Chuck Hughes, Nadia G of the Bitchin Kitchen, food critique Leslie Chesterman, Bob le Chef,Ricardo and more.
It was such a madhouse I don't know if I would have the courage to go again but I do think everyone should experience Cupcake Camp Montreal once in a lifetime. So next year go and get there early armed with patience. It does bring out the kid in all of us.
The 8 cupcakes that made it home:
Chocolate and butter cream icing
Apple something, can't remember
Vanilla and chocolate chips
Matcha with a mochi on top
Feta, zucchini and rosemary, only savory one I saw
Vanilla with roasted marshmallow topping
Chocolate and tofu
Raspberry, pomegranate and blood orange jelly, white velvet cake and cream cheese icing!