For years now I have my little weekend tradition: I must have my latte in the morning on Saturday and Sunday. Many moons ago I had bought a cheap expresso machine for my dad when the cheap ones were new to the market. It was not a success. Ever since that try I kept my expresso making to the stove top with one of those traditional Italian expresso makers. Until recently that is.
I was given an opportunity to try out any item of my choice (to a certain extent) at CNS Stores and review it. One of the items I chose was a budget priced expresso machine. Would this one be better then the one I knew from the past?
The answer: YES! I chose the Delonghi Two Cup Espresso/Cappuccino Maker as it had the best reviews for an expresso machine of that price range – which is what most of us can afford. Of course if I had a 1000$ to blow I would get the ultra fancy ones, but I don't so a budget model it is.
This machine was designed and engineered in Italy. It is made of a plastic shell…hopefully durable in the long run. Its overall dimensions are 11″ H x 11″ W x 8.25″ D. The 8.5 ounce heat-resistant glass carafe is perfect for making 2 or 4 shots of expresso. It even comes with a 2-cup adapter that allows you to make two espressos simultaneously(not in pictures, did not use it). One detail I love is the lid of the carafe. The way it is made forces you to align it with the expresso holder part so there is no way it will drip anywhere else then in the carafe.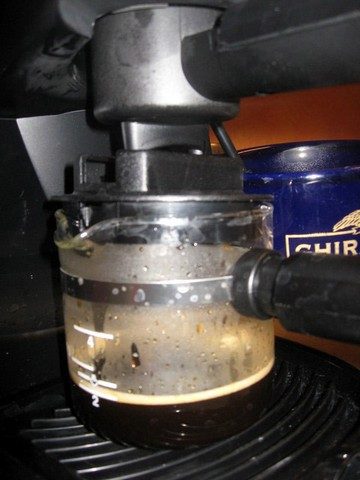 The plastic measuring spoon that comes with it measures perfectly the needed coffee grounds that I required. 2 spoons matched the notched edge perfectly. After a few tries I found that it was better to fill the carafe with water up to the third line, not the second, to get the needed pressure for frothing my milk. The swivel jet frother arm is too short in general. It does work well with the shape of my preferred cup but this is my number one and only complaint about the machine.
I had no problem getting froth from my milk which I never accomplished years ago with the other gift machine. And I get better at it each time. I read online to not bob up and down but to just barely immerse the nozzle below the milk level. Works great!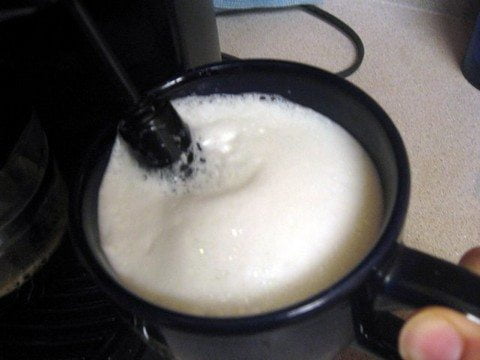 The taste test: I found the quality of the expresso better then the one I always made on my stove top and I love how the milk nicely froths up. I am very happy with my now upgraded weekend lattes.  Look at my beautiful result!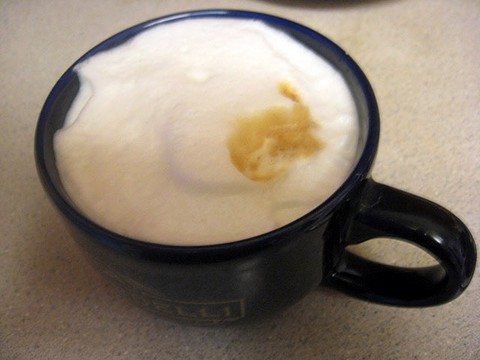 If you are in the market for a budget expresso/cappucino machine do not hesitate to get the Delonghi Two Cup Espresso/Cappuccino Maker. I am sure I will get years of use out of this machine, or unitl I have a spare 1000$ lying around lol.