Do you sometimes re-watch a movie you just adored in your teen years to see if you still feel the same way? I do occasionally. Sometimes they are still good, sometimes not. There is one movie however that never fails to live up to my original satisfaction and it just so happens that this particular film is this month's Food 'n Flix choice. OK enough suspense, the movie is The Breakfast Club.
Now there are not many food references in the movie besides the title and the scene of the lunch break but inspiration came easy. What do teenagers like to eat? Junk food, especially pizza. What is the most important meal of the day? Breakfast of course. So I think this Breakfast Pizza would be a hit with all pre and post pubescents.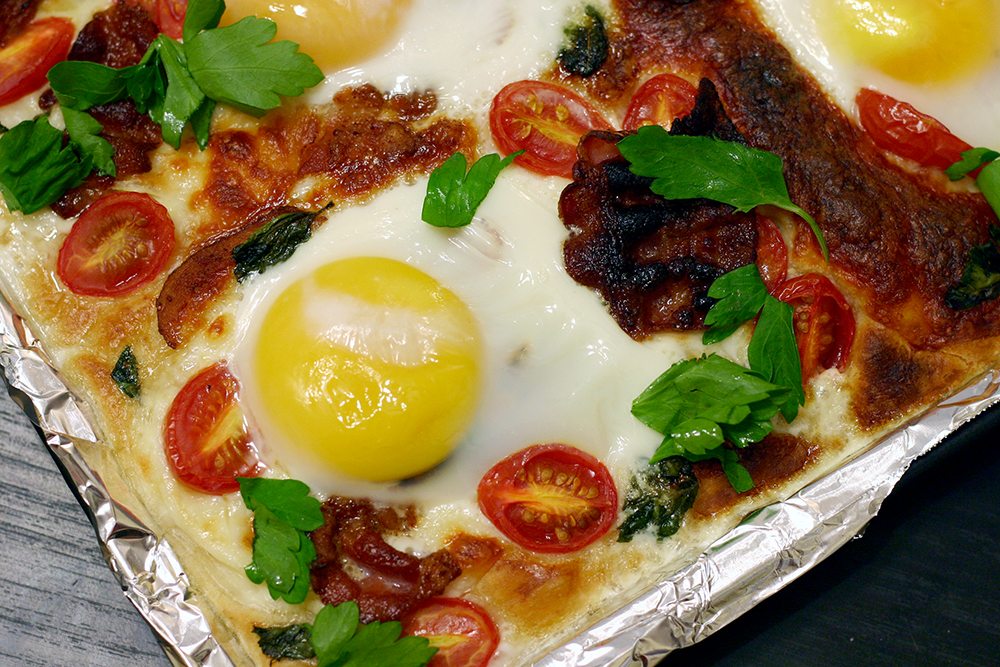 Can you believe that The Breakfast Club was released in 1985? I feel this dates me a lot lol. I actually watched it again a couple of years back with someone 16 years my junior. He was not even born when the movie came out! He had never seen it and I had no idea if he would relate. Well he just adored the movie and that is when I realized this story will transcend time for ever because teens go through the same angst generation after generation.
Every character in the movie will always represent the various social teen orders: the criminal, the athlete, the brain, the basket case and the princess. These five characters were immortalized by some of the actors nicknamed the Brat Pack: Judd Nelson, Emilio Estevez, Ally Sheedy,Molly Ringwald and Anthony Michael Hall.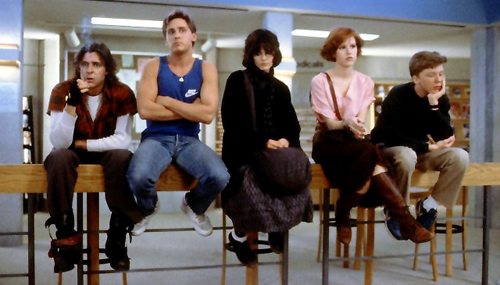 Five totally different teens all have to spend a Saturday in detention at school. They look at each other with disdain. Through a series of events they learn to understand each other and discover that in spite of their initial differences, they actually share many common feelings and problems.
There is only one real food scene and that is when the kids have lunch. Each lunch represents each social status: the criminal has no lunch. The athlete has lots of food like chips, sandwiches and fruits. The brain has a pretty standard lunch with each food group present. The basket case has a cereal and sugar on a sandwich. And the princess has sushi.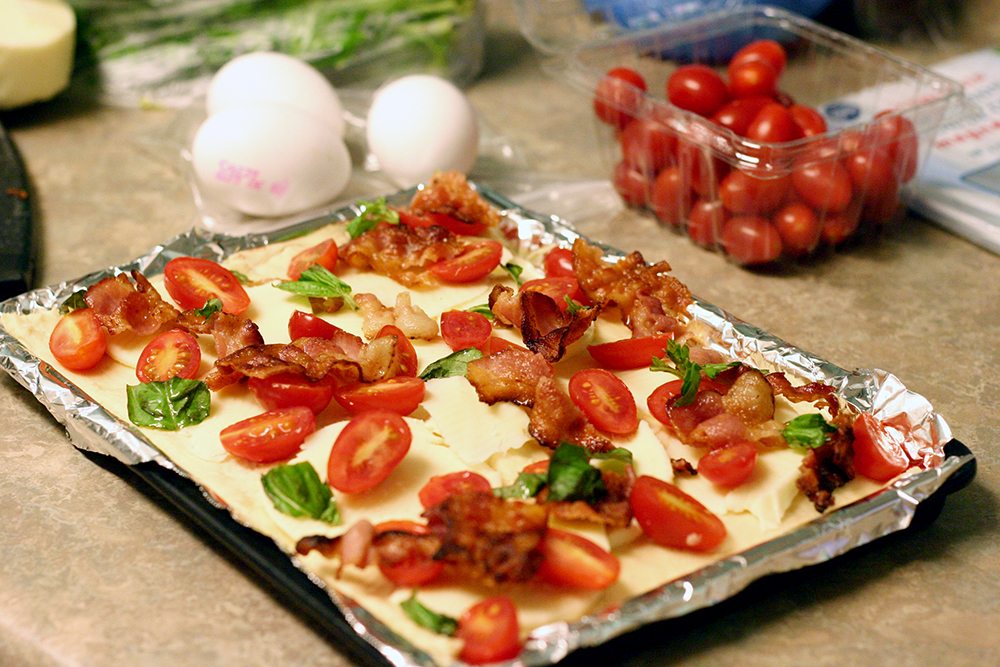 This month's pick is hosted by Debra at Eliot's Eats . This Breakfast Pizza recipe was just what I was looking for and yes it is just as awesome as it looks. Highly recommend for all 3 meals in a day.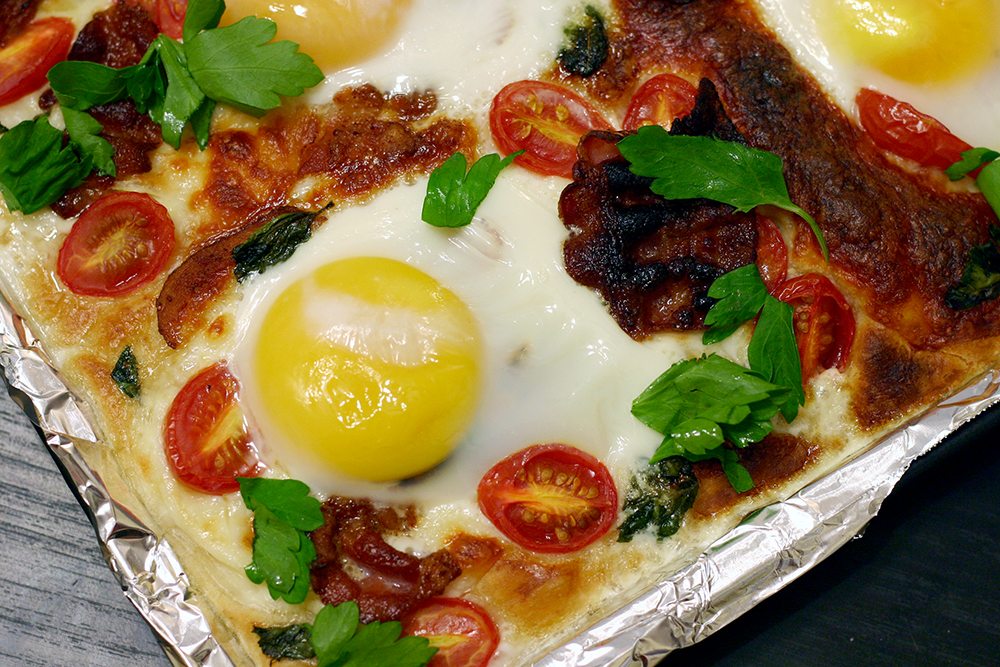 Breakfast Pizza
Ingredients  
1

8-ounce can crescent dinner roll dough

½

cup

sliced fresh mozzarella cheese

4-5

fresh small tomatoes

2 to 4

eggs

4

strips quality bacon

1

tablespoon

fresh Italian parsley

roughly chopped

a few leaves fresh basil

ripped in large pieces

a little cornmeal to dust on pizza
Instructions 
Preheat oven to 500 degrees F. Place rack in center of oven.

Partially cook the bacon in a pan, remove and set aside on paper towels.

Crack eggs into separate cups.

Stretch out your dough to desired shape and size. Dust parchment paper with a little cornmeal and lay your dough on top, reshaping and leaving a little more thickness on the edges.

Evenly arrange cheese and tomatoes on dough. Then add the bacon and basil. Lightly rub a tiny bit of olive oil on the edges.

Slide onto pizza stone and let cook for about 5 minutes. Carefully add the eggs, one at a time, to the center of the pizza and cook for about another 5 minutes until egg is at desired doneness and the dough is nicely browned on the edges.

Remove and garnish with the fresh parsely.
So what would these teens be doing if they were not forced to go to detention on a Saturday morning ? Sleep till noon minimum for sure. Or enjoy a nice little breakfast in bed with a magazine perhaps? Well I have to admit I have been doing that a bit lately myself. I love staying in my bed since I got my new bedspread and matching pillows.
I changed my bedding this summer and I can assure you everyone around me found it to be an arduous experience. It took me weeks, several Facebook polls and I harassed my colleagues for their opinion on a daily basis. It was of course totally worth it when I found THE ONE! Now the only problem was that my previous wall art completely clashed. And on top of that my bed old bed broke in the summer and I bought a cheap used Ikea one of a friend who was moving.
I had envisioned a tall and massive headboard and was looking for ways to 'hack' such a headboard on the new bed frame to save cash. During this process I was offered a review opportunity by Cozy Wall Art stickers and decals. The idea was perhaps to review a kitchen decal but then I came across this triptych which I thought would make a perfect "trompe l'oeil" headboard.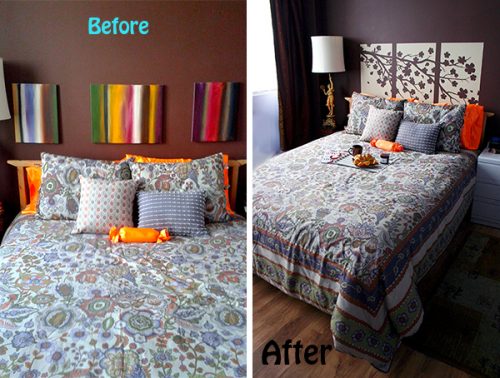 When I saw the Cherry Blossom Triptych on their website I knew I had hit the decoration jackpot again. Not only would this decal serve as wall art but it also mimicked a massive headboard. This model came in 2 different sizes (I chose the biggest one) and was available in 16 colors. The beige one was perfect as it would match the background color of my bedspread and the contrast with my dark chocolate wall would be dramatic.
Of course leave it to me to pick the most challenging one to install. This model is particularly intricate and each panel is actually made up of several pieces. A simple one would be a breeze to install. This was a 2-person job so my friend Michele kindly pitched in. It took about 2 hours to put up. First you have to align and measure. After you remove the bottom protector, apply it slowly to the wall without bubbles, and finally remove the top protector. It took a lot of effort but I am so thrilled with the result it was totally worth it. I got the faux massive headboard that I was wishing for.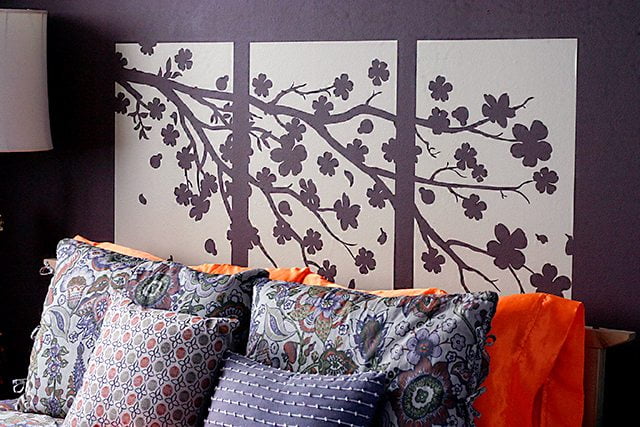 In conclusion, I am very happy I gave wall decals a try, especially nice ones of higher quality. Why not give it a try yourself? They come in all sizes and colors. Perhaps you will find a great one too, like a kitchen decal, for your home. Next, I have to hint for a new carpet.
The wall decal was sent to me for a review at my discretion  and I did not receive any financial compensation.