Need a little sensual spice in your life and kitchen? Watch the movie Book Club and check out these delicious contributions to the Book Club Roundup.
Due to a series of events, no announcement post was put up by Food n Flix early in the month, and will not be for the next little while. So I am left with a very thin Book Club Roundup this month. HUGE thanks to the few who rallied at my call! Please take the time to visit their recipe contributions below, they really deserve it.
If you are a group regular but missed the last events, let me know in a comment below so we can reach out and inform you of the temporary procedure over the next months.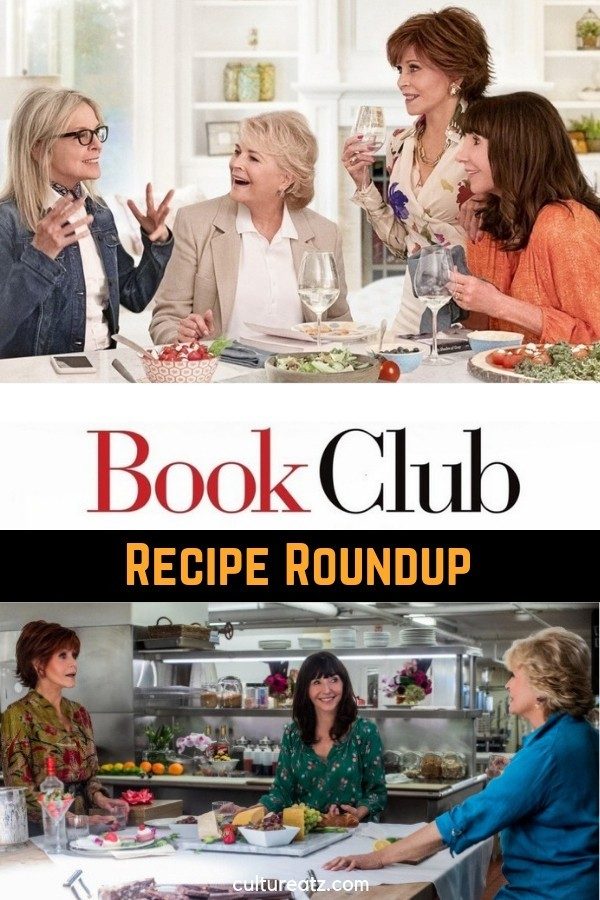 Book Club is a 2018 romantic comedy about four women who have participated in their monthly book club for 30 years, where they bond over the suggested literature and food. The Fifty Shades of Grey books become the next novels to be read, somewhat reluctantly, but the story becomes a wake-up call to all the ladies.
The Fifty+ Ladies
Vivian (Jane Fonda) is a single and aggressive go-getter who owns a hotel, saying no to love until she runs into Arthur, a man she turned down marriage 40 years ago. Will Arthur manage to find the key to her heart again?
Diane (Diane Keaton) is a recent widow with two daughters who treat their independent mom like a frail senile old person. They want her to drop her life and move closer to them. On her way to visit her kids, she meets Mitchell who sweeps her off her feet and wants her to move in…but how can she tell her daughters?
Sharon (Candice Bergen) is a federal judge who swore off men since her divorce over 15 years ago. Will her new trials with online dating bring her much needed company, or will she decide she is better off on her own?
Carol (Mary Steenburgen) is the only still married member of the book club, but are they really as happy in the bedroom as they let on? Not at all, there is zero action. She tries everything she can think of to get her husband's fire going again. Will they reconnect emotionally and find action under the sheets again?
As three months and three Fifty Shades of Grey books pass, they try to figure out how to solve their issues. Click here to watch the movie to find out!
The Book Club Roundup Offerings
Tangled Up Linguine Alle Vongole + White Wine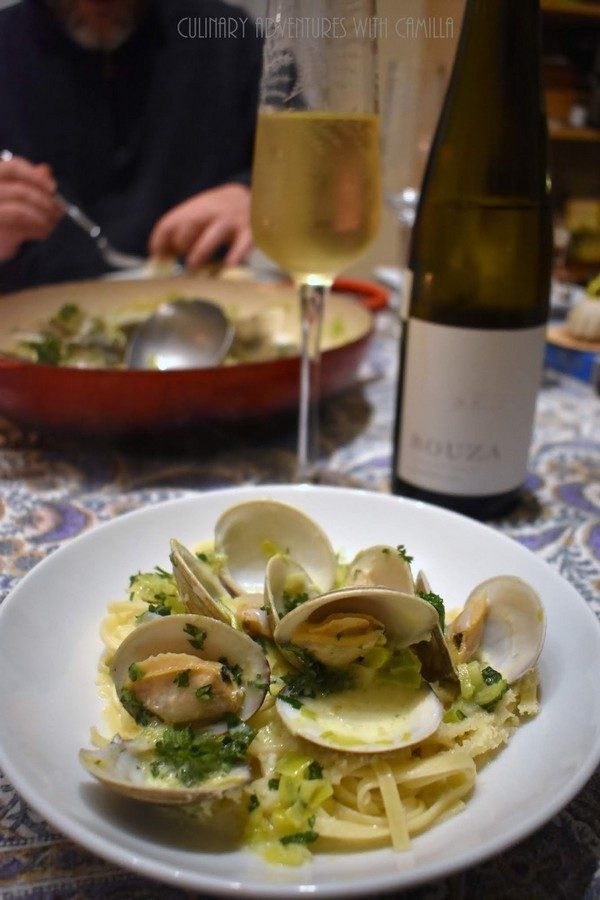 Camilla from Culinary Adventures with Camilla is also trying to sort out the emotional mess with her Tangled Up Linguine Alle Vongole + White Wine dish.
I will add that this movie is, shockingly, less about sex and more about the tangled web of relationships and friendships. I think that's actually what I loved about it. Oh, and the wine. There's a lot of wine involved. And you all know how I feel about wine.
Spinach Chickpea Dip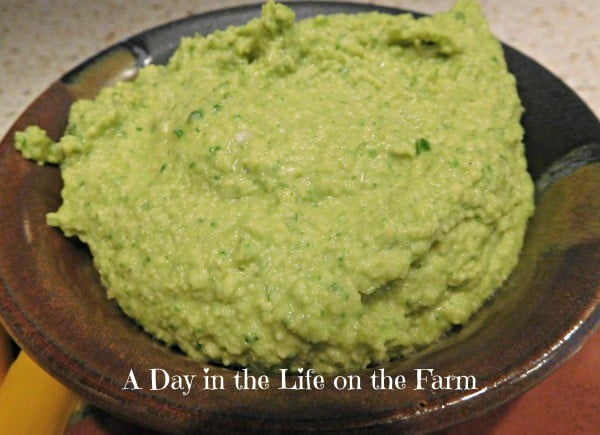 Wendy from A Day in the Life on the Farm whipped up a delicious Spinach Chickpea Dip that would also be perfect for a game day menu.
This is definitely a chick flick, however, it has an all-star cast and is laugh out loud funny.  Even my husband who was ostensibly reading his iPad while I watched this film, laughed out loud a couple of times (even if he holds a 50-year-old old grudge against Jane Fonda).
Baked Brie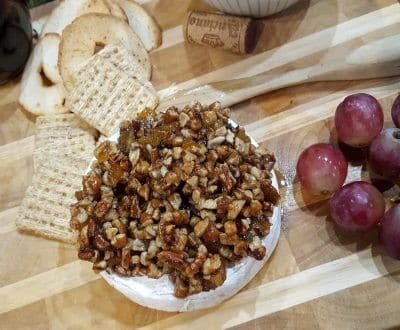 Debra from Eliot's Eats brings us a lovely Baked Brie, not inspired by the film but by the book The Perfect Book Club. Now I am curious, I will have to check it out.
Did I love this film?  Probably not but I might have a crush on it.  There was a bit of food in the film from small plates at book club to lots and lots and lots of wine.  There's dinner alone ("so sad" to quote an annoying daughter) to dinner with family and new loves.
Cheesy Spinach & Chicken Soup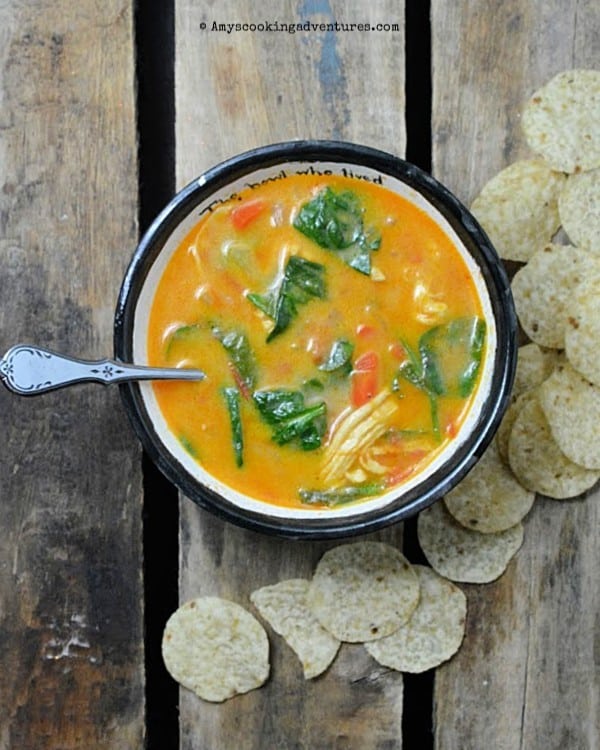 Amy from Amy's Cooking Adventures flew in (literally) at the last minute with a Cheesy Spinach & Chicken Soup by turning a fave appetizer dip into soup.
Now, I really couldn't relate here, because while I absolutely adore reading, I vehemently refuse to read 50 Shades. As the movie progresses, each of the women finds closure in one way or another.  All in all, this wasn't a terrible movie, but not quite my style either.  It was merely ok. (Sounds exactly like my review).
Dripping Thighs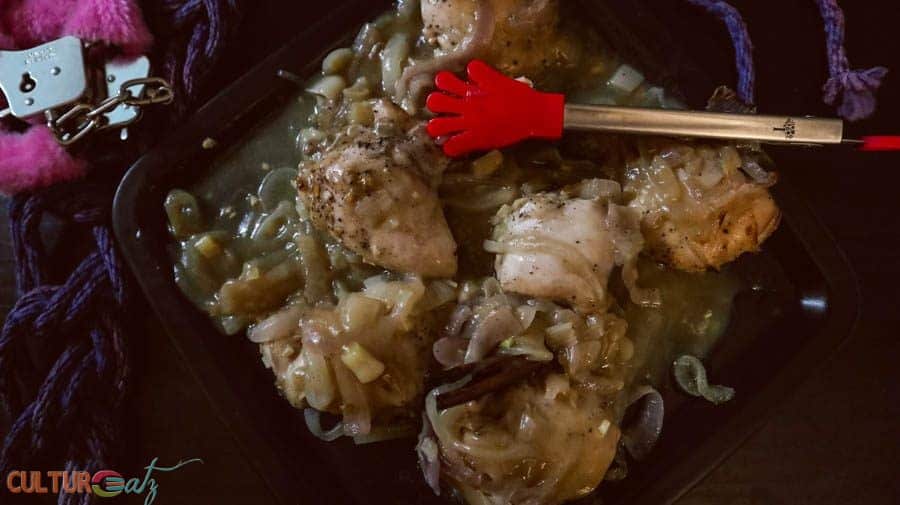 I found my recipe in a cookbook inspired by the Fifty Shades books called Fifty Shades of Chicken: A Parody in a Cookbook. How can you make plain chicken sexy? Easy, just try these Dripping Thighs or roasted chicken thighs with sweet and sour onions.
I admit this was an unusual movie choice for me. I am not into romantic comedies but I did not feel tortured while watching the movie. It was an OK film. Now I do realize that food is just a prop in this movie. Almost every meeting the ladies have is in front of food. So no food-based plot, but food scene set-ups galore. And wine, they consume so much wine!
Thanks to those who participated in this Book Club Roundup. Join the members next month at Food 'n Flix with our host Debra from Eliot's Eats with the movie Crazy Rich Asians.