I was so looking forward to attending the Blue Dragon product launch but I had to cancel as I was sick. I asked if I could still get samples to try out, which they were happy to do. But imagine my surprise when I opened my apartment door in the morning to go to work, 2 days later, and this package is just lying there on my door step.I got home at 10pm the night before and I was now heading out at 8 am…when was this delivered?
I could not resit opening this suitcase box before heading out. It was the samples…I have to say I was very impressed. And opening the box was such a delight: 10 different samples of stir fry and cooking sauces. The Blue Dragon line does not end there: they also offer dipping sauces, noodles, wrappers, sesame oil, hoison and oyster sauce, fish sauce, and 2 types of coconut milk.
Blue Dragon is named after the Chinese symbol of good fortune. The company was created over thirty years ago when the founder realized there was hardly anything available in the shops that would help people create authentic Asian dishes at home at that time. Today Blue Dragon has become a great way to help you create delicious dishes from China, Thailand, Japan (UK site) and Vietnam. To bad not all the products are available in Canada, I guess I'll have to go to there and look up cheap car hire from the uk to go shopping in London.
In the package I found the following flavors: Thai Red Curry Paste, Thai Green Curry Paste, Chinese Curry Cooking Sauce, Tomato & Sweet Chilli Cooking Sauce, Chow Mein Cooking Sauce, Sweet & Sour Cooking Sauce, Sweet & Sour Stir Fry Sauce, Wasabi Plum Stir Fry Sauce, Chilli Coconut Stir Fry Sauce, and Szechuan Pepper Stir Fry Sauce.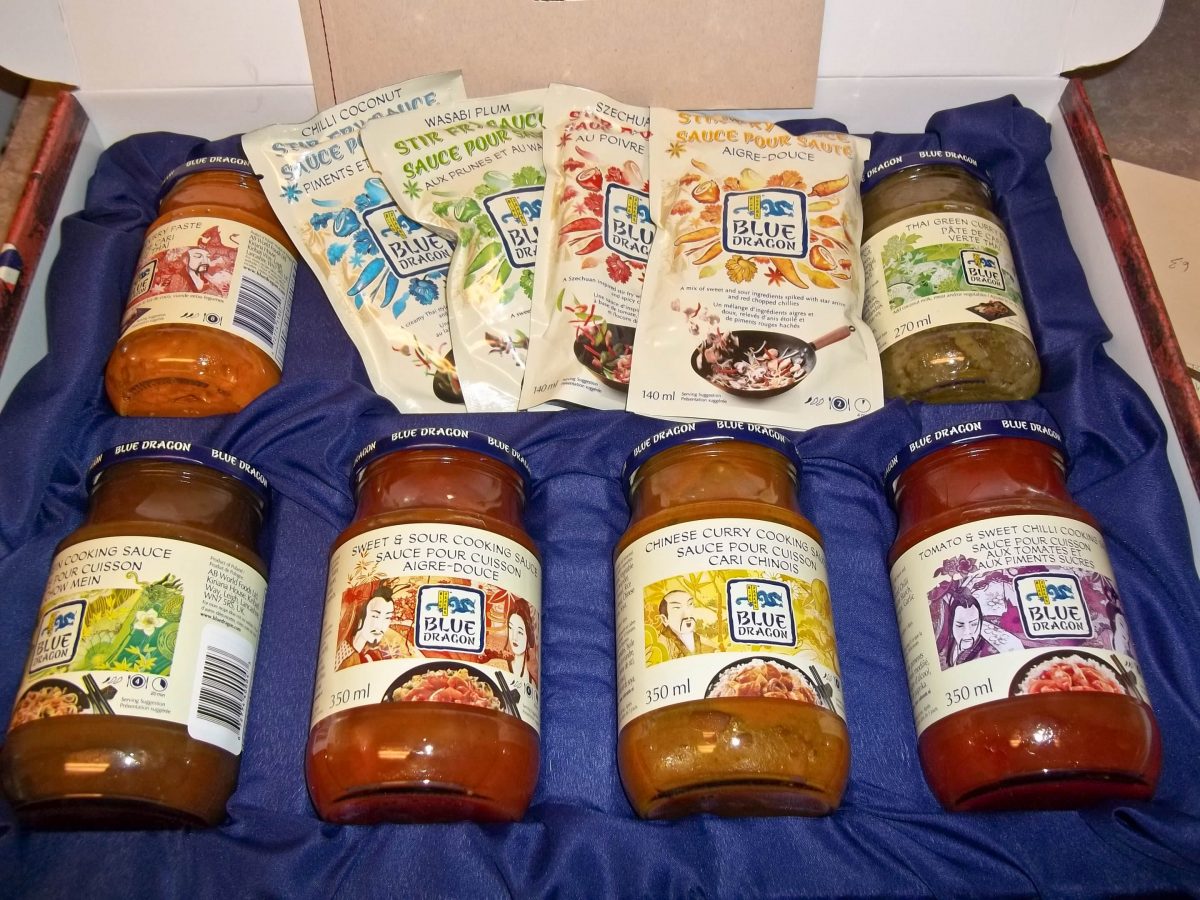 Obviously I have not gotten around to trying them all, I actually cooked 2 two meals so far only. I live alone and every sample gave me about 3 meals. All the sauces/stir fries mention they should be used within 3 to 5 days so opening everything to stick my finger in it was not option. Why a short self life you ask? Reading the ingredient's lists of the Blue Dragon products is a pleasure because there are no preservatives at all! Just beautiful flavor packed spices, herbs, and sauces.
I really did love the ease of preparation for a full meal. All you have to do is cook your protein and/or veggies, add the sauce and cook a bit longer and then serve on a bed of rice or noodles. It's a great way to use up all those veggies lying around in your fridge.
The stir fries suggest 350 gr of meat, chicken or seafood and 1 cups of veggies. I added more like 2-3 cups of veggies and I used chicken. The first one I wanted to try was the Chilli Coconut Stir Fry Sauce. I fell in love with it: so yummy, loved the coconut taste  and nice spiciness to it. I served it on a bed of Udon noodles. This one I will buy again and again.
Take a look at the ingredient's list: Water, Coconut Milk (Coconut, Water), Glucose-Fructose Syrup, Lemongrass, Green Birdseye Chillies, Modified Maize Starch, Fish Sauce (Anchovy Extract, Salt, Sugar), Garlic Purée, Thai Basil, Ginger Purée, Kaffir Lime Leaves, Chilli Flakes, Galangal, Coriander, Lactic Acid, Lime Juice Concentrate, Citric Acid.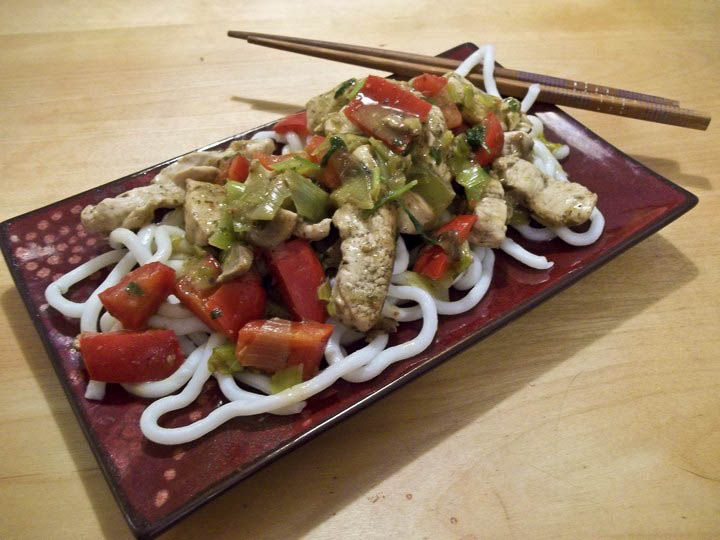 The cooking sauces ask for 3 meat, chicken, seafood portions. For this one I used a block of tofu and again 2-3 cups of veggies. I tried the Chinese Curry Cooking Sauce for this dish and I served the curry on a bed of Bamboo infused rice.
Ingredients listed are: Oil, Modified Maize Starch, Garlic Purée, Curry Powder (Coriander, Turmeric, Cumin, Salt, Garlic, Fenugreek, Chilli, Ginger, Fennel, Rice Flour), Onion Powder, Light Soy Sauce (contains Wheat and Soya), Chinese Five Spice, Spices, Salt, Citric Acid.
This one was a bit of disappointment unfortunately. The final taste was not packed with flavors and the only thing really coming though was the light spiciness. I also felt it needed salt…and I am not a salt kind a gal. Hopefully the other sauces pack a bit more punch, we shall see as I cook through them.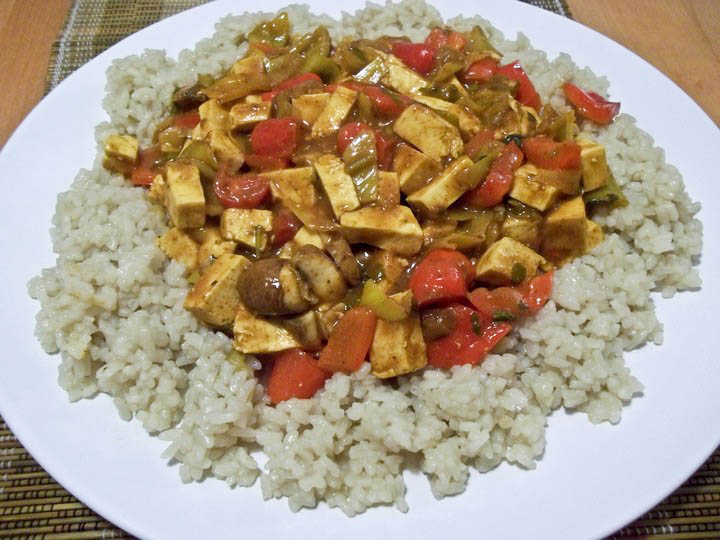 I feel like the theme in my kitchen will be Asian for a while. Normally I enjoy making my on sauce mixes and adding the amount of spices I like best but for someone with less experience or if you want a nice meal in a short amount of time I think Blue Dragon is definitely worth a try. Next I will try one of the Thai pastes for sure. The company seems to distribute out of the UK first, most of Europe and Canada. If you buy some let me know what you think.
The products were sent to me free of charge but my opinions are my own and are honest.