Today is my group's reveal day for the Secret Recipe Club. What is the SRC? Basically you are assigned a fellow participant's blog by the organizer and then you pick a recipe of your choice from that blog and make your version of it. But it is a secret, you cannot reveal whom you picked and what you made until the established posting date and time. This month's secret: Basil Polenta with Roasted Spinach and Tomatoes.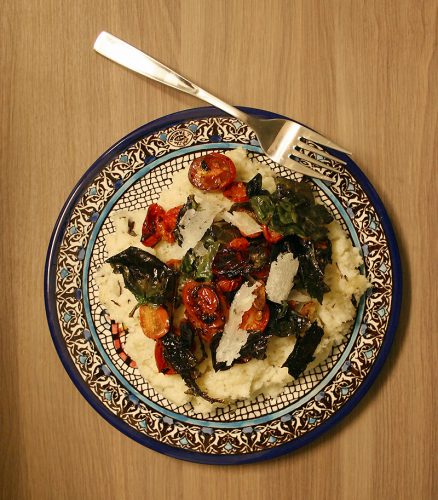 This month I was assigned a beautiful and tasty blog, Food Ramblings, written by Elizabeth. She started her blog like many other have, with the intentions of changing for a better lifestyle without sacrifying the taste. So far she has done a great job. There are many recipes to choose from, tons with seafood and shrimp too which I love. As usual a struggle when it came to choosing one recipe. COntenders were the yummy Garlic Cheese Monkey Bread and the rather unusual (so curious to try) Bacon and Brussels Sprout Mac and Cheese.
But I settle on a simple yet classical recipe full of roasted flavors, the Basil Polenta with Roasted Spinach and Tomatoes. I kept the same recipe for roasting the veggies but I added a bit to the polenta by giving one of my recipes, a more classic Italian Lakes twist. Two secret ingredients: cream and parmesan cheese!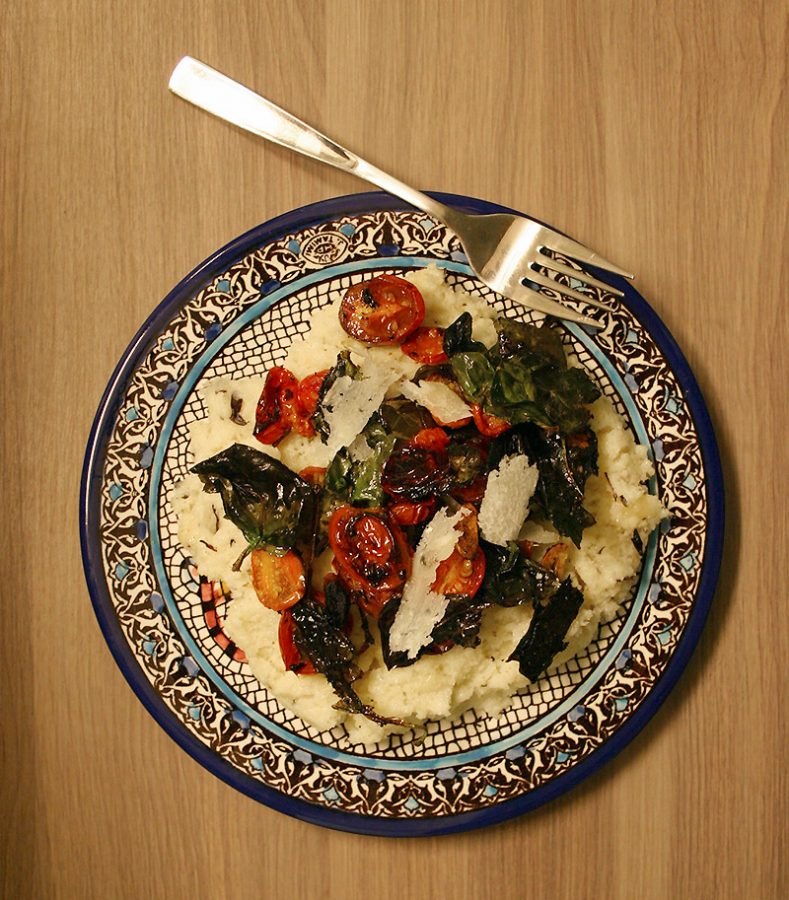 Basil Polenta with Roasted Spinach and Tomatoes
Ingredients  
2

cups

cherry/grape tomatoes

2

cups

fresh spinach

3

cloves

garlic

minced

1

tbs

olive oil

Salt and black pepper

to taste

2

cups

water

1

cup

light cream

1

cup

polenta/cornmeal

1/3

cup

chopped basil

1/2

cup

Parmesan cheese

roughly chopped

Salt and black pepper

to taste
Instructions 
Preheat the oven to 400 degrees. Place the tomatoes, spinach, and garlic on a baking sheet. Drizzle with olive oil. Season with salt and pepper, and place in the oven and roast for 20 minutes.

While the tomatoes are roasting, make the polenta by bringing to a boil 2 cups of water with a bit of salt. When the water is hot stir in the polenta. Lower heat, add cream and stir until cooked (puliing of the sides of the pan). Stir in basil, cheese and season with salt and pepper.

Serve polenta into individual bowls and top with roasted tomatoes and spinach.
');