The Behind the Curtain Dessert Challenge is all about baking and making sweets. Every month we are given two required ingredients to work with. This month it was Peaches and Cream. Two awesome ingredients that pair so well. This month I present you with one of my favorite classic desserts presented within one of my favorite fruits: Baked Peaches and Crème Brûlée.
Pardon my quick post, I am still trying to settle into a normal routine following my return from holiday. Expect some Chicago grub pics soon! The best peaches are being harvested as we speak. Ontario peaches are always so perfectly sweet and juicy. Ripe but not too soft. They are the best for this recipe.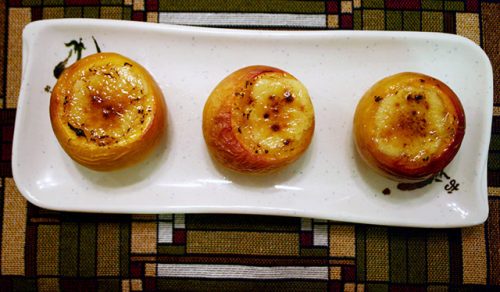 Ah the perfection of crème brûlée. A simple mixture of cream, egg yolks, sugar and good quality vanilla. For this recipe I used my new Madagascar Bourbon Pure Vanilla Bean Paste. I am so happy I found this quick recipe with many steps done in the microwave.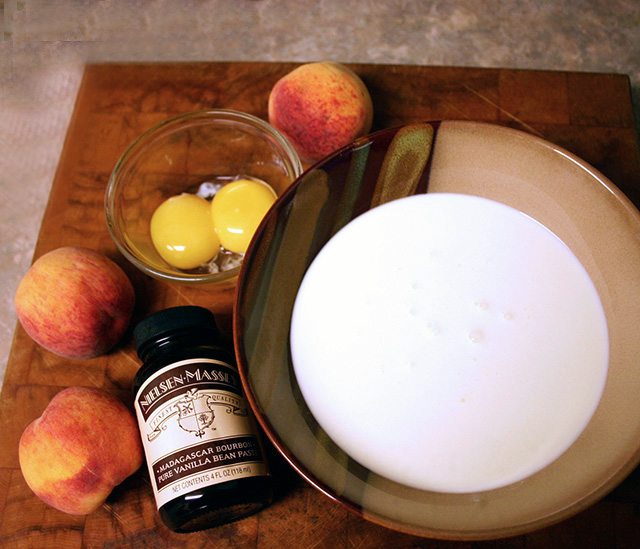 Baked Peaches and Crème Brûlée
Ingredients  
2

eggs

2

tablespoons

of sugar + a sprinkling

1

cup

cream

1/2

teaspoon

vanilla

salt

ripe peaches

6 large or 9 small approx
Instructions 
Preheat the oven to 350 F.

Separate the eggs. Put the yolks into the small bowl, whisk and set aside.

Put sugar into a microwave safe bowl. Add cream and stir sugar gently.

Heat in the microwave for 2 minutes to dissolve the sugar. Stir gently till sugar is disolved.

Add vanilla and a pinch of salt, mix. Mix in the egg yolks well.

Heat in the microwave in 30 second increments, mixing well each time, until the mixture thickens. It took me about 3 minutes total.

Cut tops off peaches, and carefully hollow them out, discarding pit. Slice a thin portion from bottoms, if needed, to help peaches sit upright. Fill each peach to the top with the custard. Bake for about 30 minutes. ool and refrigerate until ready to serve, up to 3 hours.

Sprinkle some sugar on top of each peach and caramelize sugar using a kitchen torch. Serve.