I came across this recipe quite some time ago and I made it shortly thereafter. Time flies, I am only writing about it now. What got my attention in the first place was the word "feta", a cheese I really enjoy. Upon further reading I realized there was not a crumb of feta in sight. It is actually  a recipe for an almond paté which has the texture of feta a little bit. How cool is that? I had to try it.
I found this Baked Almond Feta  recipe on the vegan blog Maple Spice, a new find for me. This is a great addition to a vegan recipe roster. To me almonds excite my sweet taste buds since I mostly use almonds in desserts. But this a savory recipe, a nice change. Spread it on bread slices and if you like drizzle with a flavored oil. This baked almond feta makes for a lovely and different kind of  snack.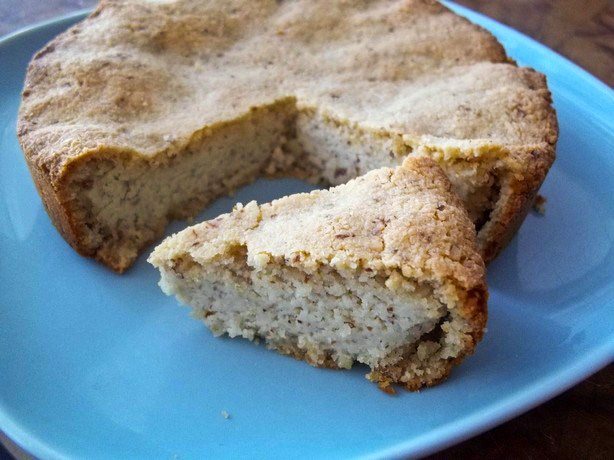 Ξ Baked Almond Feta Ξ

1 1/2 cup ground almonds (I used whole almonds and processed, it was a coarser texture )
1/4 cup lemon juice
1/2 cup water
3 Tbsp olive oil
2 cloves garlic, minced
1 1/4 tsp salt
Directions:
Place everything in a food processor or blender and process until very smooth. It may take a few minutes.
Line a small bowl with 3 layers of cheesecloth and spoon the mixture into the cheesecloth. Bring all the sides of the cheesecloth together and tie into a ball with kitchen rope or a rubber band. Place the ball in a strainer over a bowl. Leave to drain in the fridge for about 12 hours. Discard liquid, I had very little.
Preheat the oven to 350 F.  Lightly grease a small baking dish. Unwrap the cheese from the cloth and transfer to the baking dish. You can free form it, I decided to pat mine down in the dish. Bake for about 40 minutes or until slightly golden and cracked on top and firm to the touch.