Some of my friends organized a Vodka and Perogie party. I wanted my contribution to reflect the theme but also include a twist on my heritage. Hence I chose to make an Austrian Potato Salad.
This potato salad has a little trick up its sleeve. There is no mayonnaise and very little oil. The sauce is made with a bit of potato water and a small amount of mashed potatoes, plus all the other ingredients. Less calories and just as creamy. I like the tangy touch of the mustard and vinegar contrasting with the sweet red onions and sliced gherkins. This is as refreshing as a potato salad can get.
Here is a tip I bet you did not know: apparently adding a bit of vinegar to the boiling liquid will keep the potatoes from falling apart into mush once cooked. For white potatoes it will also help to keep them white when mashing.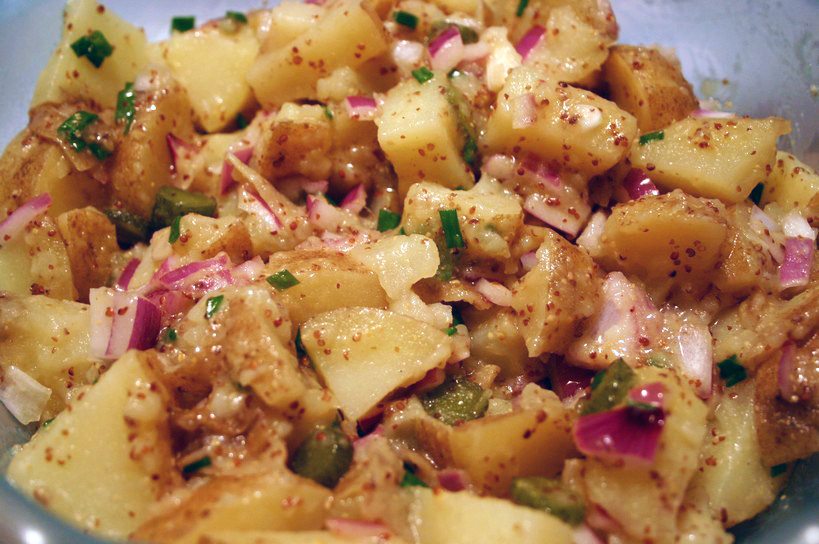 I found this recipe on Jersey Bite blog but she claims its origins from the Cook's Illustrated Magazine.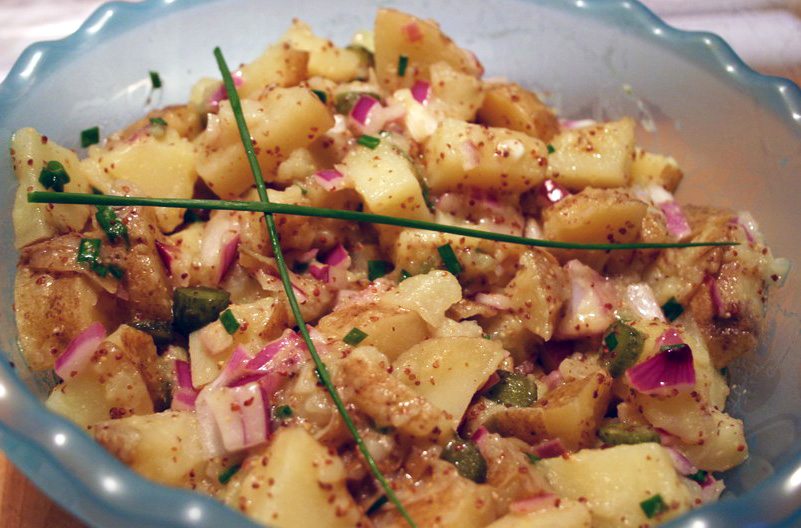 Austrian Potato Salad
Ingredients  
2

pounds

Yukon Gold potatoes

do not use any other kind

1

cup

chicken broth

1

cup

water

1

teaspoon

salt

1

Tablespoon

sugar

2

Tablespoons

white wine vinegar

1

Tablespoon

Dijon Mustard

I used with seeds too

1/4

cup

vegetable oil

1

small red onion

chopped fine (about 3/4 cup)

6

gherkins

minced (about 2 Tablespoons)

2

Tablespoons

minced fresh chives

ground black pepper to taste
Instructions 
Peel and quarter potatoes lengthwise, and cut into 1/2 inch thick slices.

Bring potatoes, broth, water, 1 teaspoon salt, sugar, and 1 Tbs. vinegar to boil in 12 inch heavy-bottomed skillet over high heat. Reduce heat to medium-low, cover, and cook until potatoes offer no resistance when pierced with paring knife, 15 to 17 minutes. Remove cover, increase heat to high (so cooking liquid will reduce), and cook 2 minutes.

Drain potatoes in colander set over large bowl, reserving cooking liquid. set drained potatoes aside. Pour off and discard all but 1/2 cup cooking liquid (if 1/2 cup liquid does not remain, add water to make 1/2 cup.) Whisk remaining tablespoon vinegar, mustard, and oil into cooking liquid.

Add 1/2 cup cooked potatoes to bowl with cooking liquid mixture and mash with potato masher or fork until thick sauce forms (mixture will be slightly chunky.) Add remaining potatoes, onion, gherkins, and chives, folding gently with rubber spatula to combine. Season to taste with salt and black pepper. Serve warm or at room temperature.