Time to shake up your holiday cookie roster? How about a batch of Austrian Husarenkrapferl cookies? This gorgeous almond shortbread, dusted with icing sugar and finished off with a dollop of jam, will be the talk of the dessert table.
OK people the holidays, less than a month away! Have you started your preps, like for anything, yet? I have not except for a little cookie dabbling in the kitchen. This year I am serving up some Husarenkrapferl cookies and I am so very proud to include them in a Canadian Cookie Collaboration!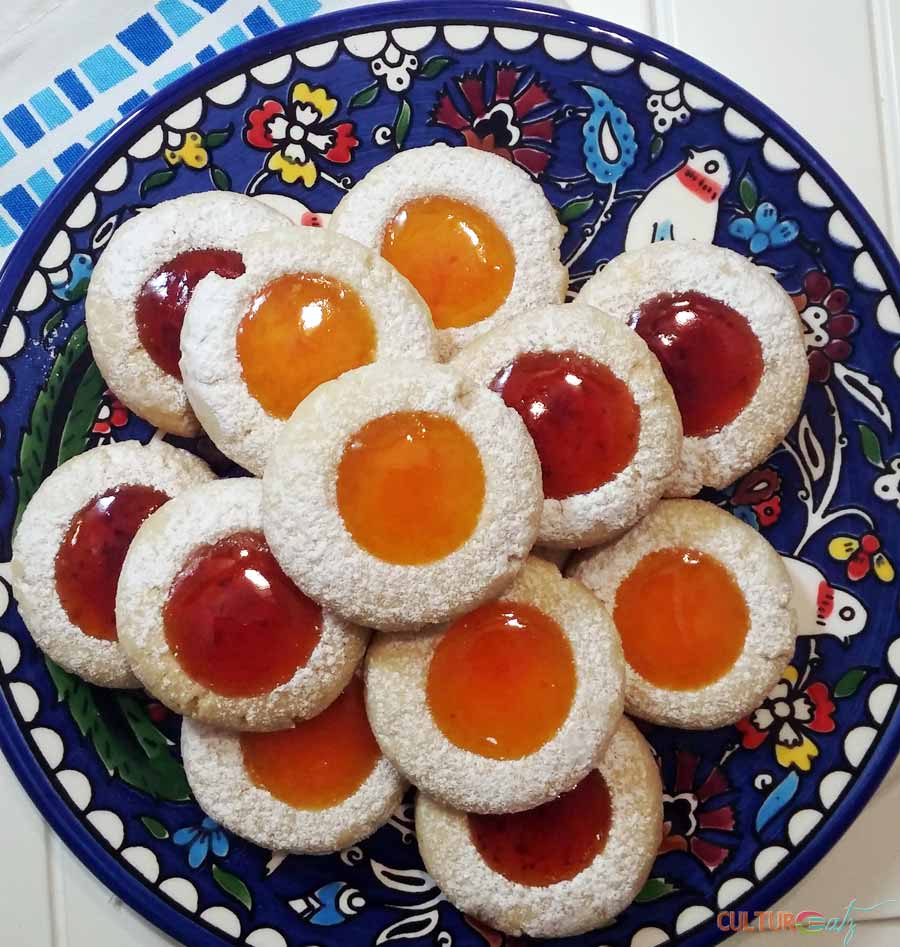 OH CANADian Food Bloggers!
I got invited to two separate events for holiday cookies and thankfully we managed to combine them into one. Thanks, Canadian Food Creatives and the Canadian Christmas Cookie Exchange for this fun event!
And lucky you, there is an amazing round up of cookie links below to check out!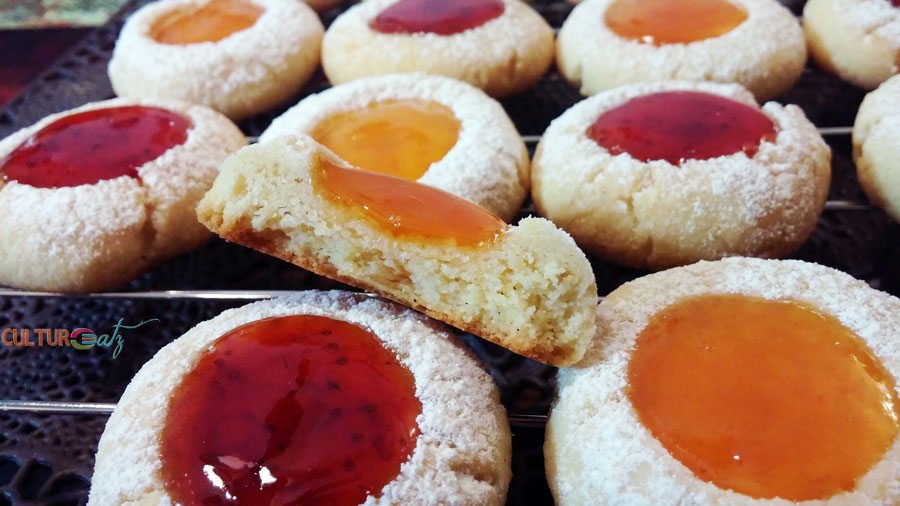 Funny enough I posted another Austrian Christmas cookie last year called a Vanillekipferl. The two recipes are very similar, minus the jam and last year's cookie is famous for its crescent shape. And I posted one more, a Linzer cookie.
This Husarenkrapferl recipe comes from Her Ladyship Martha Starcey. Martha is originally from Innsbruck Austria, not far from famous Salzburg, and through crazy story she ended up re-inheriting an English title through marriage, and all this via Montreal, my city.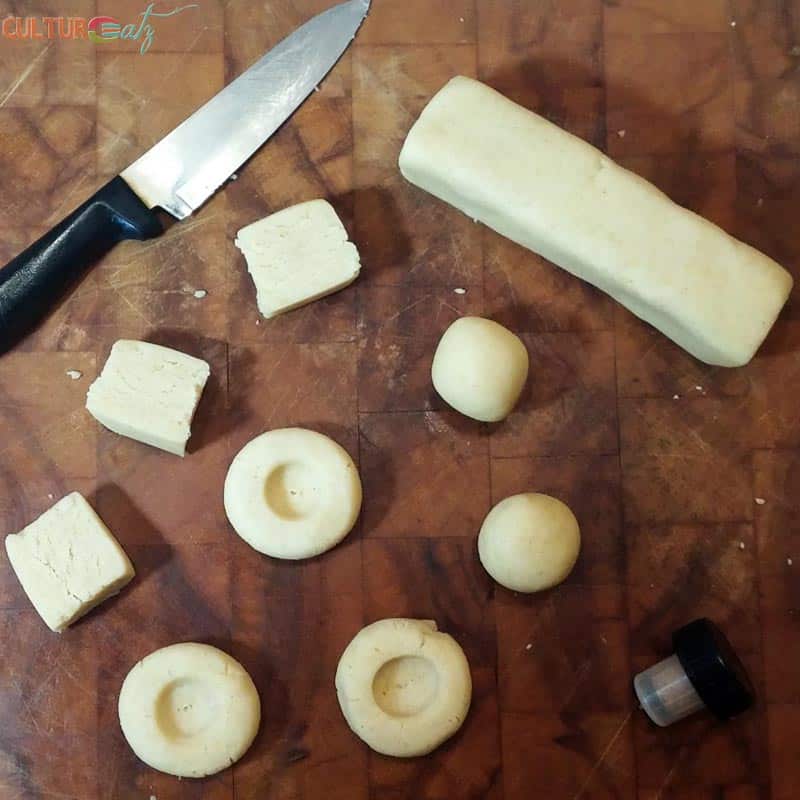 What does a cavalry and a donut have in common?
So what does Husarenkrapferl even mean? A vulgarized translation would be Cavalry Puff. The word Husaren means a branch of service of a light cavalry, originally a Hungarian term. The word Krapfen means donut.
I can tell you that if a cavalry wanted to travel with these sweets, the jam would have to be on the inside and not on the outside like these cookies. So I am guessing this is a simplified recipe turned into a cookie.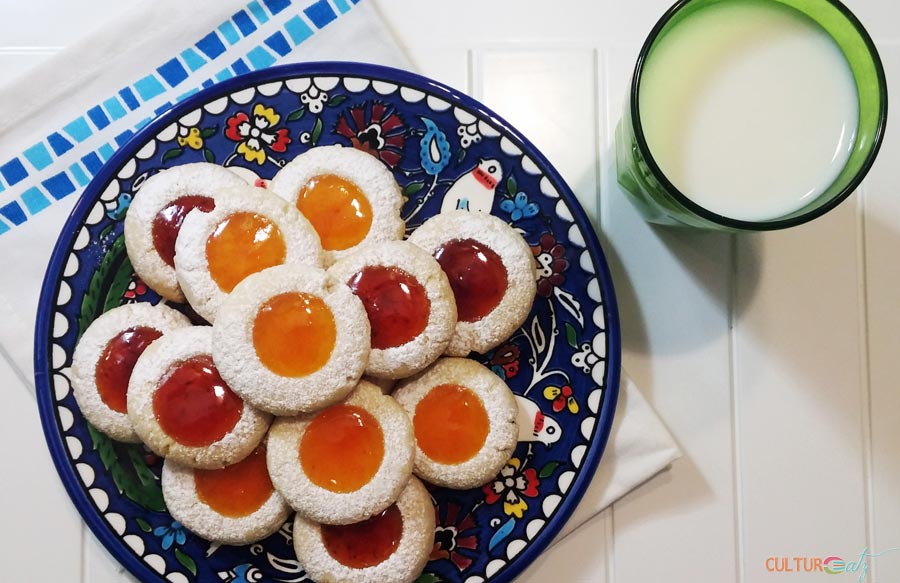 This is very much like your classic raspberry thumbprint cookie made with a shortbread dough but with the addition of almond flour (try hazelnut too), generously dusted with icing sugar and the imprint filled with a warm clear jam that cools to a gorgeous glistening dome.
Can I tell you how fast these babies disappeared from my kitchen?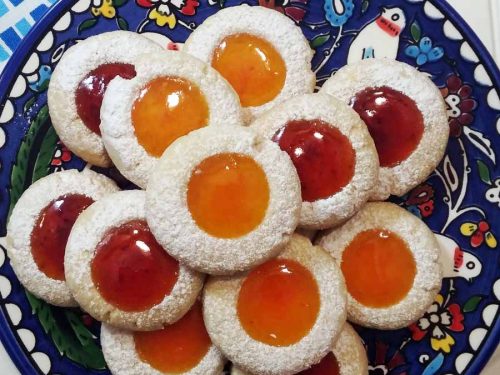 Husarenkrapferl, an Austrian Cookie
Ingredients  
200

g/7 oz all purpose flour

100

g/3 oz icing sugar

30

g/1 oz packet vanilla sugar

100

g/3 oz ground almonds

2

egg yolks

150

g/5 oz unsalted butter

apricot jam

or any clear jam
Instructions 
In a large bowl, mix together the flour, icing sugar, vanilla sugar and ground almonds. Incorporate the egg yolks to the flour mix. Cube the butter into small pieces and cut the butter into the flour mix with two knives. Knead the dough for a bit and shape into a ball. You may need to add a little bit of liquid if the dough is too dry, such as milk or water.

Flatten the ball of dough a bit and wrap it with aluminium foil or cling film. Refrigerate for at least 30 minutes so the dough can rest.

Roll out the dough into a cylinder, and cut it into 4 sections. Roll out each quarter into a cylinder, and cut it into 8 pieces. Roll these pieces into balls.

Place the balls 2 inches apart on non-stick baking sheets. Lightly press the top of each ball and make an indent with your thumb or with the handle of a thick wooden spoon.

Bake in a preheated oven at 350°F for about 11-15 minutes, until they are just starting to take a light golden colour. Do not overcook them, they will still be soft at this stage. Cool for 10 minutes on a wire rack and dust them with icing sugar.

Heat the jam in a small saucepan or microwave until nearly boiling. Carefully fill each cookie indent with jam using a teaspoon. Coolo cookies completely before serving.
A Canadian Cookie Collaboration
Welcome to this very special Canadian Cookie Collaboration between the Canadian Food Creatives (hosted by Laura) and the Canadian Christmas Cookie Exchange (created by Kacey).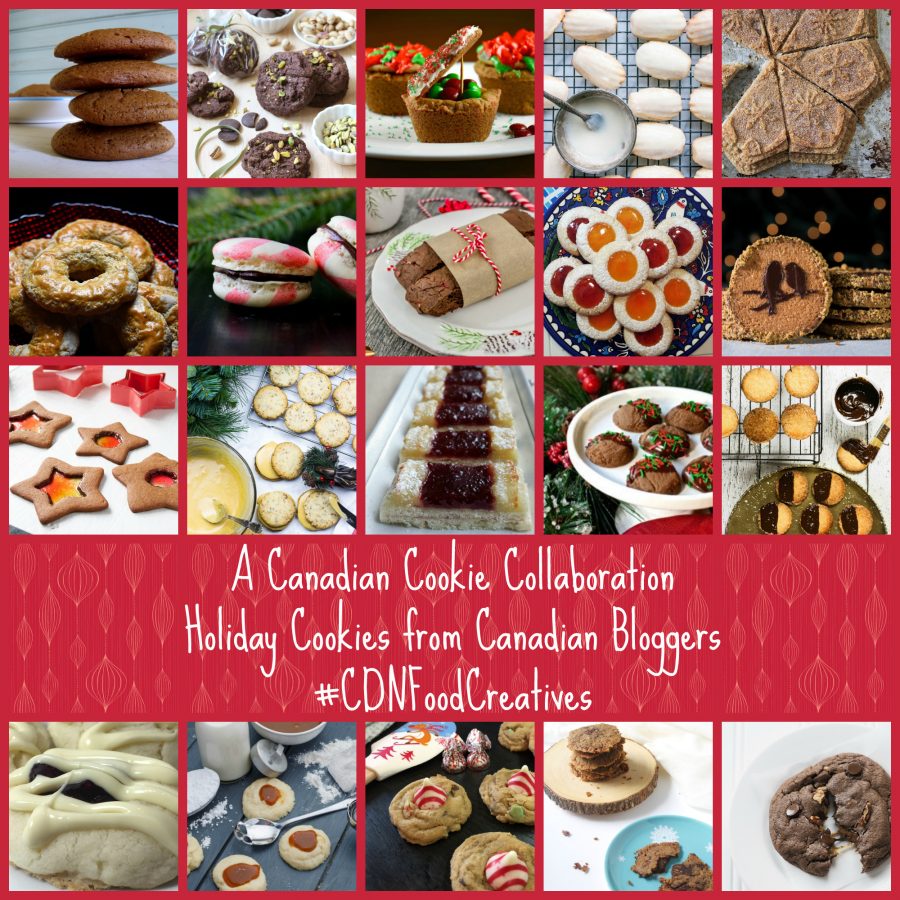 Visit these Canadian Bloggers to salivate and bookmark all of these sweet holiday cookie recipes:
Sharing is caring! Please post on social media if you like with the hashtag #CDNFoodCreatives!