A couple of weekends ago I spent a lovely day apple picking with friends in Saint-Hilaire at the Verger Petits et Fils. The first half of the day was cold and wet, perfect timing for a crepe lunch and a cider tasting. To bad the sky was so grey: you cannot see the autumn leaves at their most colorful. I do love the shot from the restaurant window however.
But the sun came out to play in the afternoon just as we hit the orchard. My friend Yan got the awesome pics. Come join us on the tractor ride with this tantalizing visual tour as we picked some Empires, Cortlands, McIntosh and Spartans. Recipes to come…at some point!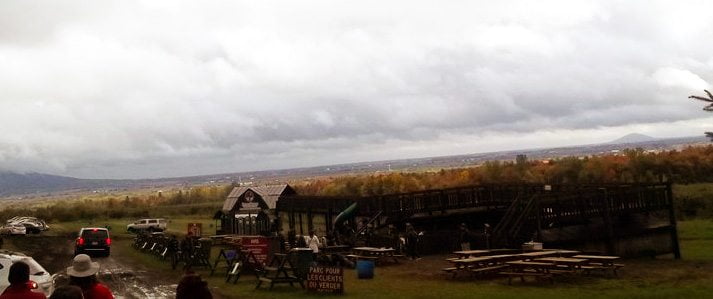 Photo by Yan Giasson (Nagi) Photo by Yan Giasson (Nagi)

Did you make one of my recipes? I would love to see it. Take a photo and tag me on Instagram @cultureatz.

EDITOR'S NOTE: This post may contain affiliate links (disclosure policy). Please support CulturEatz by clicking on the links and purchasing through them so I can keep the kitchen well stocked. It does not alter the price you pay.