It's Food 'n Flix time again! In this monthly group a 'host' picks a movie of their choice that pertains to food. Everyone watches the movie and then makes a recipe which the film inspired. It can be any recipe you want. This month's pick is hosted by Camilla at Culinary Adventures with Camilla. She picked a movie that is very dear to my heart: Le Festin de Babette, or translated to Babette's Feast.
Since there is a very set menu in the movie the choice of what to make was limited. Well we do not have to make a recipe from the movie but it felt more à propos this time. My original idea fell through drastically (keep reading) so I ended up going with "la salade". It may appear quite simple but my Watercress Endive Salad with Walnuts and Vinaigrette is actually quite lovely and elegant to the palate.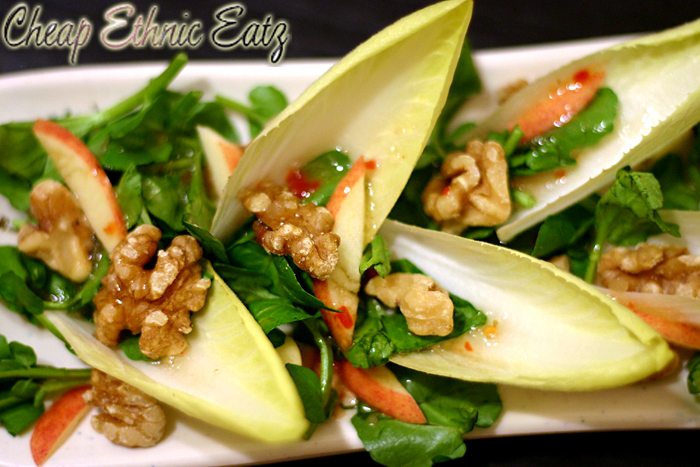 I do not want to reveal too much about the carefully woven story of the movie so will give a quick resume of the story of Le Festin de Babette. The movie is set in a small and poor maritime village in Denmark. The people of the village live a strict pious Christian life, except for the French refugee, Babette, who cooks and works for two spinster elderly sisters. She does not ruffle their feathers but never full joins their mentality. After 14 years in the sisters' employment Babette wins an the enormous sum of 10,000 francs in a lottery. Babette decides to use her entire winning to prepare a sumptuous real French dinner.
Well the whole planning, preparing and anticipation puts the entire village up in frenzy. The idea to eat for pleasure is more then the villagers can bare. They promise each other beforehand to not comment or praise the meal. But their willpower breaks down as the meal progresses the event turns into a sensual, physical and spiritual experience. Its a really beautiful and charming movie.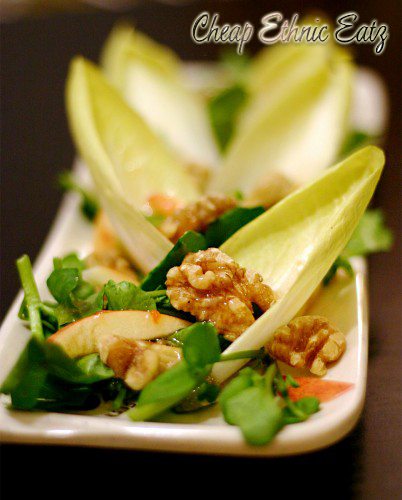 I was 13 years old when I saw this movie on television. The memory is so vivid I can see all the details in my head. It must have been a Saturday or Sunday as I saw it in the afternoon. I just sat on the floor, turned the TV on and the movie was starting. I became engrossed very fast. I guess this was one of the first big signs of a future foodie. We went regularly to fancy French restaurants so I could identify with the story and food.
This is also the first foreign language film with subtitles I have every seen. It is mostly in Danish with a bit of Swedish and French. French is my mother tongue so I under those parts. I remember my mom coming into the TV room to check up on me and she was taken aback that I was watching this movie not geared towards a teen at all. I have never forgotten the afternoon I saw this movie and when I started my annual Food Film Marathon 3 years ago Le Festin de Babette was the opening film of this ongoing festival I host for friends.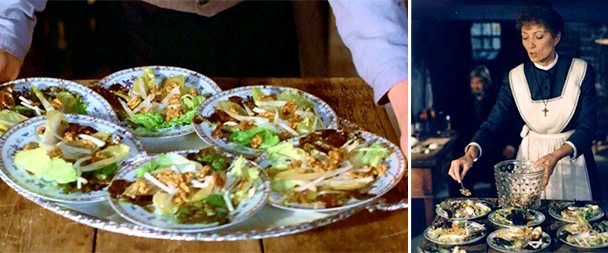 As weird as most people will find me – and if you find me weird over this it is because you are not a regular reader ha ha –  but when I saw the movie I dreamt that one day I would eat the first course of the meal, the turtle soup. When I saw the movie for this month I knew instantly that was going to be my recipe. I know I saw some frozen turtle meat in Chinatown a couple of years back. Well since then it is now illegal to sell soft shell turtle meat in Canada so no turtle for my soup. I have to say I was really quite devastated, my dream will have to hold off for now.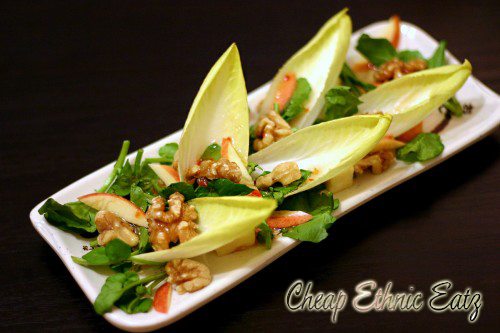 So I went with the salad. In the movie the exact recipe is called Belgian endive with walnuts in a vinaigrette. I used watercress instead of lettuce and added apples. I think I may have made a soup once or twice with watercress in my life but never made a salad with it. It is a new favorite green now. I have always been a fan of endives, especially raw. I'll just munch them up. The salad was refreshing, the nuts and apples add texture and great contrasting taste. Go with any light vinaigrette you like, only thing is I suggest pouring with a light hand.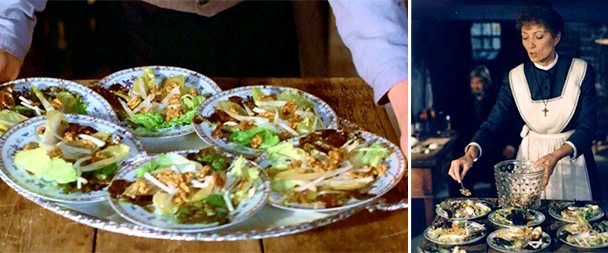 Watercress Endive Salad with Walnuts and Vinaigrette
Ingredients  
1

bunch watercress

stems removed

2

endives

separated

handful of walnuts

1/2

apple

cut into matchsticks

Vinaigrette

your choice but a light one
Instructions 
Place watercress and endives in a bowl and toss. Or place artfully on a serving plate.

Top with walnuts and then apple matchsticks.

Pour vinaigrette to taste on salad, toss.