I hope you enjoyed my earlier post today where I reviewed the wonderful Clementine Olive Oil and O Zinfandel Vinegar from the Natural Box collection that I won. And as promised here is the my mysterious recipe I am submitting for the Olive Oil recipe event.
So…drum roll please… I am submitting as my entry Vinegar Tarts and Olive Oil Ice Cream with Clementine Emulsion and Nutella Powder dessert.
Quite a mouthful, I know. And I bet the last thing you would have expected was a dessert too! As I was trying to come up with my entry my mind kept going back, or should I say struggle, between two ideas: desserts and molecular gastronomy. The dessert factor was my main focus! My regular readers know very well how I like to explore the exotic and unusual. So a dessert for my oil and vinegar was a must. The molecular gastronomy aspect was obvious, to me at least, with two such flavorful mediums. I could make liquid raviolis, gels, air, etc. After all I bought so many MG powders a while back and never use them. But I had issues coming up with a dish as such.
Finally the two ideas combined where the emulsion and Nutella powder play a supporting role to the tart and ice cream. The assembly is quite simple. Once the tarts complete I added a quarter of clementine standing up. On one side I spoon a little bit of the emulsion and sprinkled a dash of Nutella powder. Finally I shaped a small quenelle with the ice cream which I place standing up on the other side on the tart. Voilà!
Now for the taste test. The first word that comes to mind before tasting this unusual combo is skeptical. Even though I knew it would work I had a grain of doubt. I also served it for dessert to my brunch guests yesterday. They were very tentative on their first bite. Once a forkful entered our mouths all three of us had the same reaction: eyes jumping wide open and a very pleasant surprised look. The olive oil ice cream is just out of this world, just creamy and dreamy. I was taken aback by how pronounced the clementine flavor of the oil was. The vinegar tarts tasted like a bright shiny summer day: so zesty and punched up. Even if the vinegar is definitely present is is not to overpowering, but a perfect balance in the curd like filling.
This dessert will challenge your concepts of taste and just amaze you and your guests should you choose to serve it over the holidays.
Ξ Olive Oil Ice Cream Ξ
from Serious Eats, taken from David Lebovitz
1 1/3 cups (330 ml) whole milk
1/2 cup (100 g) sugar
Pinch of salt
1 cup (250 ml) heavy cream
6 large egg yolks
1/2 cup (125 ml) fruity olive oil
Warm the milk, sugar, and salt in a medium saucepan. Pour the cream into a large bowl and set a mesh strainer on top.
In a separate medium bowl, whisk together the egg yolks. Slowly pour the warm mixture into the egg yolks, whisking constantly, then scrape the warmed egg yolks back into the saucepan.
Stir the mixture constantly over medium heat with a heatproof spatula, scraping the bottom as you stir, until the mixture thickens and coats the spatula. Pour the custard through the strainer and stir it into the cream. Whisk the olive oil into the custard vigorously until it's well blended, then stir until cool over an ice bath. Chill the mixture thoroughly in the refrigerator, then freeze it in your ice cream maker according to the manufacturer's instructions.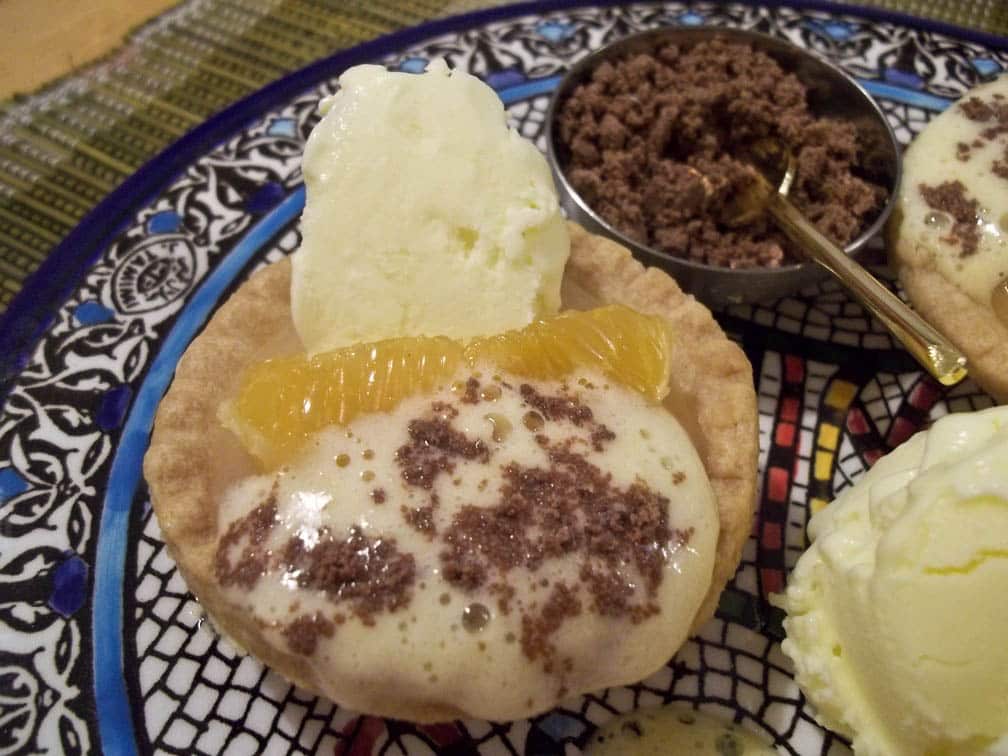 Ξ Vinegar Tarts Ξ
from Now thats Cookin', taken from Emeril Lagasse
24 pie pastry individual tart shells
2 cups water
1/2 cup all-purpose flour
2 cups sugar
2 eggs, beaten until frothy
6 tablespoons apple cider vinegar
2 teaspoons Limoncello, or other lemon-flavored liqueur, or lemon extract
Preheat the oven to 350 degrees F. Bake 24 tart shells (you could do 1 9-inch pie pan) on a baking tray for about 10-12 min until golden. Let them cool.
In a heavy 2-quart saucepan, bring the water to a boil. In a small bowl, combine the flour and sugar, tossing with a fork to blend. Add the flour-sugar mixture to boiling water and cook, whisking often, until thickened, about 6 minutes. Remove from heat and slowly add the eggs, whisking vigorously. Return to medium-low heat and cook, whisking, until velvety smooth, about 3 minutes. Add the vinegar and lemon extract and whisk just to blend.
Pour into the cooled pastry shell and refrigerate until set, about 3 hours.
Ξ Clementine Emulsion Ξ
from the Passionfruit Emulsion at Pastry Kitchen
4 clementines, peeled and quartered
1¾ ounces sugar
1 teaspoon lecithin
Puree clementines with a emulsion blender. In a small pot, bring ingredients to 120°F. Emulsify with a  hand blender. Keep in the fridge until ready to use. Emulsify with a hand blender again prior to use.
Ξ Nutella Powder Ξ
from Hungry in Hogtown
120 g Nutella
80 g tapioca maltodextrin
Combine ingredients in a food processor.  Process until the mixture has the texture of soil.
Pass mixture through a tamis or fine-meshed sieve to lighten its texture. Sprinkle liberally.
Note: I third the recipe. As long as you keep the ratio sixty percent fatty ingredient to forty percent maltodextrin, the process is simple. I just used a coffee grinder instead since it was such a small quantity.
__________________________
Don't forget right now to go register (if you are not already a member)  and ADD my Vinegar Tarts and Olive Oil Ice Cream with Clementine Emulsion and Nutella Powder entry from the Cheap Ethnic Eatz eRecipeBox, I would be ever so thankful!