Trying to figure out how to summarize my food pics from my vacation was an overwhelming task. So much to share, it would have taken 12 posts and 85 pics minimum if done individually! I decided to condense stuff over a few posts instead, have brief descriptions and do photo collages. I hope you enjoy this Vacation Eatz series!
I do want to try my hand at some recipes or explore some of the food's background once the Vacation Eatz series is done. We always say that but we end up with a zillion other projects. So I am writing it down now here and you, my reader, can hold me to it that way lol. They are not exotic recipes at all, more your traditional Southern American staples. But for me they are exotic as they are not part of my food habits. So recipes/explorations to come in the future are:
She Crab Soup
BBQ as in the NC pulled pork version (I know different sauces, I'll pick one)
Mac and Cheese
Fried Chicken
Grits
Banana Pudding
Cornbread
Hush Puppies
Fried Green Tomatoes
Now let's start the trip. My first stop was Washington DC for a day and I slept 2 nights at a friend's house in Alexandria Virginia. It was so awesome to catch up with her, it had been 7 years since we last saw each other. I kind of wish I had stayed there longer…it went by too fast.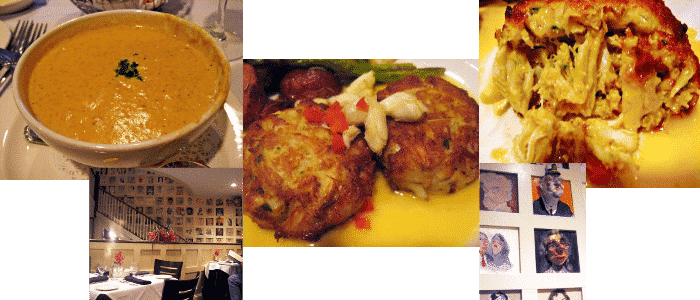 When she suggested Maryland crab as being a must I was not going to argue with her lol. We took a walk in Old Town Alexandria (which is just too pretty) and went to The Warehouse Bar & Grill. I am warning you right away…not a cheap place lol. But hey it's a vacation treat. The walls of the restaurant are covered in caricatures of patrons. No one famous, no idea who drew them…but it is a unique and cool decor.
I had the She Crab Soup and the All Lump Crabcakes plate. My heart stopped a bit at the price of the entree, $28.95, but you only live once. The soup was amazing and very filling, so much so I had little room for the main dish. I stuck to the crabcakes mostly which were awesome with nice big chunks of crab meat. The veggies were plain enough anyways. What is lump crab? Lump crab is the extra large portions of meat that come out of a crab body. In other words you get chunks of crab flesh…not just torn apart little pieces. In my research online for this it is apparently common for commercial crab to be pasteurized but connoisseurs say it is to be avoided.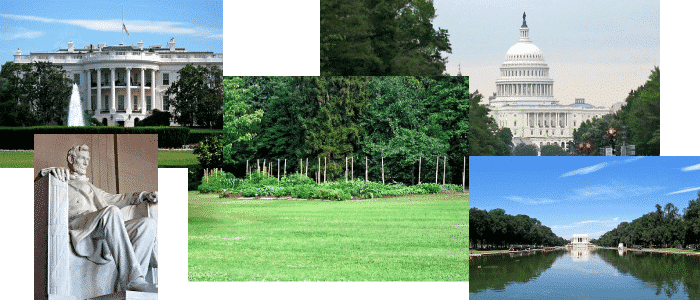 My friend works in DC so I hopped in the car with her in the morning. I spent the morning seeing lots of outdoor stuff like the Lincoln Monument, the White House from afar, the Capitol, and more. Funny enough you can't get near the White House without getting a reservation 6 months prior but Obama's veggie garden is right by the street lol…it's the pic in the middle. It was so hot though I decided to spend the afternoon in the Smithsonian Museums. But first I had to have lunch.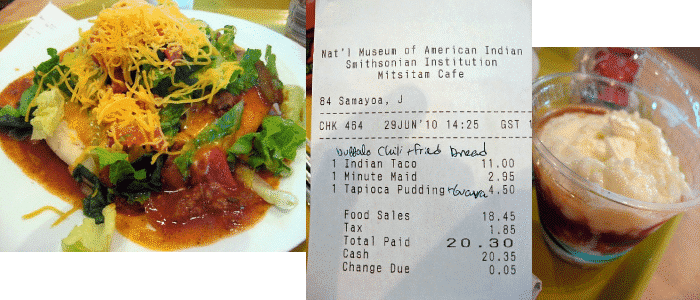 The Smithsonian neighborhood is not a restaurant hub area at all. But I asked the cashier in the American Art History to recommend a place. She suggested the cafeteria in the National Museum of the American Indian. The Mitsitam Native Foods Café was a great discovery portal into the indigenous cuisines of the Americas. It's set up like a food court with 5 counters representing the different cuisines: Northern Woodlands, South America, the Northwest Coast, Meso America and the Great Plains.
I ended up having an Indian Taco which was made with Buffalo Chili and a fried bread. This recipe I have already made at home and posted about it here. I also got for dessert a Guava tapioca pudding. Yes I like tapioca lol. I have to say for a museum cafeteria the food was good but again the bill !!!! 20$ for a taco, a dessert and a juice. Me thinks DC would not welcome a Cheap Ethnic Eatz group to well.
Tune in tomorrow for more of my DC foodie adventures with Julia Child's kitchen,  space food and Thai cuisine!