There is nothing like a zesty citrus dessert at this time of the year to embrace the warm weather better. I saw this ice cream recipe on High/Low Food/Drink a while ago and I knew I had to try it. Of course that was back in March so I really could not wait for warmer days to arrive. But I only got around to making this ice cream last night, adapted of course.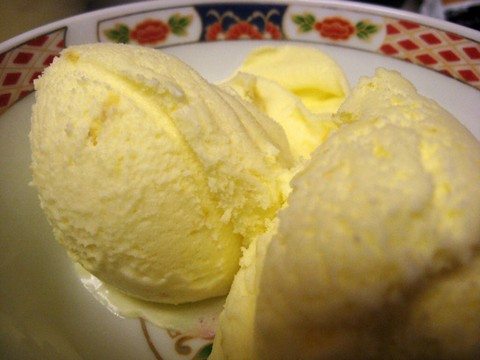 The original recipe uses Meyer Lemons, which I could not find at my local grocery store so I used the plain normal one. The Meyer lemon is thought to be a cross between a true lemon and a mandarin orange or sweet orange. Of course I only read this AFTER I made the ice cream. Hence my baptizing my recipe Uber Lemon because this is not for the faint at lemon heart. Wow!
Let me tell you this ice cream could replace a morning coffee in terms of a slap in the face to wake you up. You have to really like lemons to enjoy my version but if you do…it is heaven. It is so intense in flavor. Give it a try!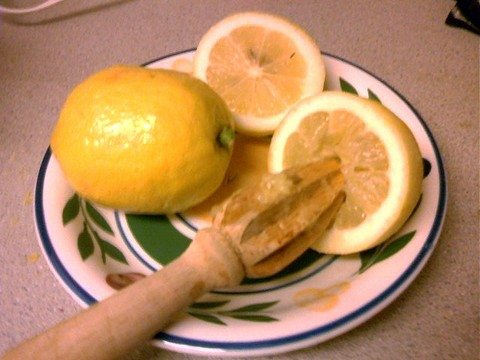 Uber Lemon Ice Cream
3 Lemons
1 cup sugar
1 cup heavy cream
1 cup milk
1/4 tsp salt
4-5 drops of yellow food coloring, optional
– Finely grate the peel of 1 lemon (love my Microplane)
– Squeeze the juice of all 3 lemons and combine juice with sugar and salt.
Ice cream machine
– put cream, milk and lemon mixture and operate as per manual.
Hand made
– Add the cream and milk carefully as it will immediately thicken.
– Pour into a shallow container and freeze until solid around the outside and mushy in the middle,  about 2-3 hours.
–  Stir with a fork and freeze until firm.