I am going to share a an embarrassing secret with you: Four years ago someone placed a curse on me. I am cursed to break wine glasses.
Don't believe me? I swear it is true. I do not know whom placed this curse on me but it started at a party on a Dec 30th. I broke by accident a glass at a friend's place….he still talks about it….a wedding present from a now defunct marriage. Ever since then I break wine glasses to the amount of about 20-30 a year.
I am not kidding. Thank god I have only broken my own since then. I now buy them at the dollar store or Ikea when I am there. My really nice 50$-a-glass glasses I am very careful with (1 has broken only). A couple of times I even broke a glass while I was not even in the room. Once a vibration from knocking the wall outside the kitchen was enough to tip over a glass in the drying rack on the counter and send it into the sink to shatter.
I was so exasperated I went online to hunt for an unbreakable wine glass – one that was not for a 1 time use and disposable AND that looked decent enough to use for everyday dinner…even with close friends as guests.
This search led me to the Govino Wine Glass.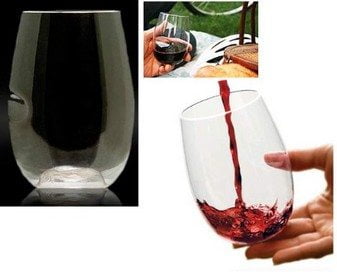 Necessity is indeed the mother of invention. The govino shatterproof wine glass was originally created as a trade tool to help professional salespeople showcase their wines whenever and wherever proper stemware isn't accessible – which as we learned firsthand, is often! Once we began testing the market, we realized there was an even bigger need for govino in the consumer sector, particularly at settings where breakable glass is an issue. After all, how many times have we all had to endure drinking good wine from bad glasses?
I bought 4. They are not as thick as I would like but so far I am very happy with them. They are not eternal obviously and its a bit expensive once you add shipping but in the long run it is still cheaper then my regular dollar store run. The glasses are made of a food/pharmaceutical safe polymer. They are nice and practical shape wise which is really in right now. I love the thumb indent on the side, the glass itself is a lot more stable and won't tip over easily' .The glass holds 6 ounces up to the mid point of the thumb notch – 16 ounces up to the brim.
My only complaint so far is that you cannot leave them for a few days on the counter (I know I can be bad) before washing because the wine ring is a lot harder to clean then with glass as the wine seems to penetrate a tiny bit the material. Also the company does not ship to Canada…so if you are in Canada this is where you will get the best deal.
Chin chin to no breakage!