Foodbuzz has a Daily Special feature going on for the next 6 weeks. Every day of the week a cool product will be highlighted.
I though this would fit so well in combination with my Thursday's Thingamajig…so the next 6 weeks I will present the Daily Special. This week, the last one, is the….
Stainless-Steel Mixing Bowls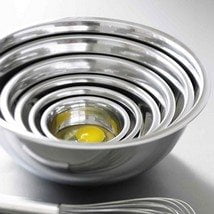 A bowl for every task. This set of six stainless- steel mixing bowls with easy-grip rims, holds from 2 cups to 8 quarts of ingredients for mixing, prepping and serving. Freezer- and dishwasher- safe.
Set includes:
• 1/2-quart, 5 1/8″Dia. x 1 7/8″H
• 3/4-quart, 6 1/4″Dia. x 2″H
• 1 1/2-quart, 8 1/8″Dia. x 2 1/4″H
• 3-quart, 9 7/8″Dia. x 3 1/4″H
• 5-quart, 11 7/8″Dia. x 4″H
• 8-quart, 13 1/4″Dia. x 4 7/8″H