Foodbuzz has a Daily Special feature going on for the next 6 weeks. Every day of the week a cool product will be highlighted.
I though this would fit so well in combination with my Thursday's Thingamajig…so the next 6 weeks I will present the Daily Special. This week is the….
Sous Vide Supreme, SVS 10LS
The French culinary technique of gourmet cooking now available for the first time to use in home kitchens.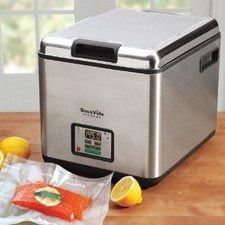 This once-secret method of slow simmering transforms meats, vegetables, seafood and fruit into succulent, delicious meals. The Sous Vide Supreme is the single best method of cooking offered for home kitchen use in decades. Season food, add to pouch and seal, fill water to indicated level and let the Sous Vide Supreme simmer – for minutes, hours, even days. With the precise temperature control, you are guaranteed rich and moist textures not achievable with any other cooking method, nutrient-rich flavor with negligible moisture loss. Simple to operate. Outstanding gourmet results every time without even lifting the lid.
Meats taste richer, ribs have a fall-off-the-bone texture that is as moist as it is tender. Seafood acquires a velvety smoothness without the lingering odors in the kitchen of pan searing. Marinades infuse throughout food for exceptional flavoring and brining becomes a rediscovered art in cooking.
Not solely for dinner preparation, this Sous Vide machine soft-boils, poaches or scrambles eggs and produces delicately creamy custards without any supervision. Instructional booklet includes cooking temperatures, times based upon thickness: beef, lamb, bison, spare ribs, baby back ribs, pork chops, roasts, chicken (white and dark), duck, seafood, vegetables (root and tender), fruit, eggs and recipes. Lift-out stainless-steel perforated tray and pouch rack are dishwasher safe. Brushed stainless-steel and stainless-steel exterior.
Product Features
• The French culinary technique of slow simmering in vacuum-sealed bags transforms meats, vegetables, seafood and fruit into succulent, delicious meals
• Simple to operate for outstanding gourmet results: add seasoned food to a pouch, seal, add water to the Sous Vide machine and let simmer for minutes, hours or days
• Precise temperature control ensures nutrient-rich flavor and unique textures not achievable with any other method of cooking
• Soft-boils, poaches or scrambles eggs and produces creamy custards
• Thermometer with prong gauges temperature, from 0 to 400 degrees F
• Instruction booklet includes recipes, precise cooking times and temperatures for meat, pork, poultry, seafood, vegetables, eggs and fruit
• Instructional DVD guides you through the cooking process