Foodbuzz has a Daily Special feature going on for the next 6 weeks. Every day of the week a cool product will be highlighted.
I though this would fit so well in combination with my Thursday's Thingamajig…so the next 6 weeks I will present the Daily Special. This week is the….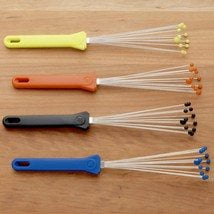 Silicone Ball Whisk, 11-inch
Innovative whisk design blends faster and better for perfectly smooth batters, meringues, sauces and gravies.
Better than the average whisk, this silicone ball whisk features twelve wires at varying lengths with weighted silicone ball tips that move independently to blend every ingredient quicker and better than regular whisks. Safe for nonstick cookware, the ball whisk will reach into every angle or any corner with little effort. This whisk incorporates air as it mixes to create exceptionally light and airy batters for perfect meringues, souffles and cream pies. Whips cream-based ingredients or eggs to peak consistency in record time. Silicone ball tips are heat-safe up to 500 degrees F to blend gravies and sauces lump-free right in the pan. ABS plastic, stainless-steel and silicone. Dishwasher-safe. 6-oz.
Product Features
• Varying wire lengths with weighted silicone ball tips move independently to thoroughly blend ingredients
• Whisk incorporate air as it mixes to create the lightest batters
• Whips cream-based ingredients or eggs to peak consistency in record time
• Silicone ball tips are heat-safe up to 500 degrees F to blend sauces and gravies in the pan
• ABS plastic handle, stainless-steel wires
Specifications
• Models 18.8200.4071, 4072, 4073, 4074
• 11″L x 1 3/4″ Dia.
• 6-oz.
• Made in China
Care and Use
• Dishwasher-safe