I actually bought this OXO Salad Spinner for an older family member as a Christmas present. She had requested one and asked for a spinner that was easy to use as she has arthritis and general weakness in her arms. This spinner was perfect. Just gently press the top button down once and it whirls on its own. There is even a 'break' button. Another bonus is the spinner comes in a small and large size. I got her the small as she lives alone.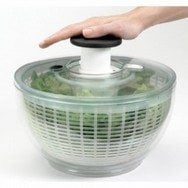 The OXO Salad Spinner washes greens and whisks away water instantly. One touch of a button starts the spinning motion. A second press stops it. Optionally, use as a colander or serving bowl.
Product Features
• Stop and start at the touch of a button.
• Lid comes apart for easy cleaning.
• Basket can be used as a colander.
• Bowl can be used for serving.
• Available in green or clear.
Specifications
Large:
• 8 1/2″H.
• 10 7/8″ Dia.
• 2 1/4 lb.
Small:
• 5″H
• 8″ Dia.
• 1 1/4 lb.
Care and Use
• Base and basket are dishwasher-safe.