When I was a kid we had in the basement a yogurt machine. It remained in the box always. As far as I know it was never ever taken out or used. And for me it was a mystery magical machine. It stuck with me and when I saw this yogurt maker it brought back feelings of the unknown and marvel:
Euro Cuisine Yogurt Maker – 7 × 6 oz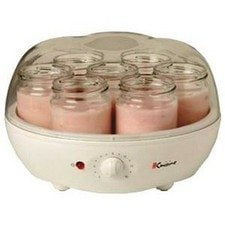 Prepare all-natural, thick and creamy yogurt with this electric yogurt maker. Making yogurt at home allows you to control the sweetness, ingredients, fat content, and thickness of the yogurt. Make up to 7 different flavors at one time. A clear lid allows for monitoring of the cooking process, and a built-in timer with auto shut-off turns off the machine when the yogurt is done (6 – 10 hours, depending on the thickness desired). Includes seven resealable 6-ounce glass jars which can be used to provide airtight storage in the refrigerator.
Product Features
Care: Glass jars are dishwasher safe
Warranty: 3 years
Capacity: 42 ounces/1.2 litres
Dimensions: 24.1 x 15.2 x 24.1 cm ; 1.9 Kg