A review of the new Guy Laliberte PY1 show. Is it worth seeing the new Through the Echoes show taking place in the Old Montreal this summer?
Through the Echoes, a brand new show which is meant to travel once it is done in Montreal. It was imagined by GuyLaliberté co-founder of Cirque du Soleil. In French, it is called Au-delà des Échos.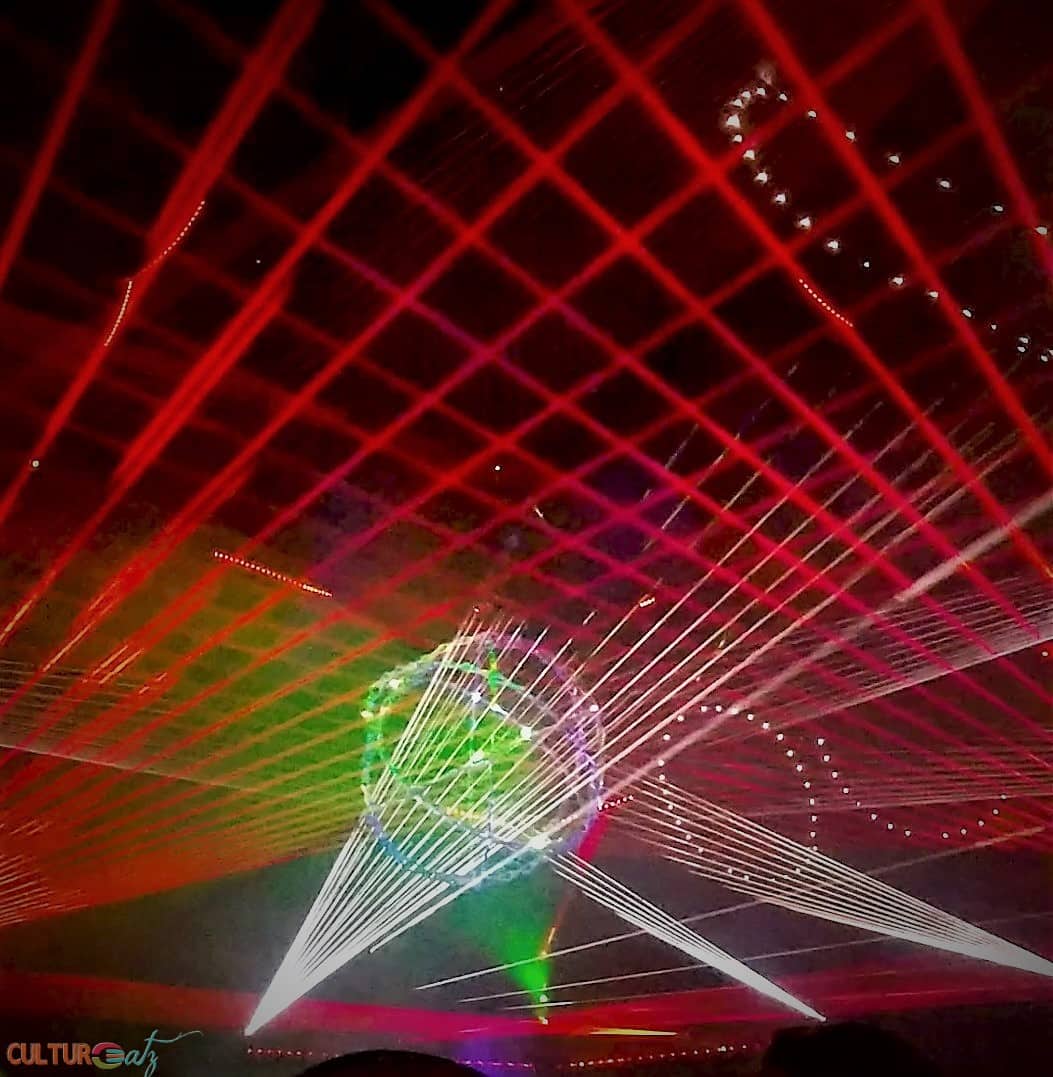 I saw one of the first performances of Through the Echoes is Old Montreal which takes place in the PY1 pyramid. The show just started June 1st and runs to Sept 29. You enter a smaller pyramid that has a few cool lights and then enter into the main pyramid area there are benches around the pyramid or a few small cushions on the floor.
A multimedia show like no other
It is a 60 min multimedia show that utilizes 360-degree projection on the inside walls of the pyramid, using videos, lasers, lights, special effects, music, and narration.
Beginning with a scene from a campfire looking at the stars, it takes you on a journey through time, from the big bang to evolution on earth, humankind, technology, and the rise of empires.
The show is dotted with narrations from Alan Watts a spiritual beatnik philosopher popular during 1940 to 1960s. The show tries to make the audience reflect on our existence. Who are we and what is our role here, how can we make it better?
Check out my video review with clips from the show.
Breaking in Through the Echoes?
It just started and I saw it on its 7th night, and they are breaking it in with an audience. Visually is it impressive most of the time, some parts were a bit long.
The music starts of tribal, then lots of percussions and then very 90s new age stuff. I wish towards the end there was more modern stuff. It does end with a great rendition of John Lennon's Imagine.
Alan Watts's narration is from old tapings that date back to the 1950s, it's really not clear. the subtitles in French were a must. Also trying to absorb philosophical thoughts kind of broke me away from the rest of the show and I felt disconnected at times.
It is promoted as a show you can walk around, nope people sit and you can't move.
Is it worth seeing the show Through the Echoes?
Again it is a brand new show and Montreal is the guinea pig to perfect it. I think they can turn it into a really cool experience, I have certainly never seen anything like this before.
I say wait, at least a month In the meantime get yourself a Montreal bagel and a smoked meat sandwich. There is plenty of room for improvement and hopefully, the Lune Rouge production will work on it. It is really something to see and impressive, but there is an emotional connection missing to really get sucked into this universe.