I was just absolutely thrilled when I was contacted by the wonderful folks at Faye Clack Communications to try a sample of wonderful California walnuts. I have had wonderful review opportunities so far with this blog but I believe it was the first time I was offered such a raw product and I had already heard great things about these nuts. To my surprise I received an enormous bag of absolute fresh and sweet walnuts. I was giving away small samples to my friends I had so many.
Walnuts have been part of our diet for thousands of years. As a matter of fact walnuts are the oldest tree food known to man, going back to about 7000 BC. Walnuts are commonly featured in Greek and Roman lore and mythology. Seems our ancestors knew about the goodness of the walnut long before science proved the healthy benefits. Did you know that 3/4 of the fat found in the walnut is actually a cholesterol fighter? They are also packed with Omega-3s, they can reduce the overall risk of coronary heart disease, defend against some cancers and help ease symptoms of inflammatory diseases like arthritis. So keeping a bowl around to snack on is a pretty good idea!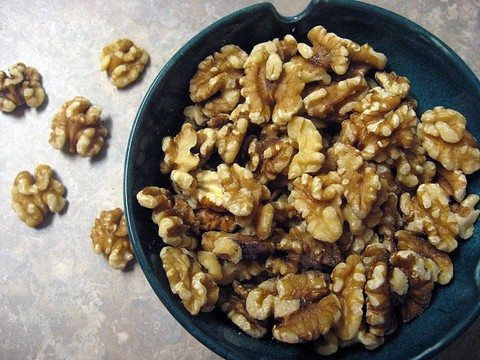 I did not even know California grew nuts but apparently the mild climate and fertile soil is a perfect match. And I have to say these California walnuts were probably the best I have ever tasted: so fresh, almost chewy, lovely nutty flavor and jam packed with goodness. If you have extra remember to store them in a dry cool place. I put my leftovers in the freezer in an airtight container. A great idea when using older nuts is to toast them to bring out the flavor. Easiest way is to bake them at 350ºF for 5 to 7 minutes or until lightly browned.
Tip: sure you can chop your walnuts on a board with a big knife and have them fly all over the place. Or nothing beats the zip lock and rolling pin method. Make sure to take the air out of the zip lock before sealing it and wack away, great stress reliever too!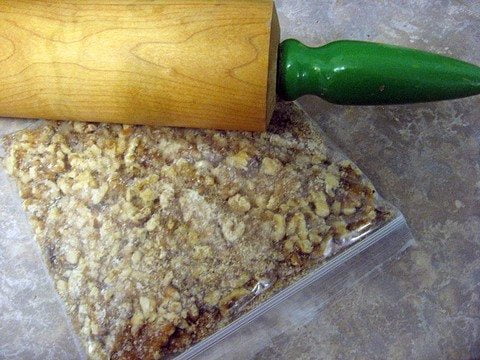 Not only are walnuts great on their own as a snack but they can be so versatile in recipes. You can add them to almost anything like salads, meats, sweets and veggies. The website provides a long list of fabulous walnut recipes but I went ahead and made my own recipes. I wanted to do both a sweet and a savory dish and I had puff pastry on my mind for both. The first is a Walnut and Mushroom en Croute which is a great vegetarian dish and fresh thyme does make all the difference here. I kept my walnuts fairly coarse so they added a lot of texture. For my sweet one I went with a Walnut Strudel: if you use dark chocolate like me it will not be too sweet so if you want a more chocolaty result go for milk chocolate.
Now if you want something savory….
Mushroom and Walnut en Croute
Ingredients:
1/2 cup walnuts, chopped
1/2 minced onion
1 minced garlic clove
1/4 cup unsalted butter
1/2 pound mushrooms, chopped
1/2 tablespoon chopped fresh thyme
1/4 teaspoon salt
1/4 teaspoon pepper
1/2 package puff pastry dough
1 egg
Directions:
1. Preheat oven to 390 degrees F.
2. In preheating oven, spread walnuts in a single layer on a cookie sheet and toast for 7 minutes, or until lightly browned.
3. In a large pan, cook onions and garlic in butter over medium heat until translucent. Add mushrooms, thyme, salt, and pepper. Cook, stirring often, until mushrooms are golden. Toss in walnuts and remove from heat.
4.Roll the pastry out so you can wrap the pan mixture in it completely (approx. 2-3 mm thick) and lay it on a buttered or oiled baking sheet. Put the mushroom mixture in the middle.
5. Now fold the pastry over into a neat parcel (fold sides in and then fold long flaps in making sure no filling can leek). Brush with the egg glaze. Bake for 30 minutes or until the pastry is crisp and browned.
and for something sweet….
Walnut Strudel from Chef in You

Ingredients:
1/2 cup dark chocolate
2 tablespoons milk
1 tablespoon butter
1/2 cup walnuts, chopped
cinnamon to taste
1/2 package puff pastry dough
1 egg
Directions:
1. Preheat oven to 375 degrees F.
2. In a bowl melt chocolate with milk and butter in a microwave, 30sec. Stir well.
3. Roll out the puff pastry sheet on a floured surface and spread the chocolate mixture on the pastry leaving 1 inch clear.
4. Sprinkle the walnuts on the chocolate along with cinnamon. Roll it up like a jelly role and seal with egg.
5. Bake for 30-45min until golden brown. Remove and dust with cinnamon. Cut into slices.