Soups are a wonderful dish to enjoy year round and a great way to eat your vegetables. But with summer starting, a hot bowl of soup under the hot sun maybe not be as tempting. Well cold soups to the rescue! Gazpacho, a cold tomato based soup, is a favorite of mine. I have made several versions over the years but when I came across this recipe, slightly adapted of course, I believe it is my best one yet.
The balance of flavors in the Gazpacho was perfect with a simple list of seasonings. I added a bit of fresh cilantro to the soup, a must for me with this recipe. The very unusual twits here though is the small handful of herbed walnuts added to the gazpacho before serving. I never imagined adding nuts to a soup before and was a bit sceptical, but it turned out to be a wonderful and surprising good match. I think the walnuts will become a must from now on like the cilantro.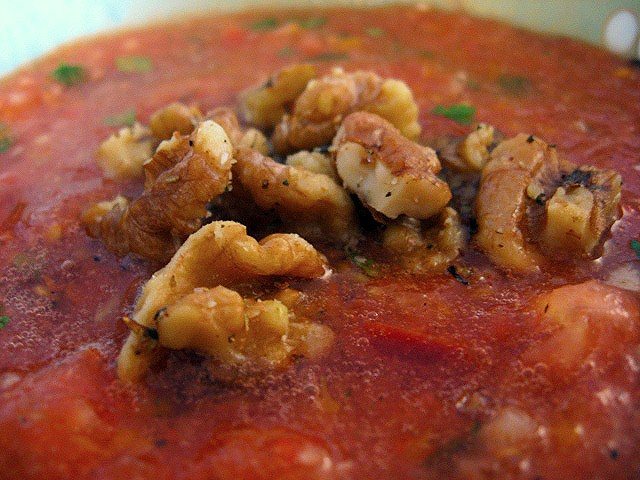 If you have a really light appetite on a really hot day add a bigger handful of walnuts and you can call it a meal. Walnuts are chalk full of protein, iron, magnesium, vitamin E, dietary fiber and omega-3s.
≡ Summer Gazpacho with a Walnut Twist ≡
5 ripe tomatoes, peeled and chopped
1 cucumber, peeled and coarsely chopped
1 small red or green bell pepper, chopped
1 clove garlic, minced
1 small onion, finely chopped
1/4 cup white vinegar
1-1/2 cups tomato juice
3 tbsp chopped cilantro
Salt and freshly ground black pepper to taste
1 tsp olive oil
3/4 tsp herbs
cayenne pepper, a pinch
Salt, if desired
2/3 cups chopped walnuts
In a large bowl, combine tomatoes, cucumber, pepper, garlic, onion, vinegar and tomato juice.
In food processor or blender, blend vegetable mixture in batches just until coarsely pureed. Season with salt and pepper to taste. Return blended soup to bowl; cover and chill thoroughly. Before serving, if soup seems too thick, stir in more tomato juice.
Herbed Walnuts: Preheat oven to 350°F [180°F]. In small baking pan lined with aluminum paper, pour and sprinkle herbs, cayenne and salt. Add walnuts and toss with fingers to coat. Bake about 5 to 7 minutes or until nuts are lightly toasted. Set aside to cool.
Ladle soup into bowls and top with herbed walnuts. Serves 4-5 bowls
Thank you t0 the California Walnut Commission and Faye Clack for sending me these delicious walnuts to test in my kitchen.