The lighter taste and texture of strawberries creates a perfect balance to the heavier, metallic flavor of malted loaf. Add a bit of dates for extra richness and enjoy a slice with a cup of tea in the afternoon.
I am so excited to present you with my second recipe for a new group I joined called #twelveloaves. In this group we bake a bread every month with the addition of the monthly theme flavor or ingredient. This month we were asked to add malt.
Yeast breads are preferred but quick breads are also welcomed. Since I prepared this recipe quickly before running off on holiday I did a quick bread this month using a seasonal berry, strawberries, and dates.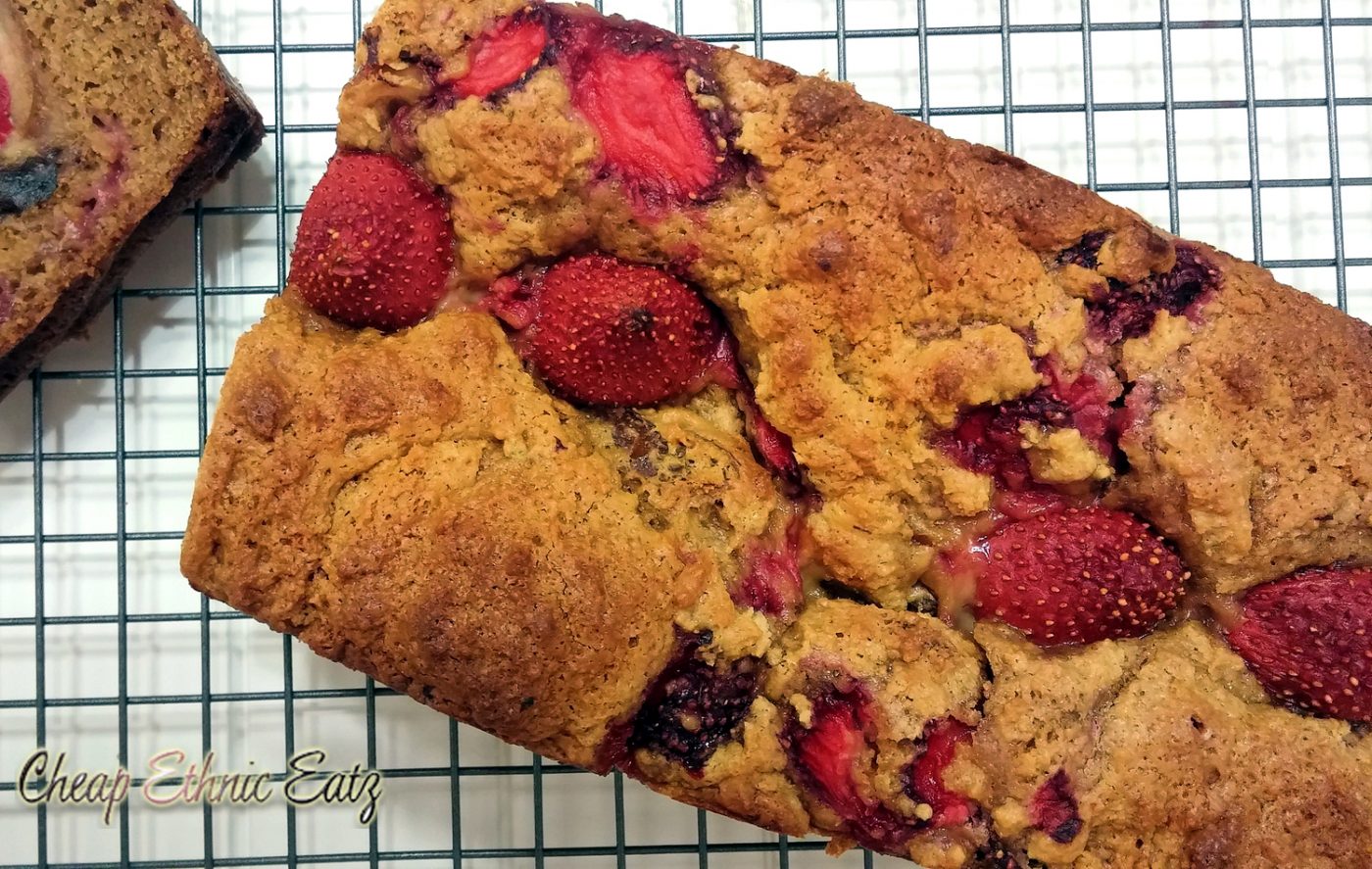 My loaf was greatly inspired by this recipe over at Parsley, Sage and Sweet. Lisa ran a great blog and I was sad when she decided to put the blog aside. She was truly one of my favorite blogs to read and I had the pleasure to exchange with her privately many times. What a fluke to find her post when searching for malted loaves. She published her loaf for the inaugural rebranding of this very group when it took on the name twelve loaves 3 years ago in August. I thought it was a sign and most appropriate. Funny enough her use of malt was a coincidence since the theme at that time was summer fruits.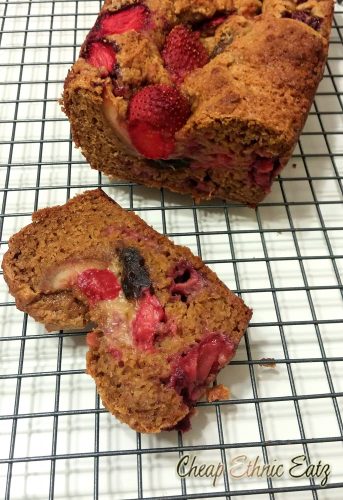 Malt extract is a sweet, treacly ingredient (like molasses) used as a dietary supplement. It was popular in the first half of the twentieth century as a supplement for the children of the British urban working-class, whose diet was often deficient in vitamins and minerals.  Malt is germinated cereal grains that have been dried in a process known as "malting". The grains are made to germinate by soaking in water, and are then halted from germinating further by drying with hot air. By doing so enzymes are developed which modify the grain's starches into sugars.
Malt is used to make beer, whisky, malted shakes, malt vinegar, candies, flavored drinks, and some baked goods. Barley is the most common cereal used o make malt.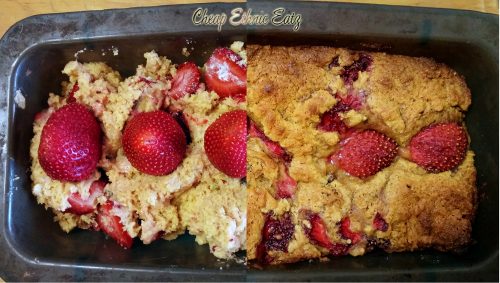 I was very pleased with the results of this bread. I am already a big fan of anything with molasses so malt just gave it that extra edge in flavor. The strawberries brought the loaf a lighter and tangier taste. The dates were a great substitute for decadent chocolate.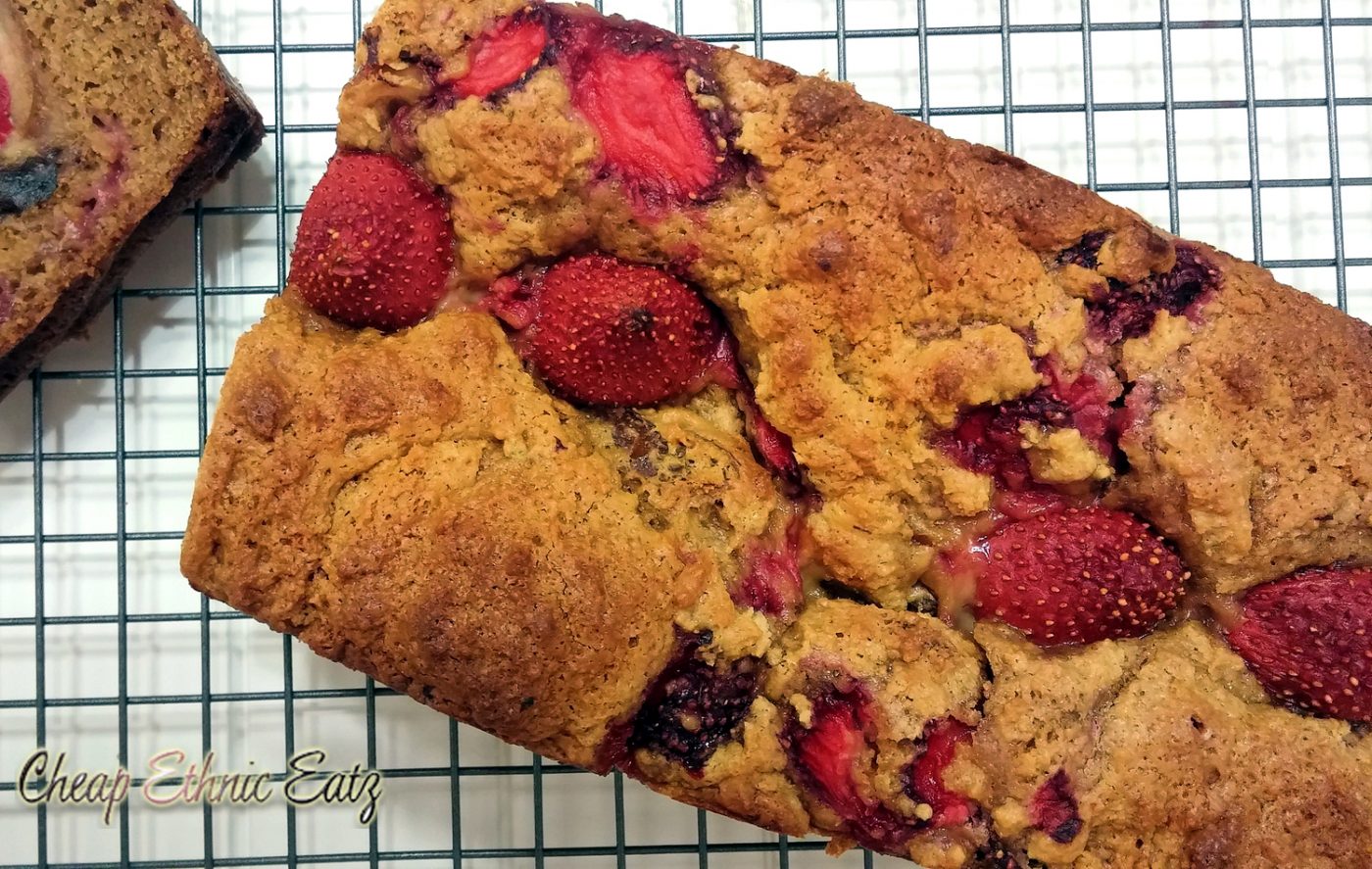 Strawberry and Date Malted Loaf
Ingredients  
1

cup

flour

2

tbsp

baking powder

1/4

tsp

baking soda

1/4

tsp

salt

1/2

cup

sugar

40

g

unsalted butter

melted

1

egg

2

tbsp

malt extract

1/2

cup

sour cream or plain Greek yogurt

1 1/2

cups

fresh strawberry

halved

1/2

cup

chopped dates

flour for coating the strawberries and extra strawberries for topping
Instructions 
Preheat the oven to 350°F (180°C). Prepare a loaf pan by greasing and flouring it.

Mix the flour, baking powder, baking soda salt and sugar in a bowl.

In a small bowl mix the melted butter, egg, malt extract and sour cream.

Add to the dry ingredients and mix until just combined, it will be a thick batter.

Toss the strawberries and dates with a bit of flour and shake off any excess (this prevents the fruit from sinking). Fold strawberries and dates gently into the batter.

Pour batter into the loaf pan and top with fresh whole strawberries.

Bake for 35 to 45 minutes or until a toothpick inserted comes out clean. Leave in the pan for 10 minutes, then turn out onto a wire rack to cool before slicing.
#TwelveLoaves is a monthly bread baking party created by Lora from Cake Duchess and runs smoothly with the help of Heather of girlichef, and the rest of our fabulous bakers.
Our host this month is Heather from girlichef, and our theme is Malt. For more bread recipes, visit the #TwelveLoaves Pinterest board, or check out last month's selection of #TwelveLoaves Jewish Breads!
If you'd like to bake along with us this month, share your Malt Bread using hashtag #TwelveLoaves!