Today is my group's reveal day for the Secret Recipe Club. What is the SRC? Basically you are assigned a fellow participant's blog by the organizer and then you pick a recipe of your choice from that blog and make your version of it. But it is a secret, you cannot reveal whom you picked and what you made until the established posting date and time. This month's secret: Tomato Basil Roasted Garlic Bread.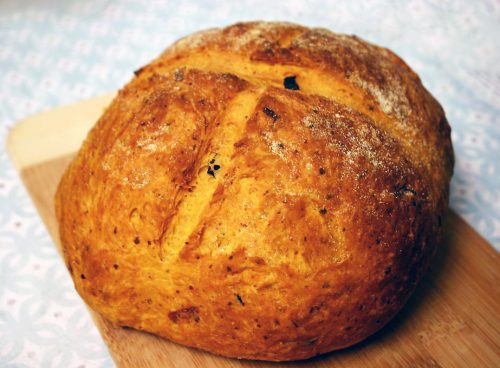 My blog this month was a really pleasant discovery. It is called The Keenan Cookbook.The blog is hosted by Chris and Rachel and was started to record all of their family recipes. I love the fact that their blog is a them effort, both participating in all posts. So they have loads and loads of recipes and it was hard to narrow down to one. Some contenders were the No Bake S'mores Brownies (it has been so hot and humid), the Reuben Casserole (Montreal is the original Smoke Meat town) and the Popcorn Chicken.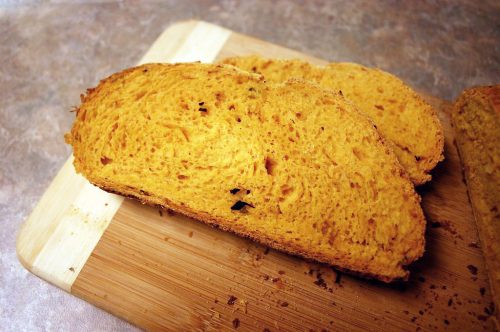 But I have been craving a homemade bread for some time so I chose their Tomato Basil Bread. I have one of those unfounded fears of yeast. I never had much trouble with yeast but the thought of a fail and loosing time and ingredients keeps me a bay. But this time I am facing my fears.
The only thing I changed to her recipe was adding a head of roasted garlic. I recently got my hand on a few fresh garlic bulbs and found a great way to roast the head in half the time (if done in the oven) on the stove top.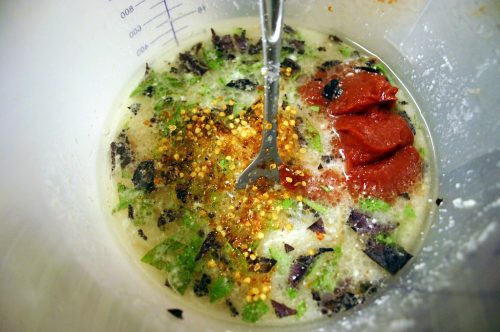 This summer I am also growing 4 types of basil in my garden, so which to use? I went with half regular basil and half purple basil. I thought the lemon and Thai basil would compete too much with the flavors.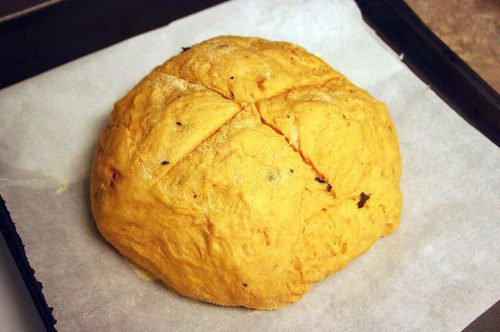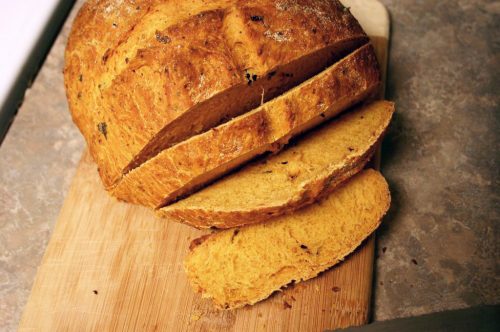 When did you last bake a fresh bread?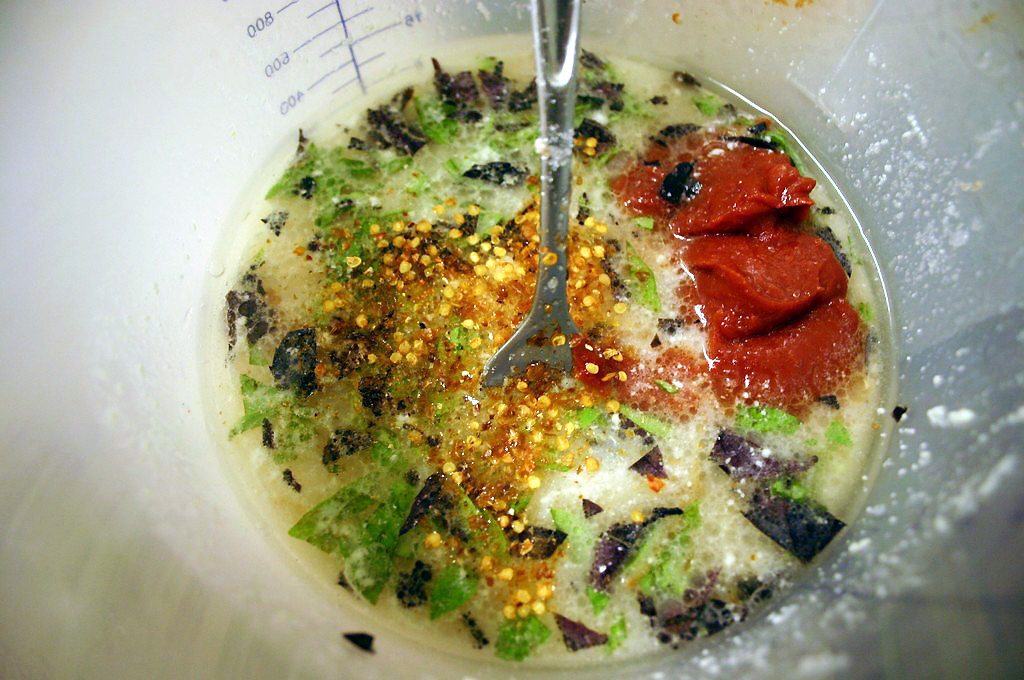 Tomato Basil Roasted Garlic Bread
Ingredients  
1

1/4 ounce package active dry yeast

3/4

cup

warm water

110 to 115 degrees

1/4

cup

fresh basil

minced (or 2 tbsp dried basil)

1/4

cup

Parmesan cheese

grated

1

head of roasted garlic

mashed (see notes)

3

tablespoons

tomato paste

1

tablespoon

sugar

1

tablespoon

olive oil

1

teaspoon

salt

1/8-1/4

teaspoon

crushed red pepper flakes

2 1/2-2 3/4

cups

bread flour
Instructions 
In a large mixing bowl, dissolve yeast in water. Stir in basil, Parmesan cheese, roasted garlic, tomato paste, sugar, oil, salt, pepper flakes, and 2 cups flour. Stir in enough of the remaining flour to form a stiff dough.

Turn onto a floured surface; knead until smooth and elastic, about 3-5 minutes. Place in a greased bowl, turning once to grease the top of the dough. Cover and let rise in a warm place until dough has doubled, about 1 hour.

Punch dough down; knead for 1 minute. Shape into a round loaf. Place on a greased baking sheet (or pizza stone). Cover and let rise again until doubled, about 1 hour.

With a sharp knife, cut a large "X" in the top of the loaf. Bake at 375° for 35-40 minutes or until golden brown. Remove from baking sheet to a wire rack to cool.
Notes
- Roasted garlic: heat 1/4 cup of olive oil in a saucepan over low heat, add cloves of 1 head and stir occasionally until skins are golden (15-20 minutes). Cool and squeeze garlic cloves from skins.
-I had instant yeast at home so I used this conversion: 1-3/4 tsp of instant yeast, or a packet of instant yeast, equals 1 packet of dry active yeast. Add instant yeast directly to dry ingredients and liquids used in the recipe should be 90° to 95°F

');