Today is my group's reveal day for the Secret Recipe Club. What is the SRC? Basically you are assigned a fellow participant's blog by the organizer and then you pick a recipe of your choice from that blog and make your version of it. But it is a secret, you cannot reveal whom you picked and what you made until the established posting date and time.
This months I was fortunate enough to get a really fun blog to explore, the Cookaholic Wife by Nicole. Nicole's passion for cooking started around the age of 16 when she cooked something for the first time. Her first attempt turned into her now famous Nichole's Famous Crab Dip.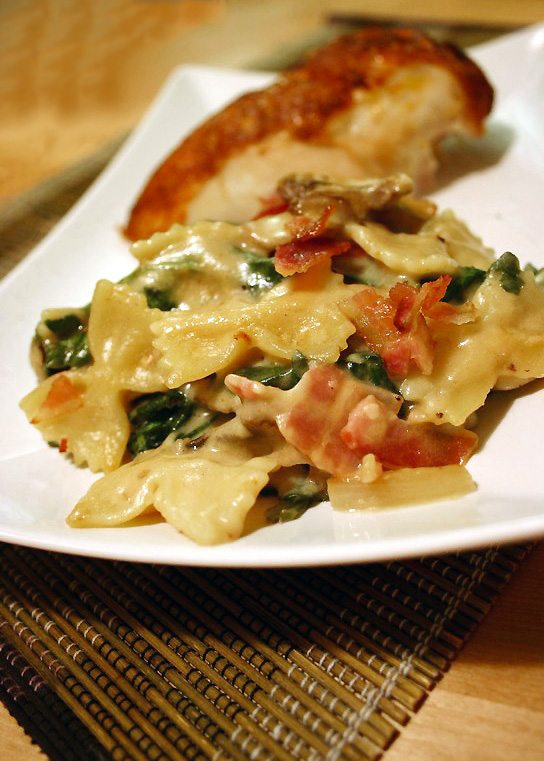 Later when Nicole was dating her now husband she would cook alot for him to stop him from eating fast food every time she came over. With time and confidence, she now prefers challenging recipes to push her boundaries. There were so many recipes for me to choose from on the blog. I was intrigued by all of the following: yummy Irish Car Bomb Cheesecake Bites, Nichole's Famous Crab Dip, healthier Baked Churros, Pierogi and Kielbasa Bake, and a Shrimp and Asparagus Risotto.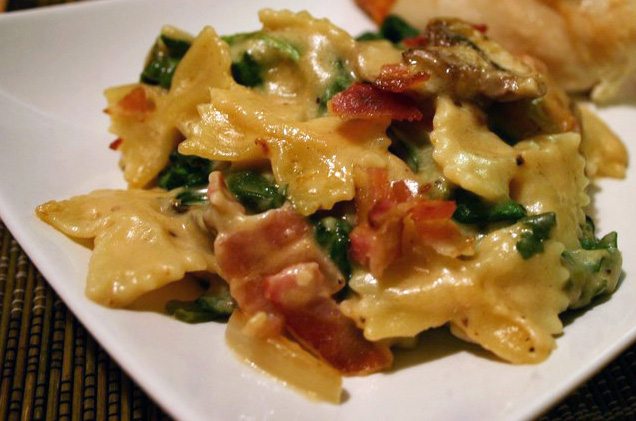 In the end the Bacon Lover's Mac and Cheese won out. I had been craving a mac and cheese for a while so when I saw bacon added on top of it I was sold. But I calling mine the Rebel Bacon Mac and Cheese. Why?
Look at how many vegetables there are in the recipe. Each portion actually includes at least one vegetable portion. I actually did one modification to the recipe by adding half an onion as well. Aslo I went really of the beaten chart by choosing a bow tie pasta instea of the classic macaroni. I am such a rebel, ha ha. Join the revolution with me!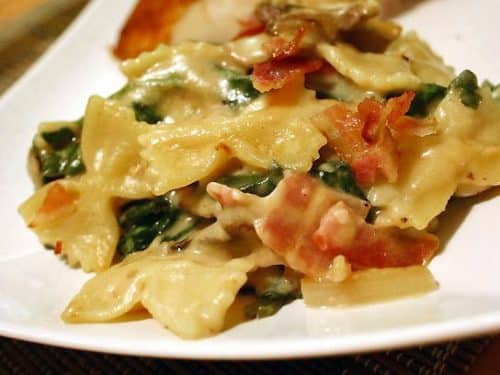 Bacon Mac and Cheese
Ingredients  
1 1/2

cups

pasta

6-7

slices

bacon

1/2

cup

onion

chopped

8

oz.

mushrooms

sliced (baby bella or button)

2

tbsp.

unsalted butter

2

cloves

garlic

minced

1/4

cup

flour

2 1/2

cups

low-fat milk

3/4

cup

white cheddar cheese

shredded

3/4

cup

Monterey Jack cheese

grated

3

cups

spinach leaves

roughly chopped

1/4

tsp.

crushed red pepper flakes

cayenne pepper

salt and pepper to taste
Instructions 
Preheat the oven to 400. Spray a 9x13 baking dish with non-stick cooking spray.

Bring a large pot of lightly salted water to a boil. Add the pasta and cook to al dente, according to package directions. Drain and set aside.

In a skillet over medium-high heat cook the bacon until crispy. Transfer the bacon a plate and blot with a paper towel to absorb excess grease. Reserve two tablespoons of the bacon grease in a small bowl. Discard the rest, but leave the skillet just barely coated.

Add the onions and mushrooms to the skillet and cook for 5-7 minutes. Remove the skillet from the heat and set aside.

In a large saucepan, combine the bacon grease and butter over medium-high heat. Once the butter has melted, whisk in the flour and garlic and cook, stirring constantly until the mixture is lightly golden.

Whisk in the milk. Remove the saucepan from the heat and stir in the cheddar and Gouda cheese with a wooden spoon until completely melted. Add the crushed red pepper flakes, cayenne pepper, salt and pepper.

Crumble the bacon, reserving a bit for a garnish. Add the pasta, mushrooms, spinach and remaining bacon to the saucepan and stir until combined.

Pour the mixture into the prepared baking dish, top with reserved bacon bits and bake for 20 minutes or until golden and bubbly. Let rest for a few minutes, then serve.

');