Today is my group's reveal day for the Secret Recipe Club. What is the SRC? Basically you are assigned a fellow participant's blog by the organizer and then you pick a recipe of your choice from that blog and make your version of it. But it is a secret, you cannot reveal whom you picked and what you made until the established posting date and time. This month's secret: Oreo Truffles.
I had a wonderful blog this month called Vanderbilt Wife, written by Jessie. She lives in Chattanooga (love saying that word) with her husband and 2 great kids. She has the perfect set-up: she stays at home taking care of the family – probably much better than she claims lol – but she is also a very active freelance write, editor, proofreader, and social media manager. Plus she has a lot of awesome recipes.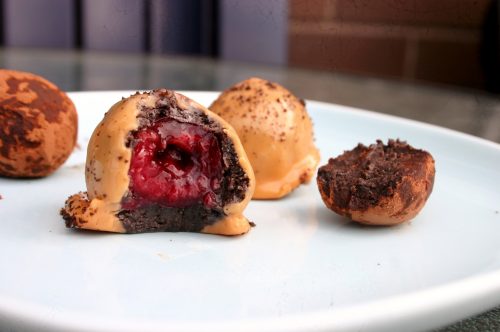 The only problem is that these last days in Montreal is has been really hot,  like hot plus humidity. No way am I turning on an oven. I searched for the least amount of heat required recipes. Tempting ones were the BLT Bites, Banana Couscous and Sweet Beet and Heat Salad.
But of course the sweet tooth won out in the end and I chose the Oreo Truffles. Instead of a chocolate coating I thought I would try some truffles rolled in cocoa powder and others covered in butterscotch chips. I have never been good at coating stuff with chocolate and this was not exception. You are seeing the best ones. A good decision though was making a few balls with a fresh cherry in the center. Wish I made more of those. Great easy sweet treat.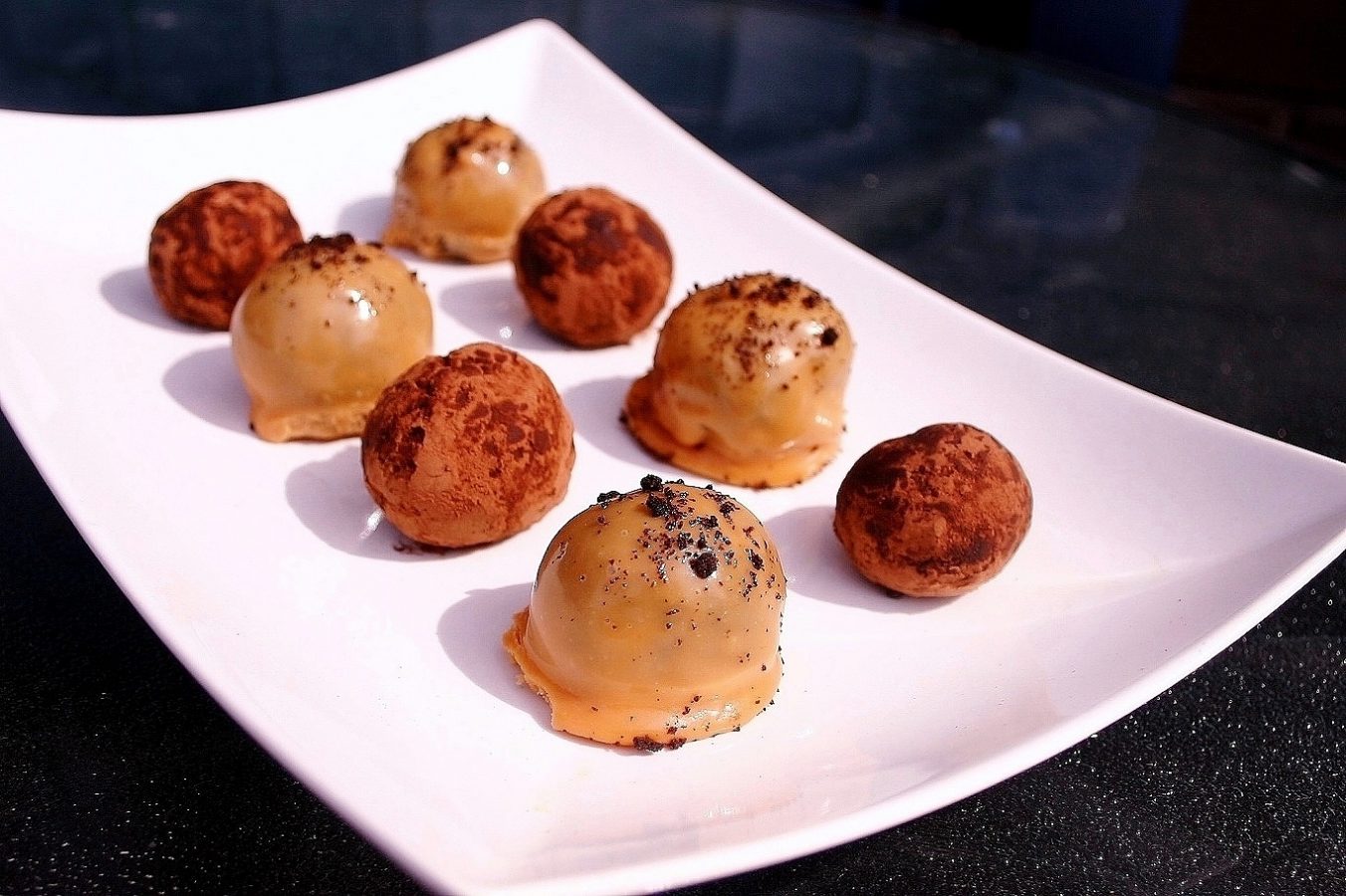 Oreo Truffles
Turn your Oreo cookies into a sweet candy treat. You can make truffles with some crushed Oreo cookies and cream cheese. Dip it all in chocolate or other chips. What a great party recipe.
Ingredients  
1

pkg. Oreos

1

pkg. cream cheese

8 oz.

2

pkgs. chocolate or other flavored chip

cherries

optional
Instructions 
Turn 36 whole Oreos into crumbs, in a food processor or by hand.

Mix with the cream cheese until well incorporated.

Form into 1-inch balls and freeze for 10 minutes.

Separately, crush the cookie part of another 2 cookies for sprinkles.

Melt the chocolate, then roll the Oreo balls around in the chocolate until they're completely covered. Set on a baking sheet, sprinkle with Oreo crumbs and stick in the fridge or freezer for 1 hour.
'); // ]]>And by pure coincidence this recipe qualifies for this month's Chocolate Party, where chocolate is to be paired with cherries! Thanks
Liz
for pointing it out.