Today is my group's reveal day for the Secret Recipe Club. What is the SRC? Basically you are assigned a fellow participant's blog by the organizer and then you pick a recipe of your choice from that blog and make your version of it. But it is a secret, you cannot reveal whom you picked and what you made until the established posting date and time.
This months I was assigned Baking and Boys! which is written by Katrina. She loves to bake for herself, her husband and their 4 boys. Now that is a house full of testosterone! It reminds me of my great aunt who had 8 boys during the 30s! Hoping for a girl, they gave up at 8.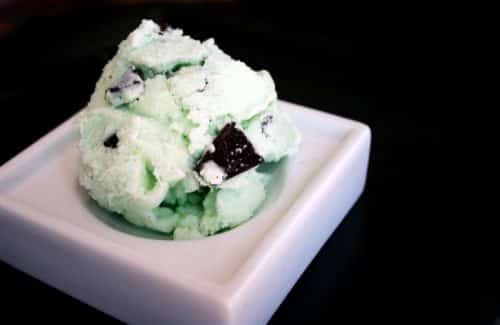 Katrina claims to be a baker and that is incredibly accurate. I would say her blog is 80% baking, 10% ice cream and 5% cooking. Lots of sweet stuff on here. I was tempted but the unusual Avocado pecan chocolate chip cookies or one of her several yummy cinammon rolls.
But then I fell on a surprise post. I was Katrina's SRC pick back in  October 2011 and she made my Uber lemon ice cream. Every time I think of that ice cream, one person comes to mind. Laleh ate lemons like there was no tomorrow. Well with the arrival of spring I figured a great to honor Katerina back was with one of her ice cream recipes.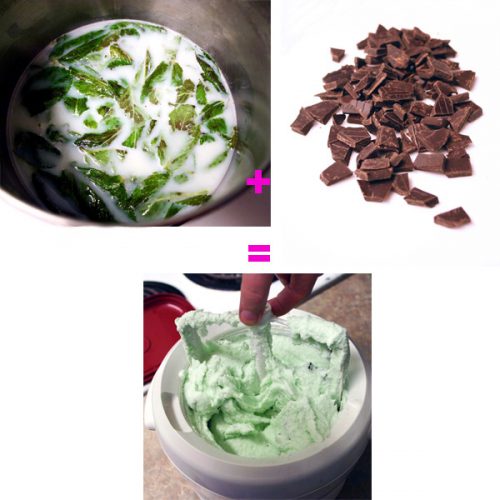 She has tons on ice cream recipes to choose from but the one that stood out for me was the Fresh Mint Chocolate Chip Ice Cream. You will not find any artificial mint extract in here. Instead real mint leaves are infused in some warm milk. I made two small changes to her recipe. I lightened the recipe a little but using 2 cups of half and half, instead of 1 cup half and half and 1 cup heavy cream. And I am a big fan of chocolate chunks so I just broke up a bar into small pieces where as she melted and dripped it into the ice cream machine. Hands down best mint ice cream ever, it is just sublime with the finesse of fresh herbs.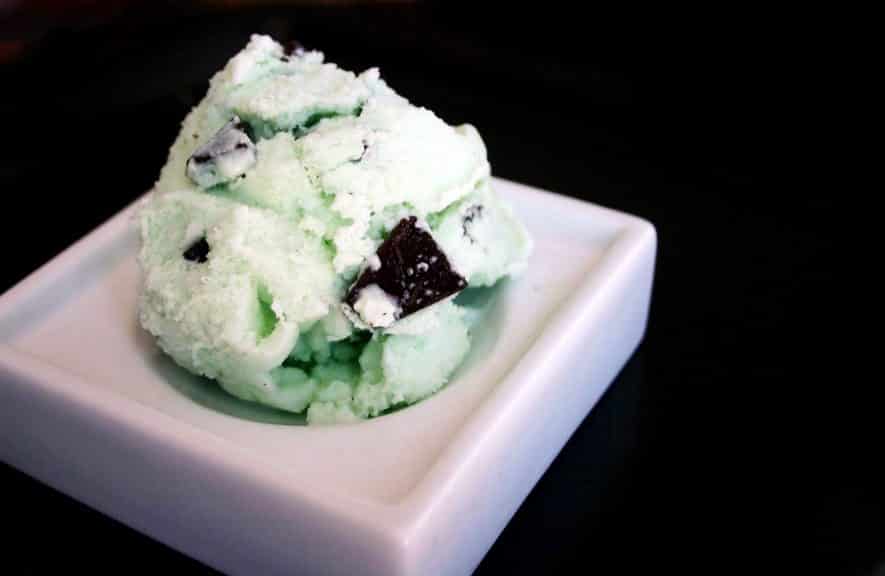 Fresh Mint Chocolate Chunk Ice Cream
A most wonderful Fresh Mint Chocolate Chhunk Ice Cream made from real mint leaves which are infused in some warm milk. Hands down best mint ice cream ever, it is just sublime with the finesse of fresh herbs.
Ingredients  
1

cup

whole milk

1

cup

mint leaves

chopped

3/4

cup

granulated sugar

pinch

of alt

2

cup

half and half

green food coloring

optional

3

ounces

bittersweet chocolate

broken into chunks
Instructions 
Heat milk in saucepan on stove over medium heat with the sugar, salt and mint leaves added. When it is hot, but not boiling, remove from heat and let mint seep in the warmed milk for about 45 minutes.

Add the half and half. Strain the mint leaves from the milk and press it against the strainer to release as much flavor as you can.

Add the food coloring if desired, 4 to 7 drops. Chill mixture for 1 hour.

Churn it according to the manufacturer instructions of your ice cream maker. While the ice cream is churning, about 15 minutes in, add the chocolate.