A quickie food pic tour of things I snacked on while in Toronto….
A smoked salmon asparagus omelet with tomato salsa made by a friend of a friend. It was so good, we had it every morning.
A feta and spinach boreka sandwich…imagine a bagel shaped stuffed puff pastry. Flaky heaven!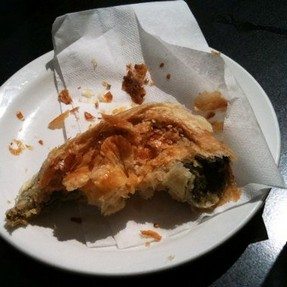 Customize your low-fat frozen yogurt to the max at Blush Berry. I had chocolate frozen yogurt. You can choose from original, green tea, blush and chocolate. My toppings (the fun thing here, got to do it) were raspberries, strawberries, white chocolate chips and mochi.
Me with a scary Asian chick statue holding a big bowl of soup. If you are hesitating…I am the one on the right!
How can you not stop for bubble ice tea on a HOT afternoon in Chinatown. We were two…they are not both mine.
My final meal, a not so light lunch at Zelda's. Love how the bill is presented! No drag shows on a Sunday afternoon but they do have them. Check the schedule! Our 'waitress' did not need to be in drag to be a totally funny servant-with-an-attitude, in a nice and clever way of course.