I have a confession to make. I have not baked really in years until recently. I used to love to bake. I baked all the time. Then I guess time got away from me, I lived alone so I got stuck with a cake. It did not become fun anymore. But since I have been part of the Daring Kitchen I started baking again. And as you know I often have friends over to do the challenges with. Baking has started to become FUN again slowly.
And so this Wednesday I got an urge to go home and bake something all for my self, for fun and for relaxation. I went through my memory recipe index to see if there was anything I love that I had not made in a while. Also I did not want anything to complicated. Exerting one's self in rebuilding a passion is never a good thing lol.
It hit me all of a sudden like a bolt of lightning….that oh so good and easy to prepare Self-saucing Chocolate Pudding. Oh I was salivating at the thought of it. Pudding in the English sense where its like a wet cake. It's easy, quick and nothing fancy. Its the dessert equivalent to a weekday table wine. But it does hit the sweet spot. Try it:
Self-saucing Chocolate Pudding
adapted from The Essential Dessert Cookbook. I have increased the cocoa and reduced the sugar by 1/2 cup.
1 cup flour
2 tsp baking powder
1/2 cup cocoa powder…..divide in 2
1/4 tsp salt
3/4 cup sugar…divide in 2
1/2 cup milk
1 egg
1/4 cup butter, melted
1 tsp vanilla extract
icing sugar, to dust (optional)
Preheat oven at 350 F (180 C) and grease a 2 liter ovenproof dish.
In a bowl mix together flour, baking powder, half of cocoa, salt and half sugar. Make a well in the center.
Combine milk, egg, butter and vanilla together.  Poor into well and mix together only until dry ingredients are wet. Do not over stir. Put batter into baking dish (no need to spread it)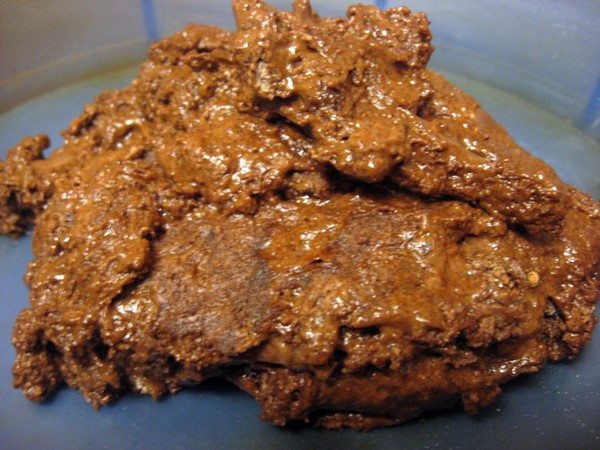 Mix remaining sugar and cocoa powder. Add 2 1/2 cup of boiling water and stir until sugar dissolved. Poor over the back of a spoon over the batter. (I was too lazy fore the spoon)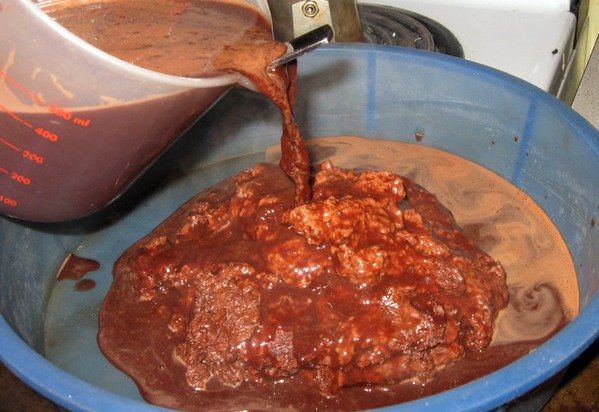 Bake for 40 min or until a toothpick comes out clean. Let cool a bit before serving.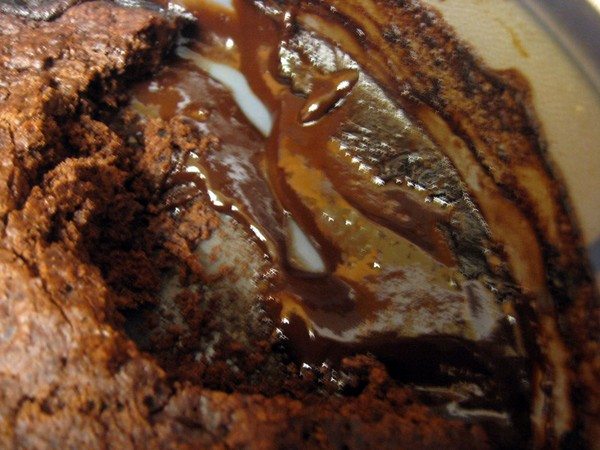 Look at that sauce bake right in. Oh its so good and yummy. I served it straight up. But if you want to pretty it up a bit add a dusting of icing sugar with a dollop of cream.