Today is my group's reveal day for the Secret Recipe Club. What is the SRC? Basically you are assigned a fellow participant's blog by the organizer and then you pick a recipe of your choice from that blog and make your version of it. But it is a secret, you cannot reveal whom you picked and what you made until the established posting date and time.
I can't wait to see who picked me but I felt sure lucky when I was assigned Grumpy's Honeybunch, a blog written by Shelby as a record for her children and potential grandchildren to have of her as a memory. That is too freaking sweet! Her cooking is greatly influenced by her grandmother. Settling on a recipe was hard as usual. My runner ups were the Beef Tangine with Butternut Squash , the All Day Apple Butter made in a slow cooker, and the Quinoa Salad with Mango, Black Beans, and Cilantro Lime Dressing. But finally I decided to make the Brown Sugar Fudge, for 2 reasons.
First reason, I chose Nanny's Brown Sugar Fudge because it is almost – and I mean almost – identical to a classic Quebec candy treat called Sucre à la Crême. The exact translation is Sugar Cream. The recipes are very similar but the tastes are worlds apart. Of course both are amazing but I would suggest you make both recipes to compare. I am listing the traditional Sucre à la Crême recipe below. The preparation is absolutely identical so follow the directions of the Brown Sugar Fudge.
The second reason was guilt! Well that may be stretching it a bit far but it's partly true. I spent the first 5 years at my job in a quiet and isolated (but not private) office. Since this summer I was moved with the costumer support team even if my role remains unchanged. At first I feared this move as this can be a loud spot with a lot of comings and goings. It does get really loud at times but I have to say I am now absolutely thrilled to be working with such a great group. Besides a lot work of course, gossip, stories of the evening's outings and general love lives are the order of the day. And to varying degrees we all have a sweet tooth. Like we even have a corner with a table reserved for shared snacks…I kid you not here is a picture of it. Someone always contributes a baked dessert, a bag of chips, candies or a box of chocolate. Jean is the baking king of the department, Kathy always brings the extra sweets she baked for her kid's school activities, and Nancy, Céline, Ada and Catherine make occasional contributions.
Now being a food blogger you would think I bring something every week. Not the case, I have been slacking and I have been reprimanded by my coworkers lol. I live alone so I don't bake a lot. So I was going to make 100% certain that the recipe I would choose for this SRC would be a treat I could bring in to work and share. The consensus on the Brown Sugar Fudge: they all went berzerk!
Ξ Nanny's Brown Sugar Fudge Ξ
recipe from Mae Iris Whitton – Shelby's precious Nanny
2-1/2 cups light brown sugar
3/4 cup evaporated milk
1/8 teaspoon salt
3 Tablespoons corn syrup
3 Tablespoons butter
1 teaspoon vanilla
Walnuts (optional)
Directions:
Combine ingredients 1 though 4 in a saucepan.
Get your candy thermometer out. Cook over medium heat until sugar boils and reaches the Soft Boil stage, or 234 F.
Remove from heat and add butter without stirring it in. Don't stir!
Leave the pan alone until the mixture cools down to 110 F. Stir in vanilla and nuts. Beat with a wooden spoon until it looses it's shininess (or goes from translucent to kinda opaque).
Line a loaf pan (8×4) with parchment paper and pour into greased pan as quickly as possible before it sets. Let it set in the fridge for a few hours before cutting into squares.
Let's talk a bit about the science of cooking sugar. The cooking and beating are the critical stages to a good fudge. Cooking is required to dissolve the sugar crystals and to evaporate a portion of the water contained in the cream. This is the stage of cooking that determines the density of fudge. If there is too much evaporation (overcooking), the fudge will be hard. If there is not enough evaporation (cooking too short), the fudge may be soft. For the right consistency the preparation must reach 234-239 F.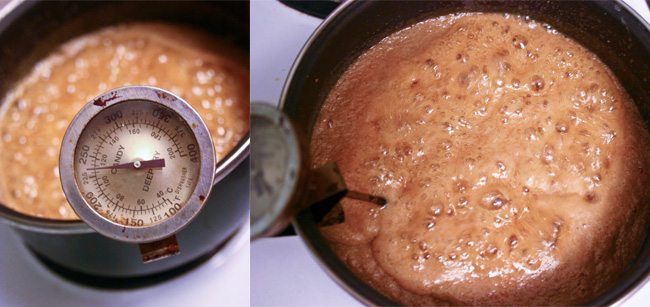 While cooking you must bring the sugar and cream to a boil and then STOP STIRRING. Why? If any crystals are present in the preparation, like on the walls of the pan, these crystals may fall in the preparation and re-crystallize some of the sugar. At least this is true during the evaporation process.
Once the fudge is cooked, you have to re-crystallize the sugar to form the "fudge". The idea is to form many small crystals that are barely perceptible on the tongue. It is this step that determines the size of sugar crystals. The trick is to let the syrup cool to a temperature of 110-122 F before beating it. Once it has cooled to the right temperature, stir with a wooden spoon until the mixture begins to thicken and loose its sheen. Stop beating and pour into you pan as soon as possible.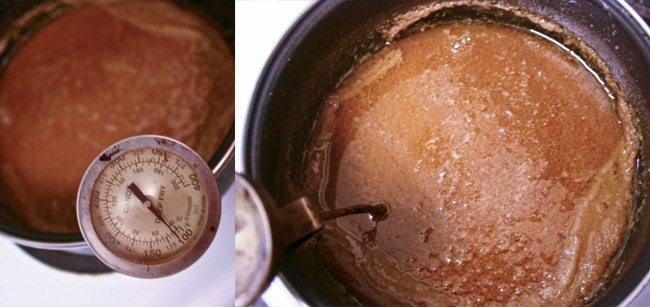 And as promised earlier, here is the traditional Quebec sweet candy recipe:
Ξ Sucre à la Crême Ξ
1 cup white sugar
1 cup brown sugar
1 cup 35% cream
1 tbsp butter
1 tsp vanilla extract
Walnuts (optional)
The preparation is absolutely identical so follow the directions of the Brown Sugar Fudge.