Happy Saint-Valentin's day to everyone. I love you all my readers.  This year I will celebrate it as a single and I am more than happy about it. As a matter of fact I have 2 outings planned this February 14th with friends. I will be celebrating the love for my friends that are there day in and day out, year after year. I consider them more precious then gold.
Still, I cannot think of any other occasion that is both desperately desired or despised depending on whom you ask, whether single or in a couple. The only way to survive the whole ordeal is by consumming lots and lots of chocolate. And that is a sacrifice I am willing to partake in. Go ahead, twist my arm.
I receive 3 tabettes of Green & Black's Organic Chocolate, a fairtrade product. How can I say no to chocolate! I did make one big mistake: I had it delivered at work and I told my colleagues. I had no choice but to share lol. Well only the 2 flavored ones…
We tasted the Milk Chccolate Butterscotch Pieces bar which created with delicious milk chocolate blended with crisp, crunchy toffee. Now I am more of a dark chocolate kind a gal so milk chocolate does not knock my socks off but I do have to say these were quite tasty. And you can definitely taste the toffee. tI was more popular with the male colleagues.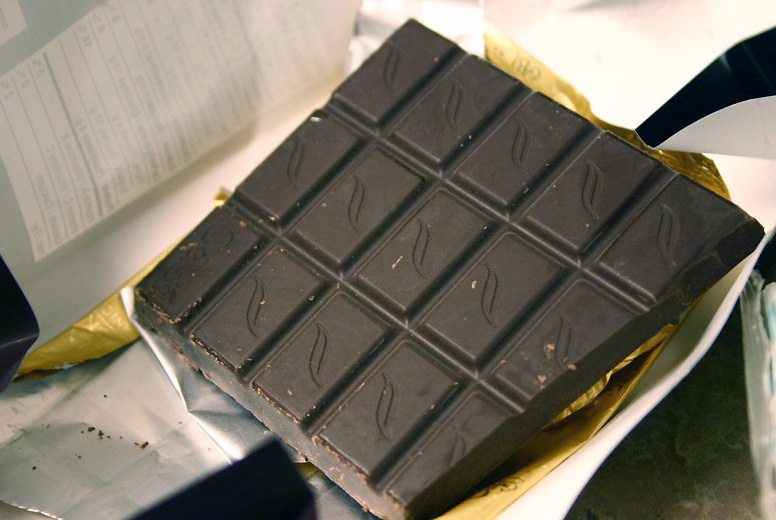 We also sampled the Orange and Spices Dark Chocolate bar. The taste of orange was quite intense and I enjoyed the touch of spice. Unfortunately the spices are not specified. I did enjoy my dark chocolate in this one and, for some reason, this was the winner with the ladies at work.
The 70% Dark Chocolate I kept for myself as it was perfect for this recipe for pots de creme – minus the cream – created by a local food star, Ricardo.  I added a touch of puree mixed with pain yogurt as a finishing touch. I present you a perfect chocolate sacrifice.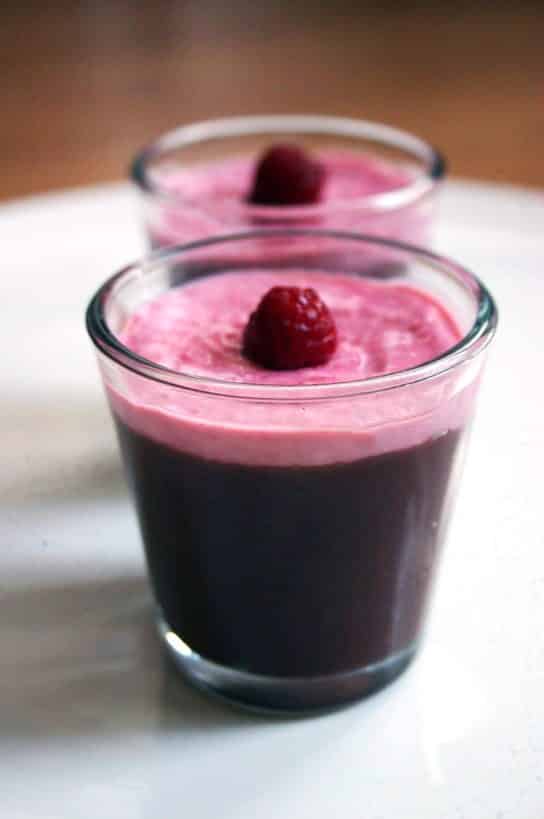 Raspberry and Chocolate Pots de Creme
Ingredients  
100

g

3 1/2 oz dark chocolate, coarsely chopped

250

ml

1 cup seedless raspberry puree

60

ml

1/4 cup sugar

2

egg yolks
Instructions 
Place the chocolate in a bowl. Set aside.

In a saucepan, heat the raspberry purée with half the sugar.

In a bowl, combine the egg yolks with the remaining sugar with a whisk. Gradually add the warm raspberry purée, whisking constantly. Pour the mixture back into the saucepan and cook gently for about 1 minute, stirring continuously. Strain through a sieve over the chocolate. Let stand for 1 minute, without stirring.

With a whisk, stir until smooth. Divide among six espresso cups or 4 verrines. Cover and refrigerate for 4 hours or overnight.
Notes
For about 250 ml (1 cup) seedless raspberry puree, puree 1 liter (4 cups) thawed frozen raspberries until smooth, then strain the puree through a fine sieve.