When I was in Toronto one of my friends gave me a small kitchen appliance she no longer needed that I have been DREAMING OFF for years!: an ice cream machine. Did I mention I LOVE ice cream!
…I scream, you scream, we all scream for ice cream…
So I have been experimenting obviously with weird foodie flavors. Last night I prepared a batch for a small dinner party I am having tonight. Its much more diet as it is with milk, not cream.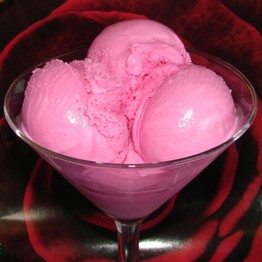 Rose Water Ice Milk
1 cup whole milk
2 cups cream to your liking (I would go for 10%)
2 tsp. rose water (more or less to your taste)
1/8 tsp. salt
1/3 cup granulated sugar
red food coloring
Just feed it all to your ice cream machine and follow as normal. Voilà  !!! It's going to be more ice then cream and let it out on the counter a while before serving to soften.
I did not do this, but if you want to be a purist here is a recipe to make your own rose water.
Rose Water
4 dried roses,  untreated by pesticides
50 ml mineral water
Bring water to a boil, then remove from heat and dip the petals of roses, let steep for 30 minutes, then filter.
Cool completely before using.  Store in an airtight glass bottle
P.S. on a separate note I was asked to guest blog on a travel website! How cool! will keep you posted.
Hugs and Biscuits
Evelyne