As I was catching up on my favorite food blogs the other day I felt so awful for Bren who described how she broke her camera during an event. I also got a bad gut feeling. Well exactly one week later I broke my DSLR lens. I could not believe it. In such a stupid and careless way. I was carrying 50 things at once, including the camera, to toss on the couch as I was planning on downloading picture. Well I loss my grip on the camera and it fell. The UV filter was shattered and and the zoom extending part was crooked.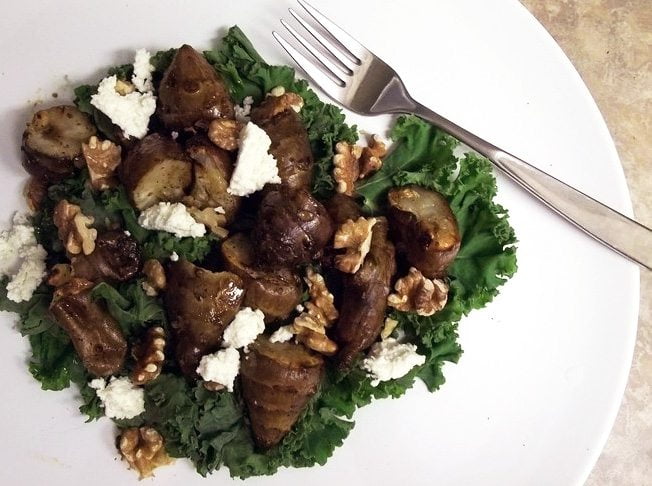 Well it looks like the body is OK and I was able to download my shots. I also had just received 2 payments on Paypal which now became lens shopping funds. Good timing but would have skipped the whole episode. Found one on Ebay and waiting for the mail man to bring my package. This is one of the recipes that I was thankfully able to download, a Roasted Jerusalem Artichoke and Walnut Salad with Ricotta adapted from this blog post.
Have you broken broken a camera lens before or an expensive electronic 'toy'?
Back to the salad. Have you ever eaten a Jerusalem Artichoke before? I discovered this vegetable about 10 years back and fell in love. At the time it was really hard to find but it is gaining popularity. My mom said she remembers it from her childhood but I guess was forgotten for a few decades.
In case you are wondering, it is not related to the artichoke nor has it a connection with Jerusalem. It is actually part of the sunflower family and when the Italians started immigrating to North America they called it by the Italian name girasole (sunflower in Italian) which somehow turned into Jerusalem.
And how do we explain the artichoke part? The delicate and earthy taste has a faint resemblance to artichokes. Do not judge it for its tubular root look, this is a refined vegetable to the palate. Most recipes ask to peel them but don't bother. The skin is thin and totally edible. Just give it a good brushing under cold water. This is a great warm salad that can totally substitute as a meal, it is a hardy portion.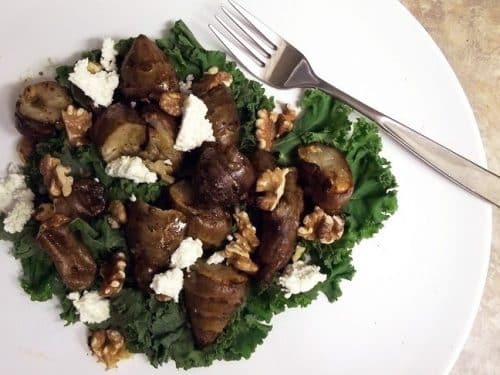 Roasted Jerusalem Artichoke and Walnut Salad with Ricotta
A lovely earthy warm salad with Jerusalem Artichokes
Ingredients  
1

pound

Jerusalem artichokes

cut in half

2

tbsp

olive oil

Salt & Pepper

1/3

cup

walnuts

A head of salad or greens of your choice

2/3

cup

ricotta

1

tsp

wholegrain mustard

1

tbsp

cider vinegar

1

tbsp

olive oil
Instructions 
Preheat the oven to 375°F (190°C). Place the artichokes on a baking tray lined with aluminum, drizzle with the olive oil and season with salt and pepper. Put in the oven for about 30min until soft and cooked through.

Put the walnuts on a baking tray. Pop in the oven for about 5min until golden. Take out and leave to cool. Chop roughly.

Prepare the seasoning by mixing together the mustard, the vinegar and olive oil. Toss with the artichokes.

When the artichokes are cooked and warm, prepare 2 plates with greens on the bottom. Spoon the artichokes on top and add the walnuts and ricotta on top. Serve straight away.