There are so many 'niche' ideas, commerce, restaurants, etc nowadays you would think one would become blazé by the whole uniqueness concept. Then you come across a place like Riz en Folie and you are once again shook up by the daring singularity offered.  Riz en Folie serves one thing: rice pudding.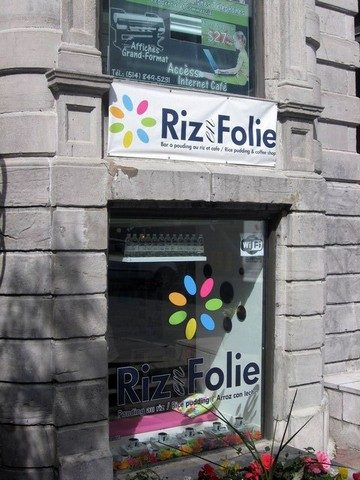 I came here this past Saturday with a group organized by a friend. I am not even sure how to describe the decor. The closest I can think of is walking into a kitchen Barbie would have designed…but in a really cute way. Everything is white except for a few oval flowery patterns. The ovals match the colors of the containers the rice pudding is served in…that is shaped, yep you guessed it, like an oval.
A really fun idea is that you are asked to pick what ever color container you want. Each color comes in the various sizes sold. You get the container, a tight fitting lid and a matching spoon. You are encouraged to keep the container and bring it back to the store each time you have a rice pudding craving. If you do come back with your container to be filled you get a $0.25 discount!
Once you pick your container it's time to pick your flavor. The rice puddings are presented like a bar of gelato ice cream. They make 30 flavors in total, although not all 30 may be available. I chose chocolate mint and sugar cream. They will gladly put 2 flavors per container for you and give a sample before if you want to try one in particular. You can choose a topping too, like nuts, coulis, fruit or chocolate.
I am actually a fan of rice pudding. It's not something I have often but I do enjoy it. So I loved the concept here and I loved how they are modernizing what some consider an old fashion or boring dessert. The rice pudding was really good and I kind of wish now I had gotten some more to take home. I took the small size which was a reasonable $4.00. I have no idea how this hid from my radar but Riz en Folie has been open for 2 years already. Catering and delivery services are offered.
Great so now you enjoyed every bite of your rice pudding and you want to keep your container…which is dirty. Well that was also thought of because a cleaning area has been designed. Just go wash your container and you are good to go, no fear of making a mess in your purse or backpack. If you do not want to keep your container make sure to put it in the recycling bin!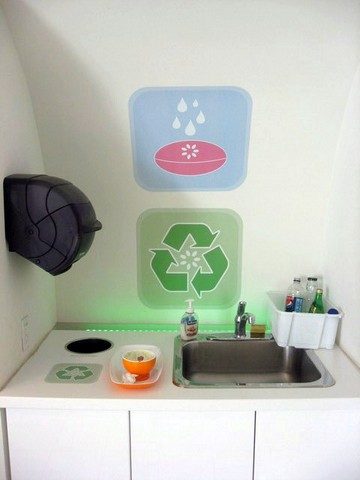 If you are downtown and have a little sweet craving after shopping or visiting a museum head over here. Its fun, its cheap, its good.
Riz en Folie
2153 Rue Mackay
Montreal, QC
(514) 750-3415