The food blogging world suffered a big loss this week. It was no celebrity chef, cookbook author or writter, it was someone much more special than that. Lisa Cifelli, co-founder of The Daring Kitchen, passed away suddenly this week. Many food bloggers around the world will be posting a tribute to Lis on November 15th. I send my condelences to all of her family and close friends, particularly to Ivonne, Lis' partner in crime in the Daring Kitchen adventure.
The Daring Kitchen was my first experience ever with a food group organizing monthly challenges and I particiapted for just over 2 years. It was my first real contact with other people like me, passionate about cooking and tangibly sharing the experience together. I had the pleasure of exchanging on quite a few occasions messages with Lis. During my time with the group I wrote a few articles and hosted 2 challenges. Lis was always there with encouragement and help, a joke, friendly words, a genuine kindness and a passion for this great group. I got to know her for a relatively short amount of time but she left quite a mark on me. I am sure there are hundreds of food bloggers who can retell the exact same story as me. She was a big influence and a mentor. It was a shock to hear of her passing.
Lis happily accepted my request for a guest post in the summer of 2010 when I went away on a holiday. I cannot think of a more fitting tribute than to repost her words and her recipe for Lasagna Rolls. I am glad there is a little piece of her here forever.

Originally posted on July 7th, 2010
When asked to do a guest post on Evelyne's blog, I was tickled pink to help out! She happened to ask me on the morning that I was making 2 different types of lasagna, so it was timed perfectly!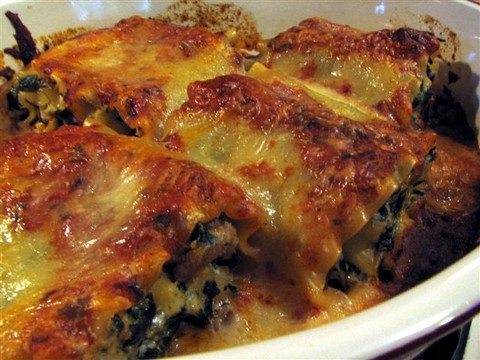 I'm going to focus this post on the Lasagna Rolls – simply because they are a bit lighter than the traditional lasagna I made, and these are perfect for summer as well as for freezing individual portions for quick meals when needed.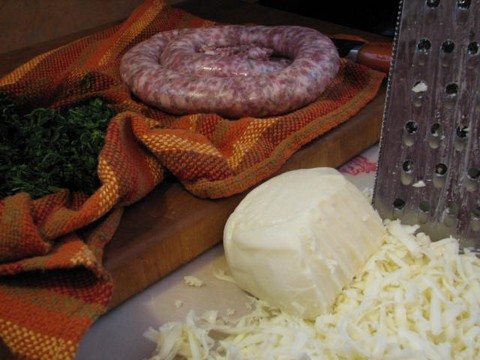 I've been making these lasagna rolls for years and the original recipe comes from Giada DeLaurentiis. They are really easy to make, don't take up much time and bake up beautifully. Another great thing about this dish is that you don't have to wait, all mouth waterin'-tummy growlin-OHMYGOD CAN I CUT THIS THING RIGHT NOW with these, since you don't need them to set like traditional lasagna.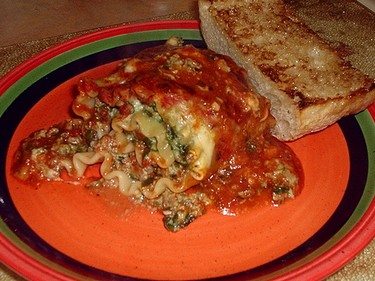 Lasagna Rolls – Courtesy of Giada DeLaurentiis
1 (15-ounce) container whole milk ricotta cheese
1 (10-ounce) package frozen chopped spinach, thawed, squeezed dry
1 cup plus 2 tablespoons grated Parmesan
1 lb. ground round or sweet Italian sausage (Or 1/2 lb. each)
2 large eggs, beaten to blend
3/4 teaspoon salt, plus more for salting water
1/2 teaspoon freshly ground black pepper
1 to 2 tablespoons olive oil
12 uncooked lasagna noodles
2 cups marinara sauce
2 cups bechamel sauce (recipe follows)
1-2 cup shredded mozzarella (about 4-8 ounces)
Bechamel Sauce – courtesy of The Splendid Table: Recipes from Emilia-Romagna, the Heartland of Northern Italian Food by Lynne Rossetto Kasper.
Note: I find this bechamel sauce to be superior to all others.. include Giada's. 🙂
Preparation Time: 15 minutes
4 tablespoons (2 ounces/60g) unsalted butter
4 tablespoons (2 ounces/60g) all purpose unbleached (plain) flour, organic stone ground preferred
2&2/3 cups (approx 570ml) milk
Salt and freshly ground pepper to taste
Freshly grated nutmeg to taste
Using a medium-sized saucepan, melt the butter over low to medium heat. Sift over the flour, whisk until smooth, and then stir (without stopping) for about 3 minutes. Whisk in the milk a little at a time and keep the mixture smooth. Bring to a slow simmer, and stir 3 to 4 minutes, or until the sauce thickens. Cook, stirring, for about 5 minutes, until the sauce thickens. Season with salt, pepper, and a hint of nutmeg.
Preheat the oven to 450 degrees F.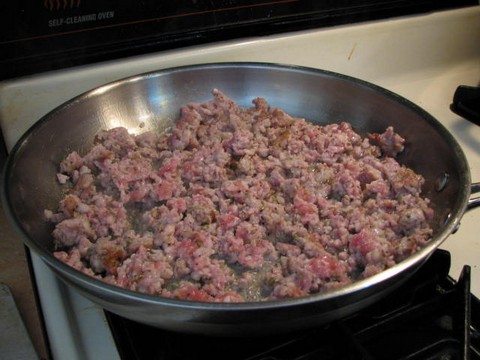 In a medium skillet over medium-high heat brown the sausage. Once cooked, remove from heat and let cool.
Whisk the ricotta, spinach, 1 cup Parmesan, cooled meat, eggs, salt, and pepper in a medium bowl to blend.
Add a tablespoon or 2 of oil to a large pot of boiling salted water. Boil the noodles until just tender but still firm to bite. Drain. Arrange the noodles in a single layer on a baking sheet to prevent them from sticking.
Butter a 13-by-9-by-2-inch glass baking dish. Pour the bechamel sauce on bottom of dish, spreading evenly. Lay out 4 lasagna noodles on a work surface, then spread about 3 tablespoons of ricotta mixture evenly over each noodle. Starting at 1 end, roll each noodle like a jelly roll. Lay the lasagna rolls seam side down, without touching, atop the bechamel sauce in the dish. Repeat with the remaining noodles and ricotta mixture. Spoon 1 cup of marinara sauce over the lasagna rolls. Sprinkle the mozzarella and remaining 2 tablespoons of Parmesan over the lasagna rolls. Cover tightly with foil. Bake until heated through and the sauce bubbles, about 20 minutes. Uncover and bake until the cheese on top becomes golden, about 15 minutes longer. Meanwhile, heat the remaining marinara sauce in a heavy small saucepan over medium heat until hot, and serve alongside.
My one tip for this recipe is to boil your lasagna noodles (if using store bought) in the biggest (at least 12″) skillet you've got instead of the big sauce pot, there's less chance of the noodles sticking and it takes less time to cook them.
Fill the skillet 3/4 full of water, bring to a boil and add a generous peench of salt. Then slide in 4-5 noodles and cook for about 4-5 minutes or until they are JUST soft. I measure this by sliding a spaghetti fork under one and picking it up from the middle, if it bends in half but still feels firm, it's done. You don't want to cook the noodles until they are super soft since you will be baking them as well.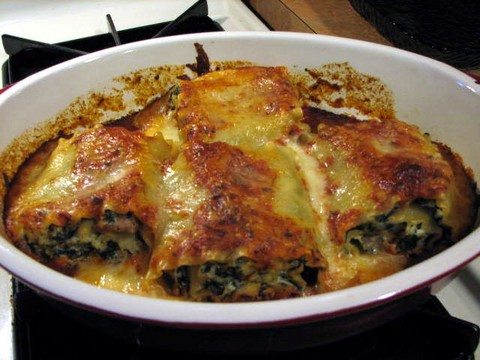 Use your favorite marinara sauce – serve with a lightly dressed salad and a few hunks of some crusty bread. Oh and don't forget to invite me over for the feast! 😀
Have a fantastic vacation Evelyne!! Hugs! Lis xoxoxox