Of course one of my favorite fruits would have a season that lasts about the length of a slow blink of the eye. Raspberries have always been a favorite of mine. I love their taste, their look, their feel. They compliment chocolate so well too. You can find them in jams, pies, puddings, cookies, ice creams, sorbets, coulis, cobblers and mousses.
And raspberries have become a yearly tradition at my parent's cottage. A local farm opened shop on their raspberry production maybe 20 years ago. And they are  not 15 minutes away on foot. When in season, getting fresh from that morning berries at a much cheaper price is a normal treat. You can pick them yourself or call ahead to reserve a basket. Alas the last couple of years have cut down my visits to the cottage so I only get them from the Ferme Sarazin once a year (they also sell naturally raised pigs, the whole thing or the cuts you want).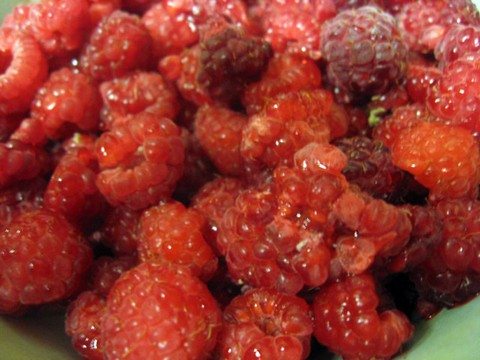 This year I got a pint of them. That is a lot of raspberries so I decided to use half in a recipe. But I was feeling really lazy too so I used a cake mix. Please don't shoot me! I know its bad, nothing beats a cake from scratch. I just succumbed and took the easy road out. But it was really good!
Lazy Chocolate Raspberry Cake
1 package chocolate cake mix
eggs as per cake mix (I needed 3)
oil as per cake mix (I needed 1/2 cup)
3 cups fresh raspberries (or mix of berries, I had a few blueberries)
3/4 cup granulated sugar
1 cup heavy cream
Pre-heat the oven to 350°F degrees and grease a 13×9 inch baking dish or pan.
Mix the cake mix as per directions on the box. Pour the cake batter into the baking dish or pan.
Sprinkle berries on top of the batter. Cover everything with the heavy cream.
Bake for about 60 minutes or until a toothpick comes out clean. Let cool before serving.
And with the magic of the oven all your berries are now at the bottom of the dish. Yep I was surprised too. Make sure to keep a few extra raspberries for decoration and a bit of cream. I just poured a couple of table spoons on my plate before serving the cake portion. You could whip the cream too and put a dollop on top.
Please forgive my cake mix, it was hot, I was lazy! Of course you could do your favorite cake recipe instead. I also chose this pan format for convenience but for a fancier occasion you could divide the batter, berries and cream into 2 layer cake pans and make a 2 layer cake, perhaps with a raspberry whip cream frosting! Warning, it is extremely rich in taste with all the cream so go easy on it lol.