I am just thrilled to be hosting this month's Food 'n Flix for the first time. I have to tell you it was not easy picking a new food film with all the great ones this group has already covered over the last three years. I was stumped for a while until a friend of mine suggested the film "Who Is Killing the Great Chefs of Europe?" I had never heard of it before. This is an oldie dating back to 1978, one of the oldest films picked for this fun monthly challenge.
I decided to give a curious dish mentioned right at the beginning of the movie a try. Max claims that the Poached Oyster with Cream and Champagne were spiritual! Shall we give them a try?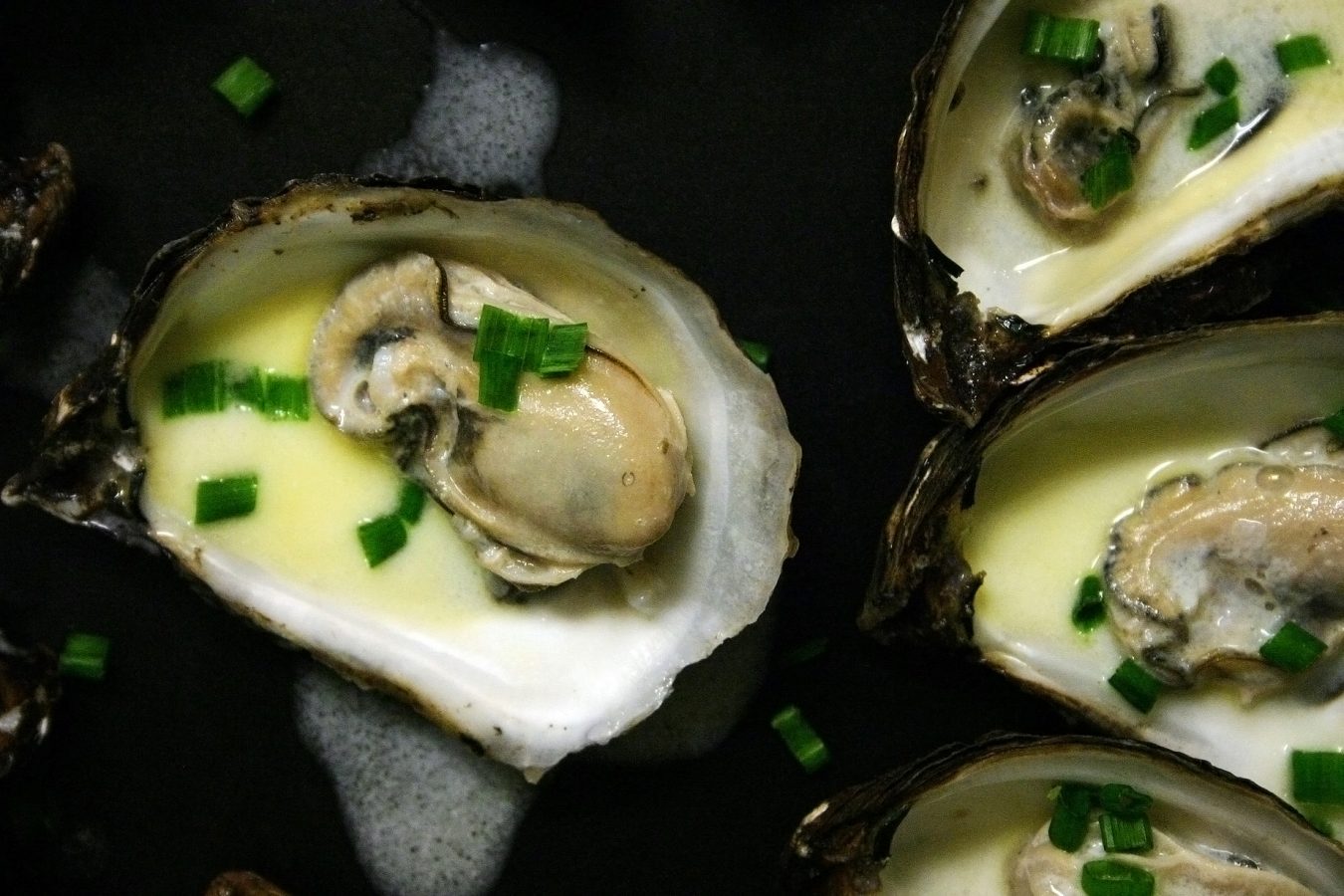 Is that not just one of the most gorgeous oyster shot ever!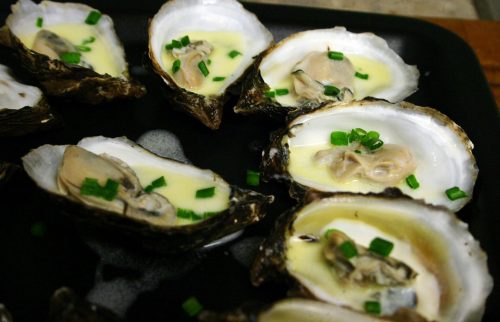 Let's talk about the movie a little bit before we get to the recipe. I would qualify this is a a dark murder mystery comedy bordering on the silly at times but it's great fun too. It is also terribly politically incorrect to today's standards which I found hilarious this time instead of being insulted. Boy how times have changed. The machismo of the men, the easiness of the lead female character, inappropriate comments and terms, the fluffy hair, the furs, oh and the tight pants on the men. Quite precious!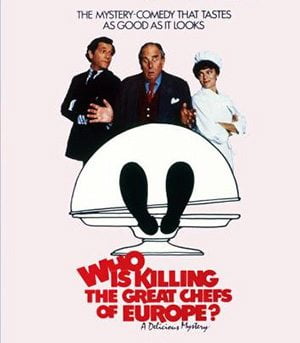 The film starts of in London with the morbidly obese great food critic Max who is confronted by his doctor with the following ultimatum: diet or die. Well Max, editor of the greatest culinary magazine, would certainly rather die and claims his body is a work of art, a tribute to the great chefs of Europe.
Max (Robert Morley) has invited the great pastry chef Natasha O'Brien (Jacqueline Bisset) to prepare her famous Bombe Richelieu dessert of a state dinner with the queen. While in London Natasha has a fling with London's greatest chef and another fling with Italy's culinary king.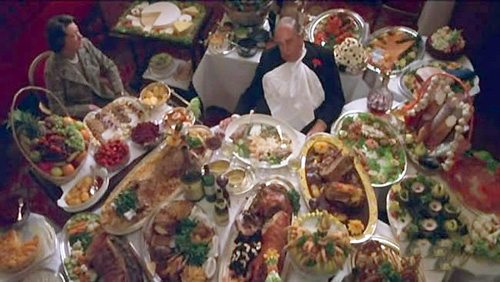 Well both poor men find themselves dead the next morning. Somehow the fact that her American ex-husband Robby (George Segal), a fast food-food mogul, decides to follow her all over the continent, does not seem to phase her or attract the attention of the authorities. Natasha starts to unravel the mystery by claiming that the next victim will be a French chef. You see Max has recently published an article on "the world's most fabulous meal" which featured four dishes by four great chefs. The first two found dead were part if this list. And each victim is found cooked into their very own specialties, I'll leave that part to your imagination:
Pigeon en croute
Lobster dish
Pressed Duck
Bombe Richelieu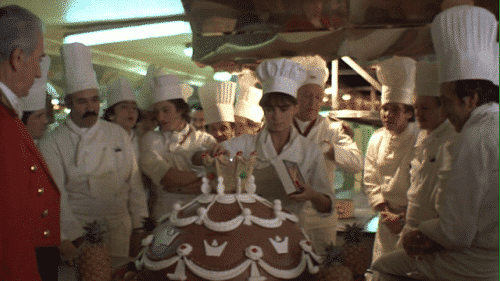 The race is on to find out which self-proclaimed great French chef may be the next victim. Ah but we are too late as another victim bites the kitchen dust. Someone steps forward claiming responsibility and we think the murderer has been arrested, so Natasha should be able to make her Bombe dessert, the fourth dish of the article, on TV without a hiccup or impending death….or will she find a bomb in her Bombe?
You will have to watch the movie to find out what happens and discover the real mastermind criminal behind this plot.
Although the closest recipe I could find suggested Pacific oysters, which tend to be sweeter, I opted for the brinier East Coast variety called Beausoleil. These New Brunswick beauties are actually often paired with Champagne. It is a smaller and more delicate oyster, they are saltier and have a yeasty rising bread dough aroma.
I have to say I was really skeptical about the concept of poached oysters. But curiosity got the better of me, I had to try it. A few did not make it to the poaching process. Not sure what happened they slipped into my mouth raw hi hi. I think the trick is to really remove the oysters from the pan once they start curling on the edge. You do not want to over cook them. And do not skip on the chives, they really finished off the flavors. Final result: I will have to agree with Max, it was a spiritual experience. This is a FAN-TAS-TIC dish. I shucked the rest of the oysters and poached them right away.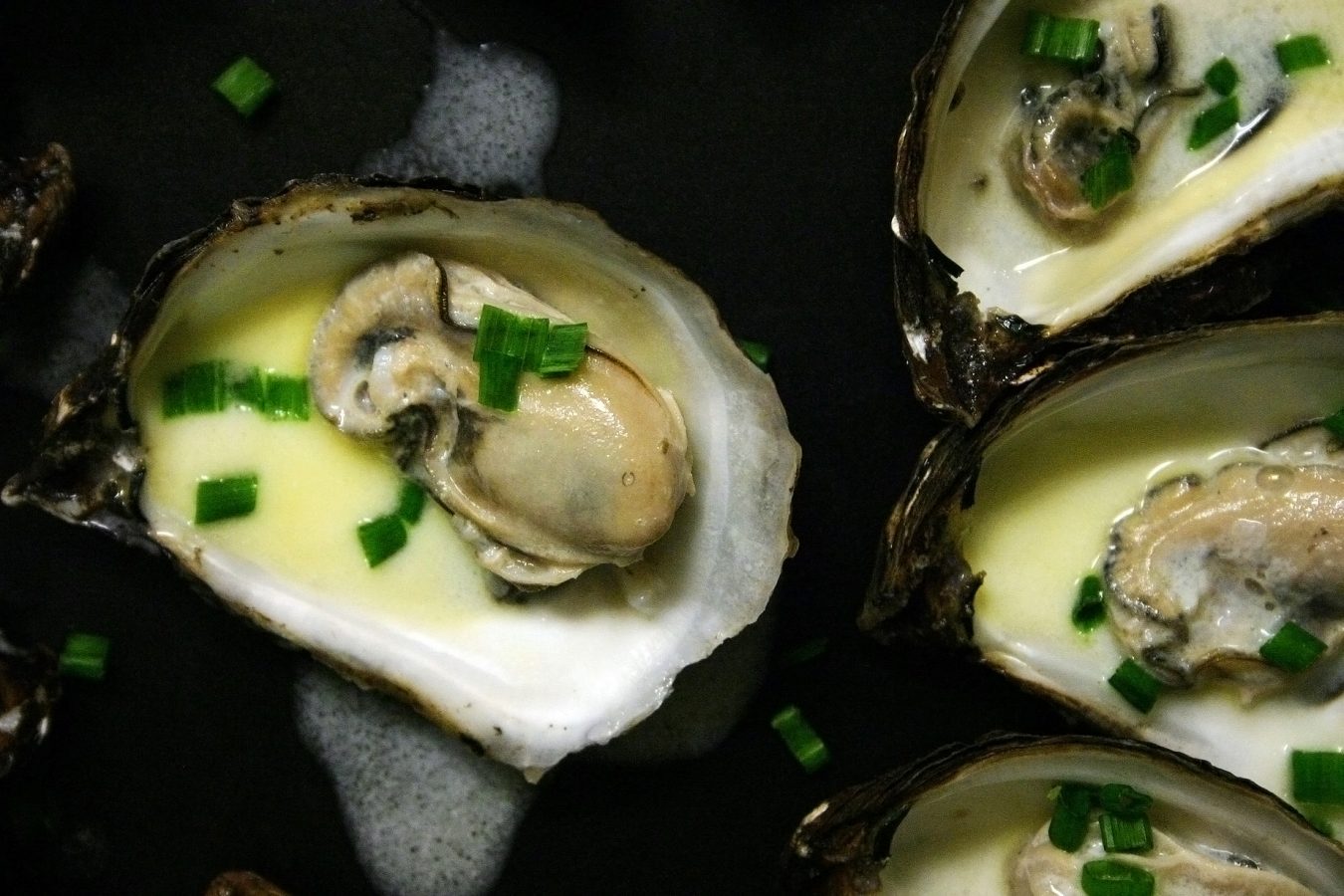 Poached Oyster with Cream and Champagne
Ingredients  
12

shucked large oysters or 24 small oysters

1

cup

Champagne or other sparkling white wine

2

tablespoons

minced shallot

1 small

1

tablespoon

Champagne vinegar or white-wine vinegar

1/2

cup

heavy cream

1/2

stick

1/4 cup cold unsalted butter, cut into 4 pieces

2

tablespoons

chopped fresh chives
Instructions 
Pour oyster liquor into a nonreactive 8-inch heavy skillet and add Champagne, shallot, and vinegar. Bring to a boil and simmer, skimming foam, until reduced to about 1/3 cup, about 5 minutes.

Pour liquid through a fine-mesh sieve into a measuring cup, pressing on and then discarding shallot. Return liquid to skillet and add butter, stirring until melted.

Add the cream and oysters, and cook over moderate heat, turning oysters over if not completely covered, until the edges curl, about 1 minute.