It's summer and it is a hot one! I take a dive in a pool any chance I get. Everyone should go swimming. Even our food! Even peaches! They have been hot and sweating too on a branch in the sun for a while. Give then an inebriated break!
Some fruits can be paired quite well with wine, even red ones. In the case of peaches try coupling them with a Cabernet Sauvignon, Malbec, Pinot Noir. This is the dessert version of a Sangria! So simple yet such a sophisticated taste.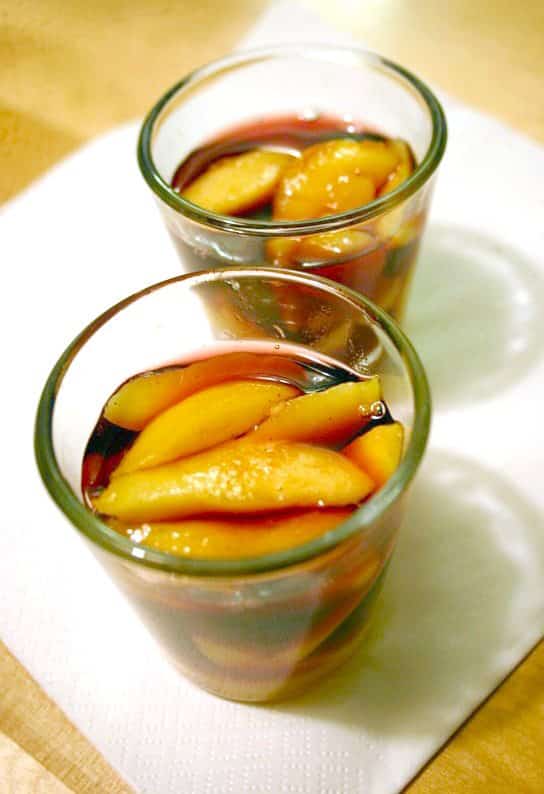 Ξ Peaches Swimming in Red Wine Ξ
Per person…
1 ripe peach, sliced
1 1/2 tablespoons sugar
1/4 to 1/2 cup red wine
A pinch of a powdered spice of your choice, such as cardamon, star anise, cinnamon (optional)
Using a slotted spoon, place peach, one at a time, in boiling water for about 20 seconds. Remove and place in iced water. The skin will easily peel off with a small sharp knife. Pit and cut peach into slices. Toss the peach slices with the sugar and a spice if you are using one. I tried a pinch of cinnamon. Place the slices in a wine glass or dessert dish and pour red wine over the sliced peaches until almost covered.
August is #peachlove month!
Please join in on the #peachlove fun by linking up any peach recipe from the month of August 2012. Don't forget to link back to this post, so that your readers know to come stop by the #peachlove event! The twitter hashtag is #peachlove 🙂
Did you make one of my recipes? I would love to see it. Take a photo and tag me on Instagram @cultureatz.
EDITOR'S NOTE: This post may contain affiliate links (disclosure policy). Please support CulturEatz by clicking on the links and purchasing through them so I can keep the kitchen well stocked. It does not alter the price you pay.