Hello and yes I am alive. I sorta fell off the planet for a week for no real good reason. But I am back, I hope lol.
An old friend of mine gave me this recipe at least 10 years ago. I had this soup at her place and requested the recipe. I made it once, scarfed it down because it is so good….and never made it again till now. I have no idea why but I won't let another 10 years go by again for sure.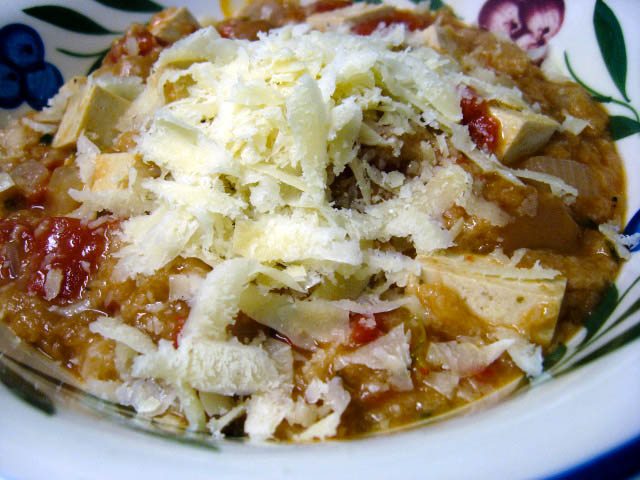 Pappa al pomodoro is a traditional recipe from Tuscany and it is a wonderful summery soup that can help make the autumnal blues go away. It is incredibly satisfying and full of flavor. You can enjoy it hot or chilled. It is very consistent and with some tofu this makes a great vegetarian meal, just add a block of cubed tofu at the same time then the bread. This is a main course soup for sure (Dana this one is for you).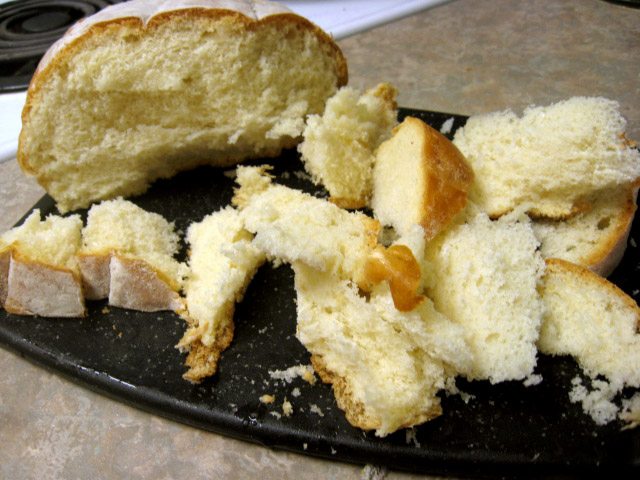 Pappa al pomodoro translates to bread and tomato soup. I know it sounds weird but I promise it will be in your top 5 favorite soups of all time. And there is nothing fancy in here: tomatoes, bread, basil, olive oil are the corner stones of this recipe….all very affordable ingredients. This is the quintessential (so far) Cheap Ethnic Eatz!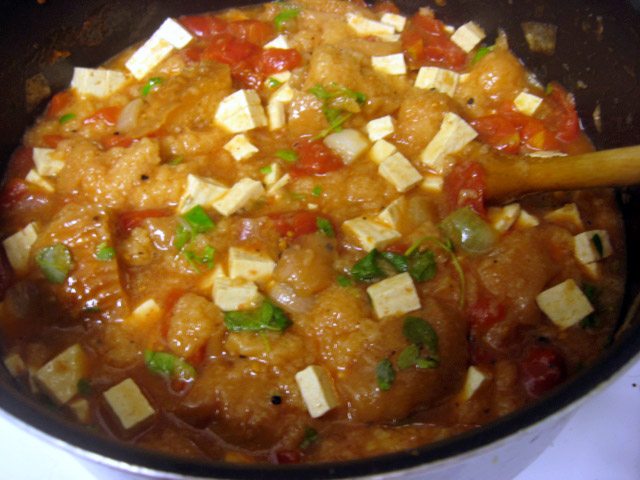 There are so many versions of this recipe but basically the main difference between them is the bread to liquid ratio. If you want it very think use less broth an tomatoes, if you want it much soupier add broth and tomatoes. Also the grated hard cheese is not part of the traditional recipe…but it is so awesome! Experiment!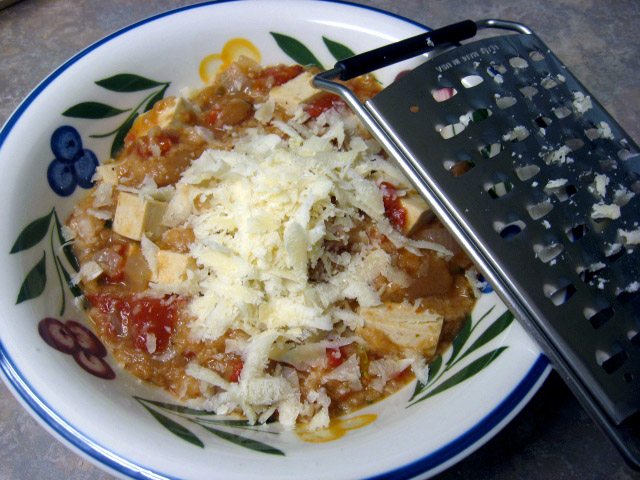 Ξ Pappa al Pomodoro Soup Ξ
Ingredients
1/2 cup extra-virgin olive oil
1 onion, chopped
4 garlic cloves, minced
2 28-ounce can chopped tomatoes
1/2 loaf day-old rustic Italian bread (about 4 cups), torn into 1 inch cube pieces
4 cups vegetable broth
1 cup fresh basil, torn
Salt and black pepper to taste
Extra virgin olive oil to drizzle
Grated Parmigiano Reggiano (optional)
block of tofu, cubed (optional)
Directions
In a large heavy pan heat oil over moderately high heat until quite hot. In the mean time chop onion, mince garlic and saute onion and garlic until softened.
Stir in the hole can of chopped tomatoes into the pan.
Add the bread chunks and broth ( and optional tofu) to tomato mixture, making sure all the bread is submerged, and simmer for about 20 minutes, stirring occasionally, until bread has absorbed liquid and has a porridge consistency.
Add the basil, season with salt and pepper, and let the soup simmer  for another 5 minutes.
Top with Parmigiano Reggiano to taste (for me more is not enough) and drizzle a little it of olive oil.
Serves 4