It's Food 'n Flix time again! In this monthly group a host picks a movie of their choice that pertains to food. Everyone watches the movie and then makes a recipe which the film inspired. It can be any recipe you want. This month's pick is hosted by Heather from girlichef and the theme was most holiday season oriented – and a favorite of mine: A Christmas Story.
Happy Holidays to all from Cheap Ethnic Eatz
Food inspirations were quite limited, probably as home menus were back in the 1940s. But it is the 2nd month in a row I wanted to make something along the lines of mashed potatoes. Last month I finally opted for an ice cream so I went the potato route this time with Pan Fried Smashed Potatoes.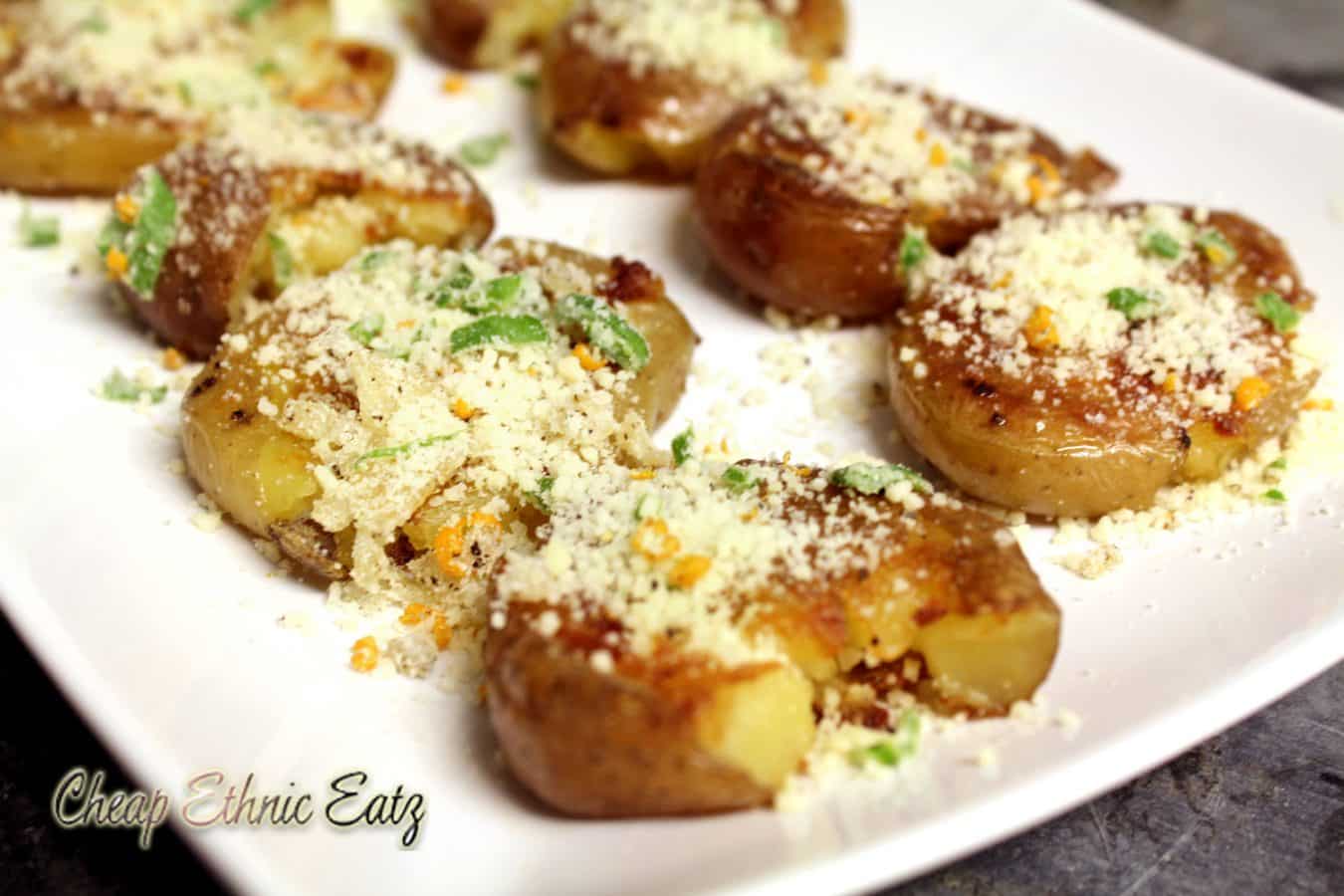 Ralphie: No! No! I want an Official Red Ryder Carbine-Action Two-Hundred-Shot Range Model Air Rifle!
Santa Claus: You'll shoot your eye out, kid.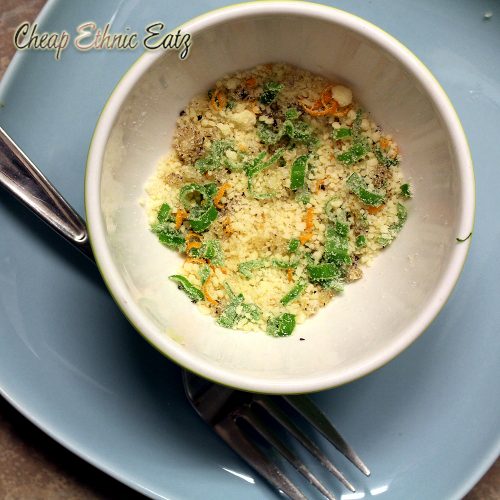 A Christmas Story is a 1983 American Christmas comedy film based on the short stories and semi-fictional anecdotes of author and raconteur Jean Shepherd. In 2012, the film was selected for preservation in the National Film Registry by the Library of Congress for being "culturally, historically, or aesthetically significant".
The movie gives a glimpse into the lives of a quirky middle class family during the holidays, all set in the 1940s. One of the clever details in the movie is that it is narrated by the main character, Ralphie Parker, as an adult, looking back on the events of one specific Christmas through the eyes of a child.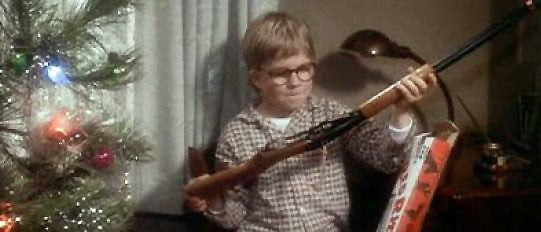 The story revolves around Ralphie who has to convince his parents, his teacher, and Santa that a Red Ryder B.B. gun really is the perfect gift for him, the only one he truly wants. But it seems that all of these grown ups think the B.B. gun is a terrible idea. The plot is peppered with great moments most of us have actually experienced: being dared to lick a metal pole in the dead of winter, writing essays for a class, buying the Chirstmas tree, a flat tire, and the iconic trip to the department store to go visit Santa Claus. This Santa and his helpers are rather on the scary side.
There are several little side stories here that will leave you bent over in two with laughter. My favorite is the grand prize the father wins in a contest: a high heeled leg lamp which he insists on setting up by the main living room window so the whole neighborhood can see. It is a sore spot with Ralphie's mother, one she brilliantly manages to 'take care of'.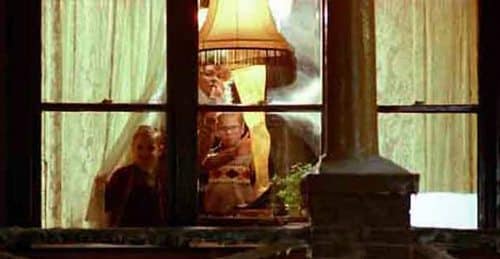 The best way to describe the movie is childhood innocence mixed in with lots of black humor. So here are my 2 mains reasons for liking this movie: it is all about getting the present you want; and there are some really darkly humorous sounding quotes in the movie. I know it is so "not in the spirit of the season" reasons but I like the wit of the dialog in this movie. Here are some quotes:
Only one thing in the world could've dragged me away from the soft glow of electric sex gleaming in the window.
Dad says as son tries his pink bunny onesie: He looks like a deranged Easter Bunny.
We plunged into the cornucopia quivering with desire and the ecstasy of unbridled avarice.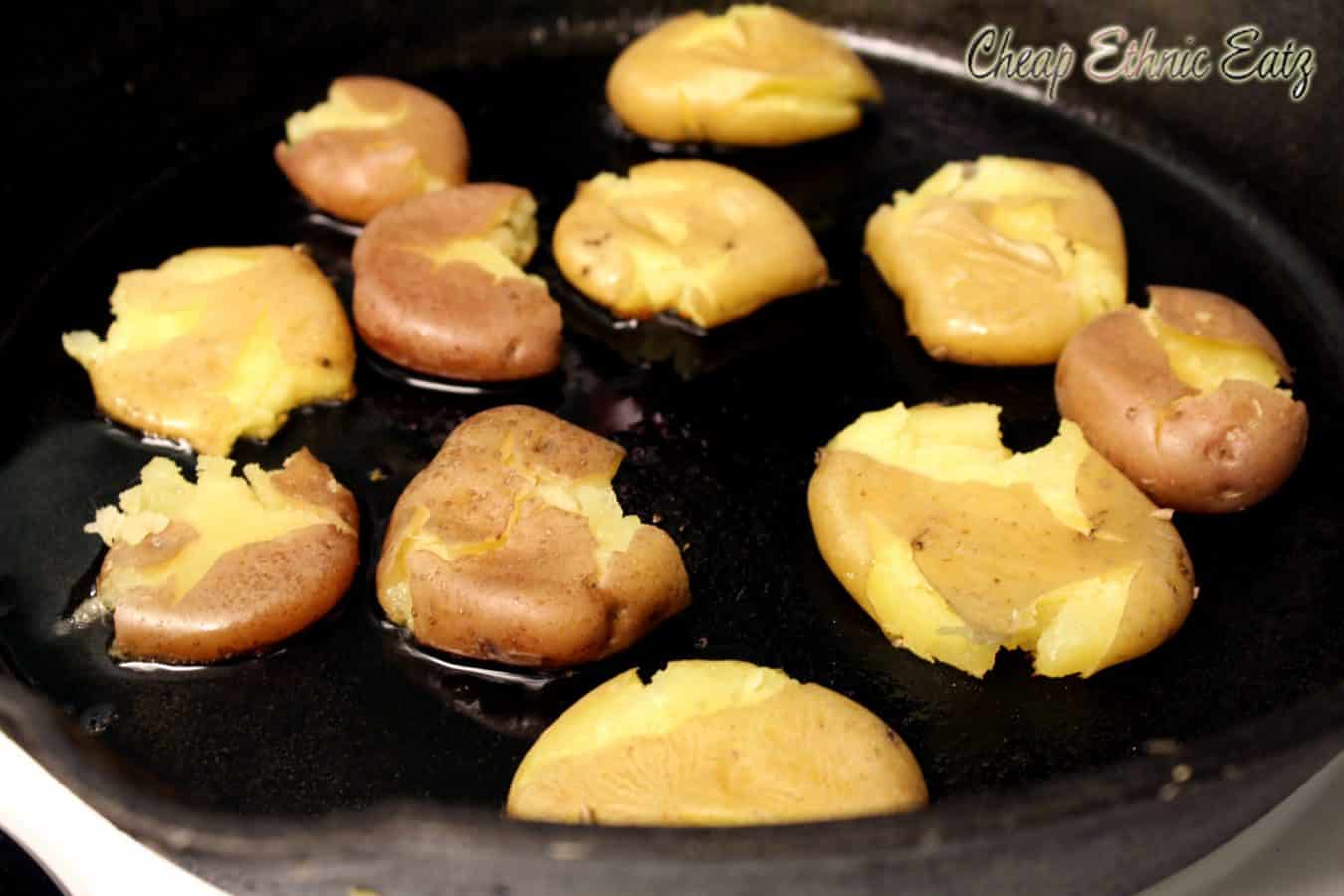 The food scenes revolved almost exclusively around the dinner table: meatloaf with boring mashed potatoes, boiled red cabbage, milk and cookies, a turkey ravaged by dogs (!?!?). The only meal elsewhere is in a Chinese restaurant with a duck. I won't say more because I do not want to reveal a punch/joke in the movie.
As I mentioned before, I had mashed potatoes on my mind. I have yet to jump the "crazed band wagon" of the smashed version so it was a great time to explore. The results were way better than I had expected. I would proudly serve these Pan Fried Smashed Potatoes topped with a Parmesan gremolata for guest around the dinner table. Why not trade your usual mashed holidays potatoes for this updated version this year!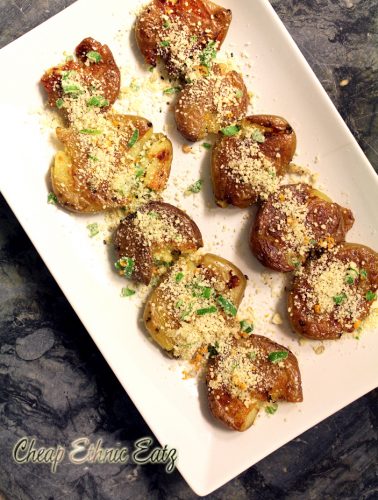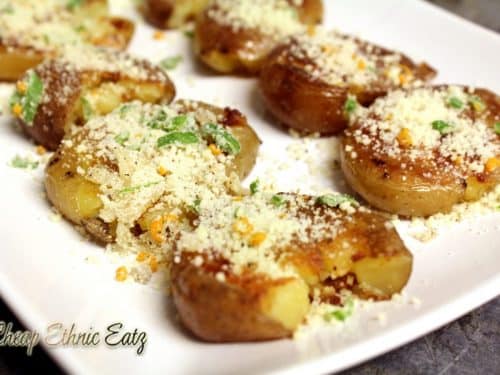 Pan Fried Smashed Potatoes
Ingredients  
1/2

pound

creamer potatoes

small

1/4

cup

olive oil

1/8

cup

grated Parmesan cheese

1

clove

garlic

minced

1

green stalk of an shallot

chopped

1/2

tsp

orange zest

Salt and pepper to taste
Instructions 
Cover potatoes with cold water in saucepan. Boil until almost tender, around 10 15 minutes.

In a small bowl mix Parmesan cheese, garlic, shallot, orange zest, salt and pepper.

Drain and place potatoes on a large plate. Smash lightly each potato with a potato masher or bottom of a glass, trying to keep potatoes intact.

Heat olive oil in a large heavy skillet over medium-high heat until it shimmers. Place the potatoes delicately into the skillet, lower heat to medium-low and cook until golden brown, about 10 minutes. Turn once and cook until golden brown, about 10 minutes.

Sprinkled with Parmesan cheese mixture.