One bag travel! Learn how to pack a carry on under 16 pounds with all the essential for one month to avoid low-cost airline check-in fees.
Are you up for the ultimate one bag travel packing challenge? You must pack a small travel backpack with all your essentials for a one month trip and it must be under 16.5 pounds (or 8 kilos). If you plan on taking many low-cost flights and want to avoid hundreds of dollars in baggage check-in fees, then a light travel backpack is the way to go.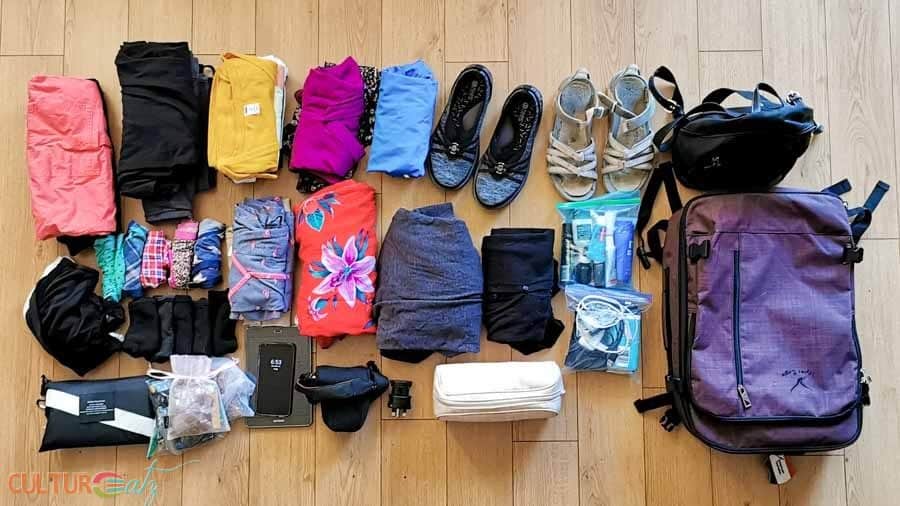 One bag travel is a must with a busy European itinerary
It's been three years since I have had a chance to travel to Europe, way overdue in my opinion. Now I know some of my readers have been anxiously awaiting to know what destinations are on my 1-month itinerary.
Your wait is over, here are the countries and cities I will be visiting, in no exact order:
visiting Lenaaround in Denmark
visiting Little Big Voyager in Northern Germany, also Dusseldorf and Cologne
a couple of full days in Antwerp, Belgium
visiting STUFR in the Netherlands' countryside, plus three days in Amsterdam
next is Barcelona accompanied by Little Big Voyager
then Lisbon with my little cousin from Vienna
and 24 hours in London before I return home
So what do you think of all the places I am visiting? I am so happy to have a chance to spend so much time with many friends on this trip.
You probably think it is a lot. But in fact, I only have one day that is dedicated solely to travel. All my other flights and trains are either early in the morning or late in the evening. Most trips between destinations take only between 1.5 to 2 hours.
****Please note this is my last written post until I come back from my trip. However, I have scheduled four fabulous food and travel round-up post during my absence. I hope you will enjoy them and see you in October with new posts****
How can a lightweight backpack save you money?
The good thing about Europe is the big selection of low-cost airlines. Check out my article on how to find cheap flights anywhere in the world. The downside is they try to make money off you any way they can.
But with a little planning ahead and knowing how to pack light, you can avoid all the extra fees. I will be taking five different airlines so I made a list of their baggage allowances for a carry-on and this is the biggest dimensions and weight I can take with me.
one piece of luggage with a maximum size of 20 x 16 x 8 inches (51 x 40 x 20 cm).
the said luggage must be under 16.5 pounds (or 8 kilos)
one hand luggage under 4 pounds (or 2 kilos)

Advantages of traveling with the lightest carry on luggage possible
I have been a carry-on convert for over 20 years now. Actually since my first solo backpacking trip to Europe. Yes you are stuck carrying a little bit of extra weight with you around the airport but the advantages outweigh (pun!) this minor inconvenience:
you can check-in faster at the airport without going to the airline counter
you save up to 1 hour of not having to wait for your luggage to show up on the baggage carousel
the airline cannot lose your luggage since it is always with you
With a carry-on you get off the plane, go through customs if that is the case, and you're out of there!
Carry-on luggage options
So what is considered a carry-on exactly? Any piece of luggage that stays under the maximum size and weight restrictions of an airline can be a carry-on. Do keep in mind that you must also only pack items that are allowed on a flight, like liquid restrictions.
The most popular types of carry-on luggage are a backpack, a duffle bag or a wheeled suitcase. If you are going for an extended trip, then a backpack is your luggage on choice.
Why is that? Sure a wheeled suitcase is so much easier but the mechanism consists of metal poles traveling through the suitcase and a set of four wheels. All those things are heavy! My suitcase is a light model but it still weighs almost 5 pounds. That is a third of the weight I am aiming for which is 15 pounds.
The best lightweight travel backpack
So a new bag was in order. Finding a bag with my restrictions that was of quality was not an easy task. But finally, I found it.
Meet the Hynes Eagle 38L Flight Approved Weekender Carry on Backpack.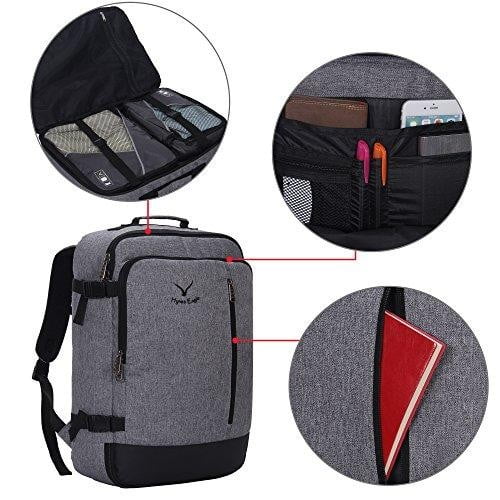 dimensions: 19.7 x 13 x 7.9 inches/33 x 20 x 50 cm, under my trip restrictions
38 L capacity that can fit 3 packing cubes (some models come with the packing cubes)
available in about 12 colors, I chose brown but it's got burgundy hints which I love
weighs in at only 1.76 pounds AMAZING!
suppressible adjustable padded shoulder straps, plus a sternum strap.
shoulder straps can be stored in the back.
lots of buckle straps to keeping things tight and in place
1 top handle and 1 side handle
fits in the overhead compartment and some under-seat storage area
there are 2 extra pockets on the top: one large front organizer pocket and a small front pocket.
there is a laptop sleeve that can fit a 15-inch laptop or an ultra-slim 17-inch laptop
I have to admit my heart stopped for a moment when my backpack was delivered. It looked so small. Minor anxiety attack. So I decided to measure the inside of my suitcase by comparison. Actually, the only difference was about 2 inches less in height.
Click here to see the Hynes Eagle 38L Flight Approved Weekender Carry on Backpack
So this weekender carry on backpack is going to be my one month carry on backpack! I do have on buckle strap laying around so I will sew it on the bag for a waist strap.
Need a great packing list so you don't forget anything?
Now that we have our bag, it's time to pack. The first thing you need is a really good travel packing list.
I got you covered with my Ulitmate Packing Checklist. Click here to get your FREE Ulitmate Packing Checklist right now!

How to pack a carry on for 1 month
In the next section, I will list everything that I am packing for travel in this is one bag travel challenge, plus my purse of course. But first, let's cover a few travel packing tips and tricks on how to pack light, once you have found your best travel pack.
Bring fewer clothes than you think you will need
We have all been there and brought way to many items that we end up never wearing.
This is super important in particular for me when I am packing a carry-on because I am a plus size. My clothes have more material, hence they take more room and they weight more.
So this is the most important tip of all the packing light tips. Think minimalist packing.
Use a digital scale to make smart choices
I went into my kitchen cupboard and brought my digital scale next to my backpack. Hear me out, this is my new tip for my travel tips list.
My initial thought was to wear my closed shoes on the plane and I would pack my sandals. For fun, I weight each pair of footwear and guess what? My sandals weight more! So now I will be flying with my sandals and a pair of socks in my purse if my feet get cold.
I did this exercise between a few similar items and chose the lightest to pack. Like some t-shirts are heavier than others. Every ounce or gram count so a kitchen digital scale can be very handy.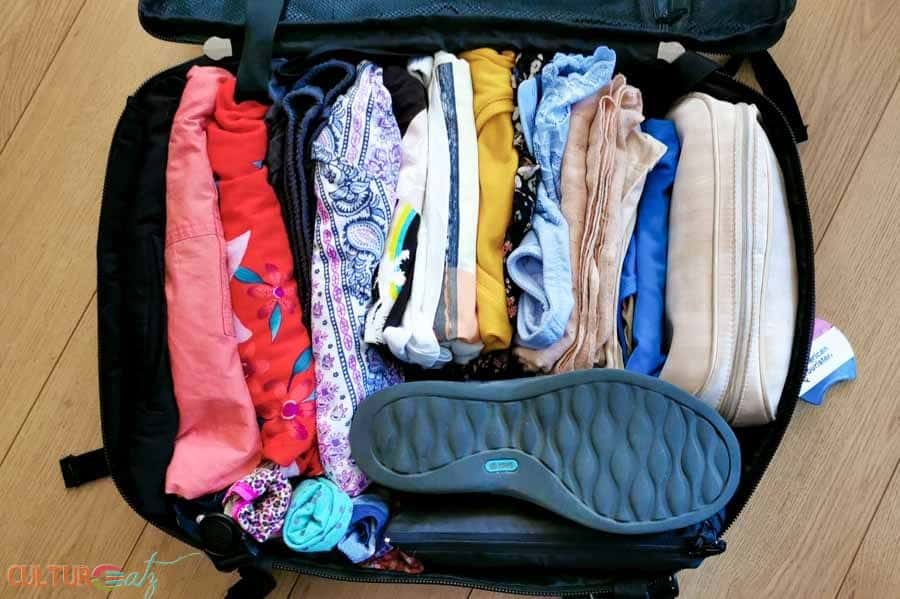 Fold your clothes the right way to take up less space
I love this tip. I have done three trips this way now and it is the best way to keep your one bag travel tidy.
Most of us fold and pile things up. The next thing you know your suitcase or luggage is a mess, everything is falling, out unfolded, disorganized. Not the best way how to pack for a trip. So what is the best way to pack a suitcase or a small travel bag like a backpack?
Marie Kondo style! In her book, the queen of tidying up explains how to fold clothes to store in your home. Well her tips work just as well when packing bags for travel. Check out Marie Kondo's book to learn her technique but basically, you are folding your clothes into parcels that stand up on their own.
So instead of pilling clothes up you will be lining clothes up. This way you can see everything you have in your luggage at a glance and you only need to take out the one piece you need. It's just as easy to fold it and put it back when you are done.
If you use packing cubes, place your clothes in the cubes folded the right way as well. You can totally combine these two methods together. Alas for me, the cubes are 1.5 pounds I can't afford to lose on this trip.
Fill every nook and cranny with your miscellaneous items
Use all the space you have, all of it. Roll your underwear like cigars and you can stuff a bunch all over the place. Got shoes in your luggage? Utilize the space in them like shoving your socks in the shoes!
That charge will go right into that space that is a little loose, as will your converters. One of my main goals on how to pack for a flight is to get just about everything into the main section. Only small or thing items should go in the top pockets. This keeps your one bag travel as skinny as possible.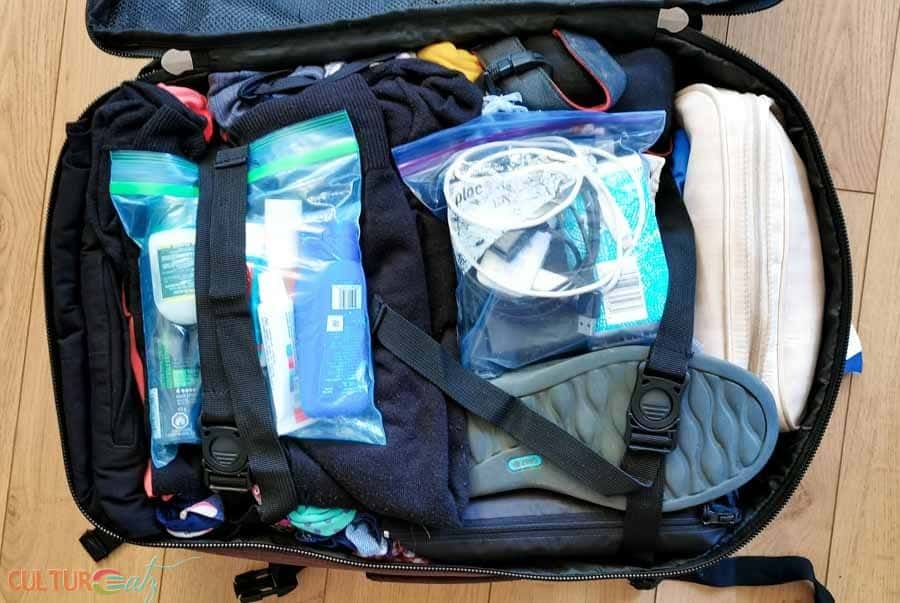 Know what not to pack in your carry-on bag
Security is tight in airports all around the world. So it's important to be aware of when learning how to pack for travel. Items that are not permitted include (but are not limited to):
Liquids over 3.4 ounces or 100ml. All liquids must be in containers that are no bigger than 3.4 ounces or 100ml, and they all must fit in a clear, one quart-sized zip-lock plastic bag.
Sharp objects. Scissors less than 4 inches long, nail clippers and files, are generally allowed.
Straight razors and blades. Disposable razors and electric razors are allowed.
Sporting equipment, guns, hazardous materials, defense weapons, tools, explosives, are all no-nos.
You CAN bring knitting needles, a crochet needle, one small lighter.
Each airline and country can have specific restrictions so look them up online beforehand, such as the TSA website.
Also, keep your liquids in easy reach as you will have to put them separately in the bin when passing security. Same for some electronic devices.
Watch the video to see how I pack my carry on from start to finish and get extra tips!
What's in my backpack? My packing list of what to pack when traveling
I highly recommend you do a packing test a couple of weeks before your trip if you are not used to traveling light. Even for me, this is extra light so the photos from this post are from my practice pack.
Since I will be traveling most of September and early October, I could encounter a variety of temperatures as the season's change. My itinerary starts in the north and heads south. I could have summer days and some cool fall days. Layers are the key and this does add weight to my bag.
Minus the clothes and hoodie I will be wearing, I am weighing in at 15.8 pounds and 3.15 pounds for my purse. I am still missing a couple of small items. Over the next two weeks, I can reevaluate and purge. But right now, this is what's in my bag.
If you need a good travel packing checklist, click here to get your FREE Ulitmate Packing Checklist right now! There are a lot more items on there than my list below.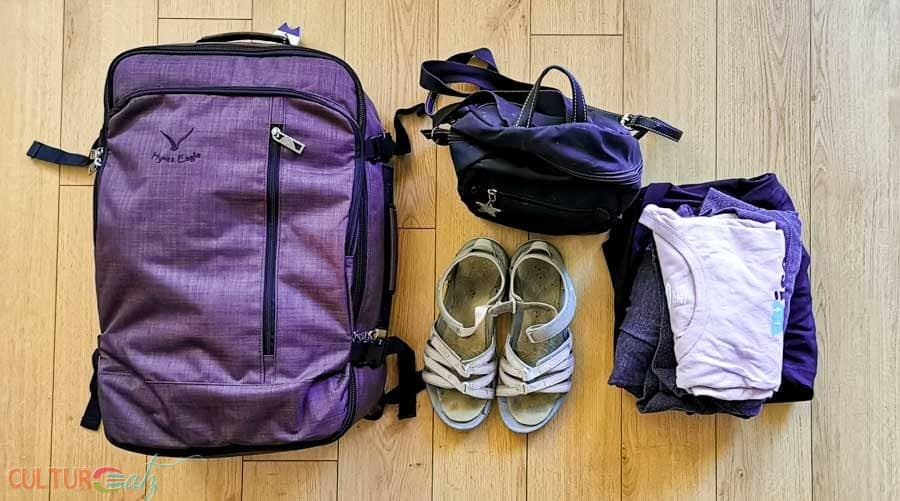 Clothing
2 pairs of yoga pants
2 capris
1 dress
3 t-shirts
2 casual tops
1 pair of closed shoes
1 pair of sandals
2 bras
1 bathing suit
1 sleepwear
6 underwears
1 hoodie vest
1 thin sweater vest
5 pairs of socks
1 Columbia plus-size waterproof Women's Arcadia II Jacket
Electronics
an unlocked cellphone
a Dataroam 4GB SIM card for Europe. Valid for 60 days and cheaper than SIM cards that include measly amounts of minutes for calls and texts. And there is plenty of WIFI in Europe.
1 pair of small headphones
a tablet and a small Bluetooth keyboard (the tablet has all my guide books, maps, and reading books)
my mirrorless Canon M6 camera + charger
extra memory cards for my camera
a super-light compact flexible mini tabletop tripod
a worldwide travel adapter
1 charger (see why below) and 2 USB cords for the cellphone and tablet
a USB splitter ( a MUST so you can charge several electronics at once)
Cosmetic bag
toothbrush and dental floss
a hairbrush, small comb, hair elastics, and a hair clip
the Lush Godiva solid shampoo and conditioner and the tin can for storage
make-up (minimal lipstick, mascara, and eyeliner)
a crystal mineral travel-sized deodorant stick (it will last a lifetime)
disposable razor
medication and prescriptions
a Diva cup for feminine hygiene (there are 2 sizes, pick the right one)
nail file and nail clippers
travel sewing kit
Q-tips and tweezers
bandaids
eye mask and earplugs
6 small plastic straws filled with laundry detergent (one of my top tips see video here)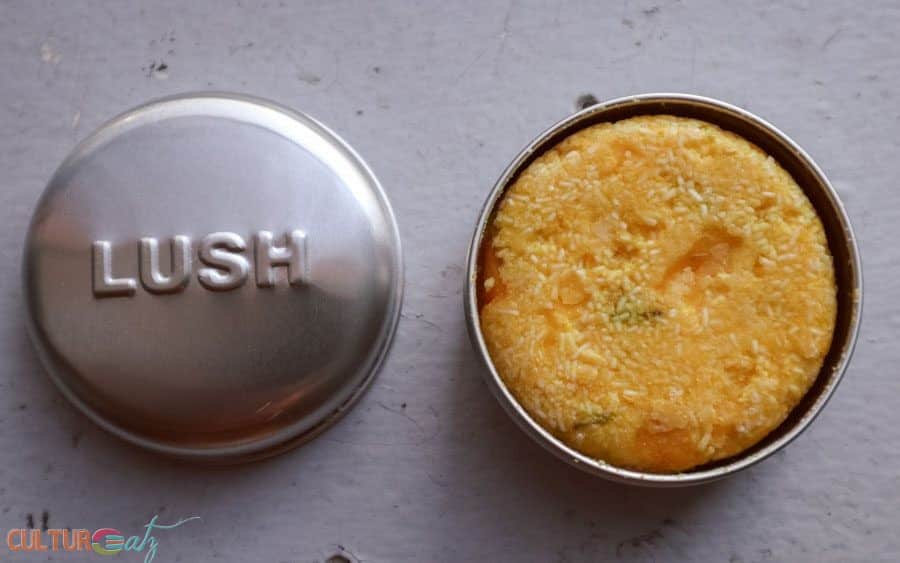 My liquids bag
a travel-size hairspray bottle
small tube of sunscreen
small tube of face cream
2 travel-size tubes of toothpaste
1 sample 1.5 ml perfume spray
a small tube of Polysporin
small nail polish bottle
2 samples of intense-treatment hair conditioner (some of my hair is bleached, it's a must)
Note: I am not bringing body soap since my friends will have it and most hotels and Airbnbs have it. Worse case, shampoo bar.
Miscellaneous
2 packs of travel kleenex
small host gifts as I am staying a 3 friend's homes (this is 1.5 pounds I will lose as I travel)
a slip of paper with my address and emergency contact
itinerary and travel docs that must be printed (try to go digital when you can) and copies of IDs.
a couple of plastic bags (like for laundry or wet clothes)
a money belt
luggage lock
In  my purse
my wallet with ATM and credit cards, some Euros, my driver's license, travel insurance card
luggage lock keys and house keys
sunglasses
my passport and travel docs for day 1
(electronics will be in my purse)
… and finally 1 pen
I hope that you now feel confident about only taking the essentials with you and you will pack light whatever your next trip may be. I know it sounds scary but you can do it!
You're going on holiday, don't let yourself get dragged down by heavy suitcase, extra airport fees, and god forbid lost luggage.