Broken wrist in cast update: today is day 31. 12 days to go! I cannot wait for April 30th.
I saw my GP so I got a prescription finally that is stronger than ibuprofen. I am getting a bit of strength back in my fingers very slowly. Three fingers are still a bit numb but a bit better. One very amusing thing: my nails are nice and long on the hand in a cast. My nails are thin and break easily so long nails for me is unusual.
Today I could hold my almost empty yogurt cup to scrape the bottom with my good hand. This may sound like a simple thing to do but 31 days ago I could not hold a piece of paper. Holding a full tube of toothpaste is still a no no. Zip-lock bags are impossible to open but I did manage to close the snap of my eco shopping bag. Little victories.
A big victory: I cooked the first recipe I prepared all by myself in a month! Its a very easy recipe that involves a few already prepared ingredients and no chopping in sight. Just toss everything in a casserole. But it got rave reviews! It is an Asian soup, a real fusion Asian soup with ingredients usually found in Laos, Thailand, Vietnam, China and Indonesia.
Ξ One Armed Tom Yam Wonton Soup Ξ
Ingredients:
6 cups water
2 cubes of tom yam soup base (or any Asian soup base)
1/2 tsp sesame oil
1 cup nian gao noodles (or any rice noodle)
24 shrimp wonton
4 cups chopped baby bock choy
1 lemon, quartered
Sambal oelek and coriander to taste
If you use nian gao noodles they must be soaked for 12 hours prior.
In a large pan add water, soup base, sesame oil and noodles, bring to a boil. Add the wontons and boil for 5 minutes (or according to your package). Add baby bock choy in the last 3 minutes.
Serve in  large soup bowls with a quarted lemon, sambal oelek and coriander to taste.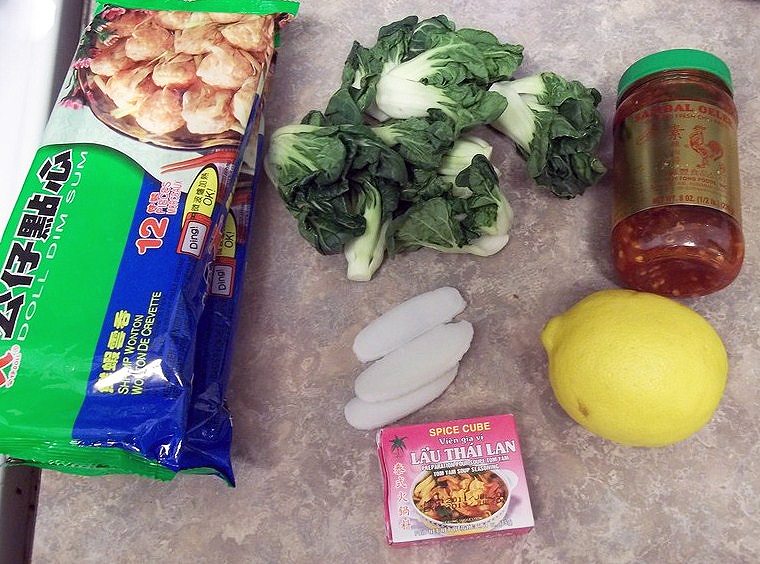 – tom yam is a spicy clear soup typical in Laos and Thailand
– lau thai lan Thai is the broth used for a Vietnamese Hot Pot
– wonton is a type of dumpling commonly found in a number of Chinese cuisines.
– nian gao noodles are chewy Shanghai style noodles made with non-glutinous rice
– sambal oelek is a chili based sauce which is normally used as a condiment in Indonesia