Of course I did this recipe before going away and have misplaced some pics! I had a tbsp left of my walnut butter that I just took a shot of. And of course I forgot my camera on my friend's kitchen table in Washington DC so it's poor quality from the cell phone….grrr.
THE DARING COOKS JULY 2010 CHALLENGE: NUT BUTTERS
The July 2010 Daring Cooks' Challenge was hosted by Margie of More Please and Natashya of Living in the Kitchen with Puppies. They chose to challenge Daring Cooks to make their own nut butter from scratch, and use the nut butter in a recipe. Their sources include Better with Nut Butter by Cooking Light Magazine..
Nutrition research suggests that nuts are good for your health. Nut butters, or pureed nuts, make it easy to use nuts in cooking. Although peanut butter is a staple in North America, most popular as the star ingredient in peanut butter and jelly sandwiches and beloved in peanut butter cookies and other sweets, it's seldom used in preparing savory dishes. Nut butters — including not only peanut butter but almond, cashew, and walnut butters — are common ingredients in many Asian and African countries, used in a wide array of savory dishes. Nut butters add complex & interesting flavors to dishes, provide body & thickness to sauces, and can be used to replace the dairy fats or other oils in recipes.
Simple Suggestions for Using Nut Butters:
add sugar to the nut butter to get a sweeter taste
sauce for grilled meat or fish
topping for pancakes or French toast
dip with apples or celery
spread for toast or sandwiches
The process for making various types of nut butters is essentially the same. Pour nuts into bowl of food processor. Grind the nuts in the processor until they form a paste or butter. The nuts first turn into powdery or grainy bits, then start to clump and pull away from the side of the bowl, and finally form a paste or butter. The total time required depends on the fat and moisture content of the nuts; grinding time will vary from roughly 1 to 4 minutes (assuming a starting volume of 1 to 2 cups [240 to 480 ml] nuts). Processing times for a variety of nuts are described below.
You may add oil as desired during grinding to make the nut butter smoother and creamier or to facilitate grinding. Add oil in small increments, by the teaspoon for oily nuts like cashews or by the tablespoon for dryer/harder nuts like almonds. You may use the corresponding nut oil or a neutral vegetable oil like canola.
The yield of nut butter is about half the original volume of nuts. If you start with 1 cup (240 ml) nuts, you'll get about ½ cup (120 ml) nut butter.
Roasting the nuts before making nut butters is optional according to your preference. To roast nuts in the oven, preheat oven to 350 degrees F (180 degrees C/Gas Mark 4). Spread nuts in a single layer on a baking sheet or roasting pan. Bake for approximately 10 minutes or until nuts are fragrant and a shade darker in color. Allow nuts to cool before grinding. Roasted nuts will make butter with darker color than raw nuts.
The consistency of nut butters varies from thin & soft (almost pourable) to very thick and hard depending on the fat content of the nut. (See links below for nutrition info on variety of nuts.) Homemade nut butters will probably not be as smooth as commercial products.
Homemade nut butters are more perishable than commercial products and should be stored in the refrigerator. The nut butters harden & thicken somewhat upon chilling.
Approximate Processing Times in Food Processor for Nut Butters:
Almonds: form a thick butter in about 2 to 3 minutes for slivered almonds, or 3 to 4 minutes for whole almonds; the skin of whole almonds will leave dark flecks in the butter
Cashews: form a smooth, spreadable butter after about 2 minutes of processing
Hazelnuts: form a firm, thick, and grainy butter in about 2 to 3 minutes; to remove the skin from whole hazelnuts, roast in a 400 degree F oven (200 degrees C/Gas Mark 6) for about 5 minutes or till skins loosen, then rub hazelnuts in a clean dishtowel to remove some of the skin; the remaining skin will leave dark flecks in the butter
Macadamias: form a soft and smooth butter in about 2 minutes
Peanuts: form a thick, grainy butter in about 2 or 3 minutes
Pecans: form a very soft, oily, pourable butter in 1 or 2 minutes; the skins give pecan butter a slightly tannic and bitter flavor
Walnuts: form a very soft, oily, pourable butter in 1 or 2 minutes; the skins give walnut butter a slightly tannic and bitter flavor
Pistachios: According to the Nut Butter Primer from Cooking Light, pistachio butter is dry and crumbly with a tendency to clump during processing; they recommend combining it with softened cream cheese for easy spreading and report a processing time of 3.5 to 4 minutes. Please note, we did not test pistachio butter.
Chicken with Pecan Cream & Mushrooms
adapted from Cooking Light, October 2002. Yield: 4 servings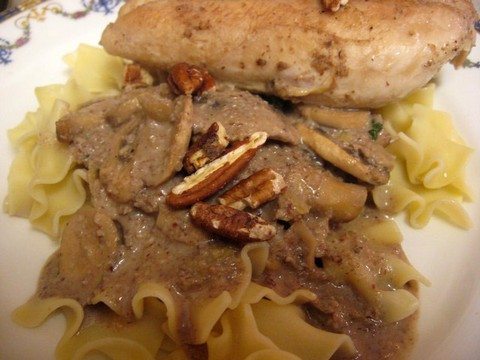 Ingredients:
Pecan Cream:
3/4 cup (180 ml) coarsely chopped pecans*, toasted
1 cup (240 ml) water
¾ teaspoon (3 ml) salt, more as needed
½ pound (225 g) egg noodles or pasta
4 (6-ounce / 170 g) boneless, skinless chicken breast halves
1 teaspoon (5 ml) olive oil, more as needed
Salt & pepper to taste
Sauce:
1 tablespoon (15 ml) deglazing liquid (water, broth, wine; optional)
1 teaspoon (5 ml) olive oil, more as needed
1/4 cup (60 ml) finely chopped shallots
½ pound (225 g) mushrooms, sliced
1 Tablespoon (15 ml) fresh thyme leaves
Chopped pecans, (optional garnish)
Directions:
Prepare pecan cream. Grind pecans in a food processor for about a minute or so until smooth, scraping down the sides of bowl as needed. Add water and 3/4 teaspoon (3 ml) salt; process until smooth, scraping sides of bowl as needed. Set aside pecan cream. (*If starting with prepared pecan butter, blend ¼ cup plus 2 Tablespoons (90 ml) pecan butter with the water and salt until smooth.)
Cook noodles according to package instructions in salted water. Drain, rinse, and keep warm.
If desired, pound chicken to ¼ inch (6 mm) thickness to promote even cooking. Sprinkle with a bit of salt and pepper to taste. Heat 1 teaspoon (5 ml) olive oil a large nonstick skillet over medium-high heat. Add half the chicken; sauté 3 to 5 minutes on each side or until cooked through. Cook the chicken in 2 batches, adding more oil if needed for second batch. Set aside cooked chicken on a clean plate, cover to keep warm.
Add deglazing liquid to pan if using and stir up any browned bits. If needed, add another teaspoon (5 ml) of oil (or more) to pan for sautéing the shallots and mushrooms. Sauté the shallots and mushrooms over medium heat for 4 to 6 minutes or until mushrooms are tender and starting to brown. Add fresh thyme to the pan. Stir in pecan cream; bring to a boil. Reduce heat and simmer for about 1 1/2 minutes till reduced slightly.
Slice chicken into thin strips. Divide the noodles among serving plates. Add a scoop of the mushroom pecan sauce on top of noodles. Lay sliced chicken on top. Garnish with fresh thyme and/or a pinch of chopped pecans if desired.