Remember when I went to Toronto this summer and I met up with a couple of local food bloggers? Well ever since then I kept saying to myself I really should initiate a meeting with local Montreal Food bloggers. After all I knew none of them personally at all. What a better group to meet then others with my similar passion?
So on a search for local bloggers I went. I gathered up my list, searched like mad for their emails and wrote them an intro invite to a meeting get together. I nervously hit the Send button and waited. Minutes later I got a response, a couple of hours later, 2 more…and within two weeks the next thing I know I had a reservation for 12 at Aix le Terroir at the posh Hotel Place d'Armes in Old MOntreal for lunch. This normally definitely not cheap eatz does offer a very reasonable brunc on the weekend.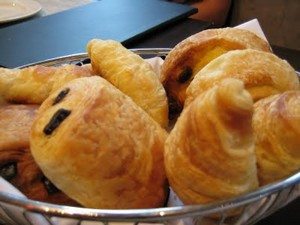 Now I still had to wait a couple of week for the actual date to arrive. Then it came and I was so nervous in the morning yet terribly excited. I just hopped everyone would be nice and get along. I got there a bit early and then slowly everyone started to arrive. While waiting we had the most delicious croissants and danishes to snak on. I very much enjoyed as well admiring the lush decor. It was simple, linear but expensive. Maybe a little cold actually. The polite but a bit slow wait staff was dressed in black slacks or dresses giving off a bit more the impression of being in a nightclub. They were however very attentive.
 
Pics above by Nancy at Cookbook Fixation – Pics below by me
Finally we had al arrived and all my fears of dead silence evaporated. Everyone seemed lovely, happy, glad to be there and chatty. We were there for 2 and a half hours and it was constant foodie talk non-stop. It was amazing. We all had a blast and were so happy to put a face to bloggers we had been reading or discovering new ones. Present at the lunch was Aimée, Liliana, Johanne, Nancy, Christina and Ian, Judy, Valerie and Laurent, Jenn and Olivier and myself.
And so came the time to actually order our food. It was a tough choice between the brunch or light lunch menu. I decided to go for the Riopelle cheese and asparagus omelette with a cocktail. The cocktail was called Vanilla Cascade and was made with vodka, Navan, apple liquor and apple jouice.
It took quite a bit of time to be served but they did serve everyone all at the same time. I guess that is why it was a bit slow but nice to all get our plates without waiting for someone else. What did I think of the food? It was good, but not as good as I would have expected. Granted its much cheaper then the regular menu but I did expect it to be a tad better. Maybe if I had something from the lunch menu it would have been better but I found the brunch menu to be nicer served then a regular brunch plate but not surpassing in taste. Don't get me wrong it was good, but it did not make me want to save up and try a dinner meal here. I would however go back for brunch just because its not a fancy experience I can allow myself often. It would be a good place to bring out of town guests for brunch before exploring Old Montreal on foot.
What really made this get together a success was the guest. It was an amazing meal for that and we have already a bunch of ideas for future get togethers. Victor, an invitee who was not able to make it has already taken the initiative to plan our next shared meal. Also missed were Chef Deck, Anthony and Elaine who could not make it that day but wished they could have. A couple of other bloggers never answered but hopefully we will in the near future.
Nothing I would enjoy more then breaking bread, croissants or what ever food with the this genial bunch of local blogging foodies.
Hugs and Biscuits
Evelyne