I have been so behind on restaurant reviews…I got two more and I am done.
A dinner we recently had with the CEE dinner group was a great Indian find on Victoria in CDN. This place is called Dev Restaurant. This area is very ethnic and there are tones of Indian, Pakistani and Filipino bakeries and eateries. Dev is one of many little jewels. And was it ever good.
You are going to kill me…I have no pics and I don't remember many of the dishes I had. Samosas and Pakoras are lovely and spicy, the Dev Biryani great with a mix of shrimp, chicken and lamb was yummy, and you'll find a nice selection of sweets.
A very short review, I know, its been a while already so going on memory. Just go…its dirty cheap (special for us 15$ tx included per person 3 courses) and excellent food!
Dev Restaurant
5987 Victoria (corner Linton)
Montreal, H3W 2R9
(514) 733 – 5353
___________________________________________
Next up on the review menu is Le Moineau / The Sparrow. Honestly I have never seen a place that goes with both the French and English name. There is no actual word on the sign outside besides the pic of a Sparrow. You could easily walk by it and never notice a restaurant.
Then again is it a restaurant? Not in the original plans so much. It was first suppose to be an English pub but the owners had so much trouble getting a liquor license they went ahead and served food and no booze. I think they now have the license so it could be classified a gastro-pub comfort fare.
Can't find it, can't classify it….and yet it is the latest little darling of the Montreal Foodie buzz. This was of course a natural choice for a brunch with our also elusive and secret Montreal Foodie Blogger Group. A rare brunch place that takes reservations for groups too. Eleven of our group shared a meal here, both old and new faces. I am so happy how this group of bloggers have bonded.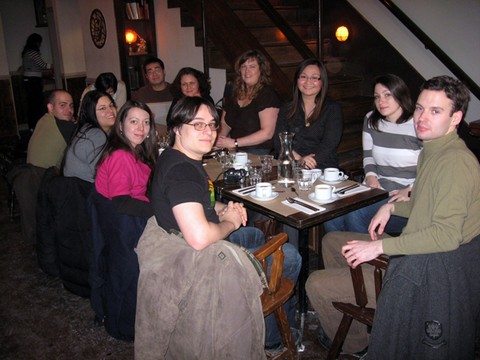 We all enjoyed the eclectic pub decor with mix and match table and chairs. The menu was as much of a mix and match as the chairs. Oh all the plates are mix and matched too. It was so hard choosing a plate I wanted to taste several of them. Finally Elaine who sat next to me agreed to split our plates. Now you have to imagine the scene. We are all food bloggers. When the food arrives we do not dig in. Oh no. First we have to go through the photograph orgy. Everyone takes a pic of their plate and the neighbors. Its really quite a site, so much so the rest of the customers stare at us…its quite funny,
The was even what you could call entrées to the brunch menu. Valérie had the crumpet and I, amongst other, had the custard and chocolate filled beignets. They was so good, light, moist and yummy inside.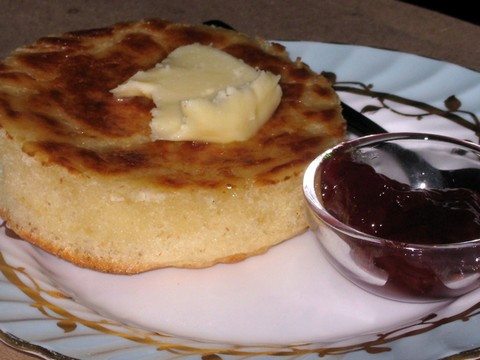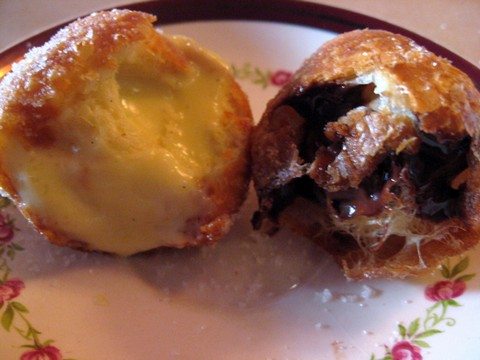 Main brunch plates included hamburger like brunch plates and baked eggs (cannot remember the exact descriptions).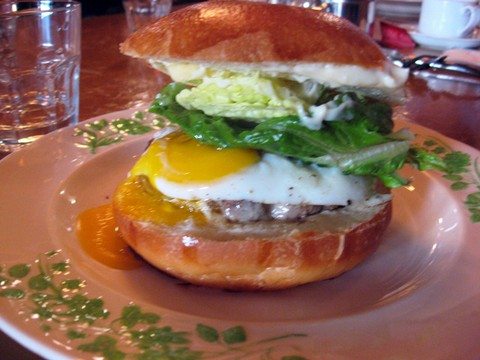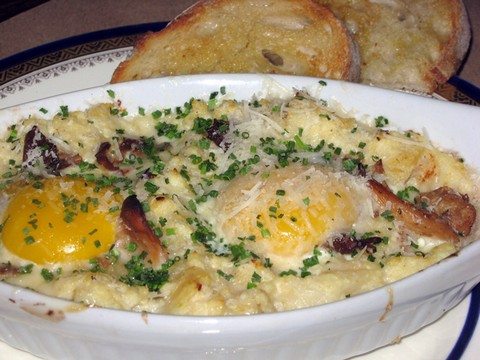 Elaine split her English Brunch plate which was a carnivore's delight with eggs, bacon, sausage, beans, blood pudding and potatoes. I split with her my french toast covered in apple, cranberries, cream and syrup. It was to die for.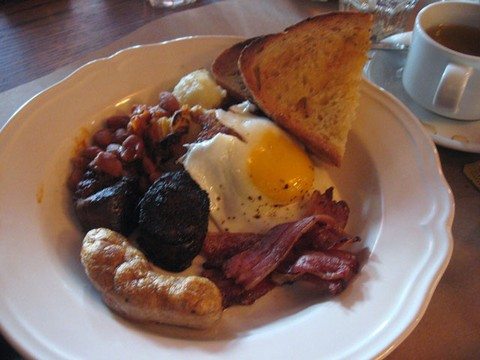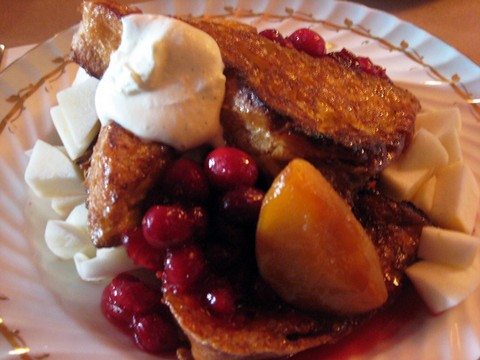 I highly recommend checking out this place. The owners and chefs are still trying to find a steady footing but I am sure its going to create quite few interesting dishes. Try it before it outgrows its now underground buzz and gets to 'big' for itself (hopefully won't be the case).
Le Moineau / The Sparrow
5322 Boulevard Saint-Laurent, Montreal, QC, Canada
514-690-3964
A final note: thank you to Kenneth for bringing me a divine piece of brownie and thank you to Elaine for bringing us all some vanilla beans. She owns I Heart Vanilla with her father.