MTL à TABLE has arrived in Montreal! You can now sample 150+ restaurants at very fair set prices. And this particular culinary trip takes us to Peru at Mochica.
Let's face it, November is a depressing month. The cold weather slowly sets in, the sky is grey and trees look sad and naked without leaves. You almost wish for a snowfall to cover the brown landscape. Thankfully, for the past four years now, a ray of foodie sunlight has brought warmth and joy to the month of November in Montréal, Québec. Happiness envelops Montréal when MTL à TABLE arrives.
MTL à TABLE
For 11 days, more than 150 restaurants offer a 3-course set-price menu of either $21, $31 or $41. These menus are offered at very reasonable prices when compared to the regular menu. Along with thousands of fellow Montrealers, I peruse and salivate over the set menus for hours and make a list of the establishments I would like to dine at. Then friends are contacted, groups are formed and reservations are made. The best restaurants can fill up pretty fast. To fill the high demand, brunches are available for the first time this year.
My friends and I really look forward to Montreal restaurant week. This will be my 3rd year sampling delicious culinary meals in local restaurants. Thus far, trough MTL à TABLE I have discovered the following restaurants: La Société, Restaurant Helena, Le Smoking Vallée (twice, love it here), Verses, and Chez ma Grosse Truie Chérie. This year I will visit GaZette and I just got back last night from Mochica, a Peruvian restaurant.
Peruvian cuisine
I am very fortunate to have traveled to Peru about 10 years ago. I just adored my trip and one of the things that stays with me the most was the genuine kindness and curiosity of the Peruvian people. Food wise, most tourists will sample all kinds of various potatoes, huge corn (maize), try an authentic Ceviche, perhaps chomp on a real llama steak, nibble on a beef heart skewer, and for the courageous try the Andes specialty: guinea pig (I skipped this one). There is plenty to sip from as well: from Chicha, Pisco drinks, Inka Cola and mate de coca. This is the mini 101 crash course of Peruvian dishes.
Restaurant Mochica
Peruvian restaurants abound in Montreal and most are quite good to decent. I was looking forward to my night at Mochica as it seemed to inspire a more refined meal from the menu. That is what sets this place apart compared to the rest: a fine Peruvian dinning experience in an elegant yet authentic decor. There are nice artifact touches, even lit excavation scenes in the floor like a museum. One plate looked like a modern piece of art once we were done.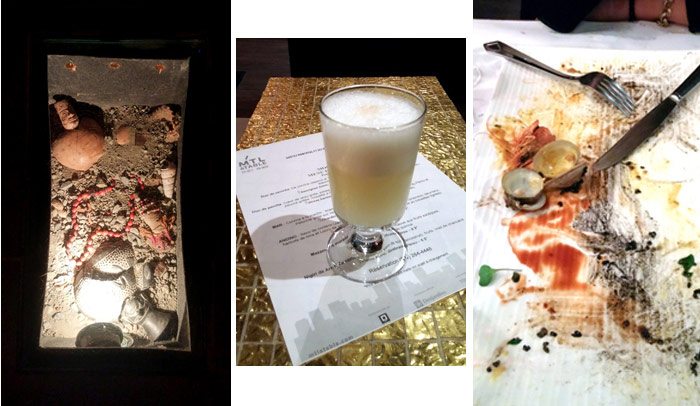 We were very well received by the staff and I like the touch that they take your coat for you. Pisco Sours were promptly served: this is the national cocktail. The meal was delicious throughout. There was definitely some spice and bite to some dishes – not something I remembered from my trip – but was informed this was indeed traditional sauces from the north, a part I had not visited. We particularly loved the ceviches, the seared scallops on a black quinoa risotto, the lamb fork-tender, and pleasantly surprised by the unusual purple Inka corn pudding. Give the Peruvian private import wine list a look too.
First service
Ceviche Duo: Corvina classico and passion fruit tiradito shrimps (sashimi), maracuyá sour foam
Parrilla Duo: Grilled veal heart, sweet potato, corn, huacatay (Peruvian black mint) pesto and Grilled octopus, arugula with Peruvian black olive pesto
Second service
MAR – Seared corvina (Peruvian sea bass), cod and cassava brandade and Seared scallops, black quinoa risotto
ANDINO – Seco de cordero (Braised Kamouraska's shank lamb with coriander), tacu-tacu and Grilled tiger shrimps, mashed squash stew in yellow chili
Third Service
Mazamorra morada : purple Inka corn pudding with exotic fruits, cinnamon and cloves, quinoa sablé
Nigiri Arroz Zambito (rice cooked in ancestral sugar bread), Fruit, Honey chancaca
After the meal I had the pleasure of taking a peak into the kitchen and had a chat with Martin Oré, co-owner and chef. He was truly a delight and a great conversationalist. He told me all about where he comes from in Peru and about the food of that region … all the while seasoning and tossing a huge bowl of veal hearts with his hands. Don't you love having a chance to peak into a restaurant's kitchen?
If you are looking to explore a fine Peruvian restaurant you should give Mochica a try. Mochica offers a set-menu of $41 for MTL à TABLE. Keep in mind that a high end ethnic restaurant may be different than a traditional fine dining experience. You have to compare with the standard fare of a country's cuisine. That is the key to developing a finer exotic palate!
If you happen to be in Montreal from October 29th to November 8th 2015, make sure to check out #MTLaTABLE and sample some of the city's finest dining at a great price!
So which Montreal restaurants are on your bucket list?
This post was brought to you in partnership with Tourisme Montréal. I was compensated with a complimentary dinner for 2 at the mentioned restaurant. Any personal opinions reflected in this post are my own and without influence.